This post contains affiliate links, and I will be compensated if you make a purchase after clicking on my links. As an Amazon Associate I earn from qualifying purchases. Learn More
If you have followed us for any length of time, you may know my struggles feeding my dogs. My chihuahuas are easy with the only problem being Lucas is a pig and will steal food from the others if I let him.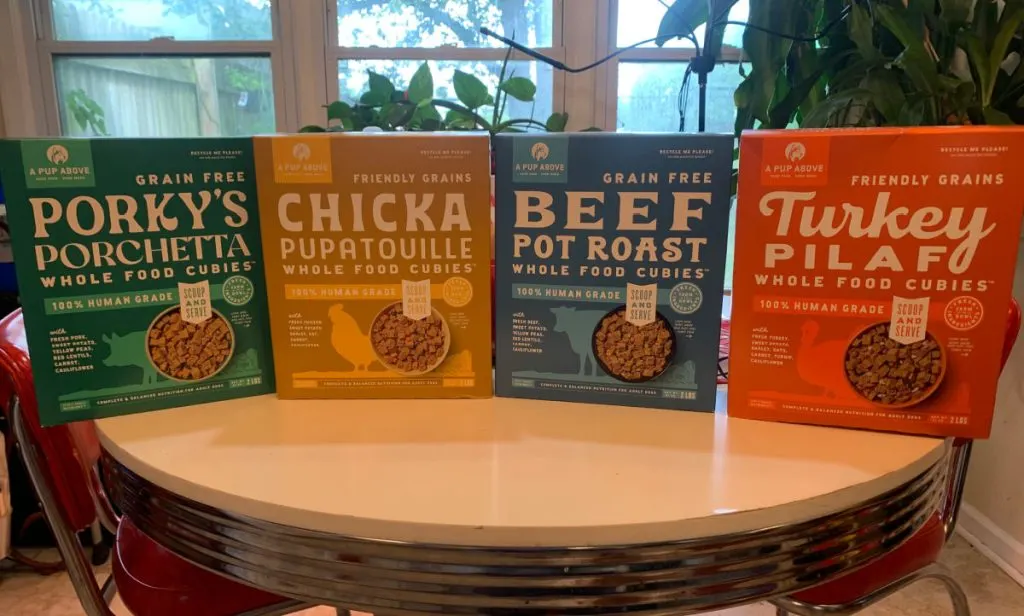 My Yorkies though are a different story. They are very picky and Ziggy has severe allergies which means I have to be careful what I feed him.
I don't feed kibble anymore but I do feed fresh to frozen food (you can read my previous review for A PupAbove here) and I also make their food.
The folks from A Pup Above asked if I would like for my dogs to try their Cubies so of course, I said yes. My dogs love their fresh/frozen food but I also know feeding a hard food, such as kibble helps their teeth.
Because of that, I had been wanting to add something like kibble that I could feel good about feeding them so I was excited to give this a try.
What are A Pup Above Cubies?
First things first, for those unfamiliar with the brand or product, "A Pup Above Cubies" are essentially freeze-dried dog food cubes. They are crafted to provide dogs with wholesome, balanced nutrition in a convenient form.
The 'Cubie' format makes them easy to serve, whether you're at home or on the go.
With A Pup Above Cubies, there's no fuss with soaking or keeping them in the fridge.
And guess what? They're made with stuff we could eat too! So you know your fur baby is getting the good stuff.
They've got four great flavors, so your pup's bound to like at least one of them. We have tried them all, and all 4 dogs liked all the flavors but beef seems to be the favorite.
These Cubies aren't just yummy; they're packed with all the good stuff to keep your dog feeling top-notch. T
A Pup Above Cubies is not only tasty but also nutritionally balanced to support your dog's overall health.
Product Analysis
Ingredients
A Pup Above Cubies uses a gentle processing technique called Nutridry that preserves the nutritional value of whole foods while maintaining a dry texture. You'll find ingredients like chicken, beef, pork and turkey without any added fillers or artificial flavors.
This unique process ensures that your dog gets a natural, high-quality diet with delicious, whole-food ingredients. Unlike many other dog foods, A Pup Above steers clear of using meals or by-products.
Unlike traditional cooking methods that can degrade the quality of nutrients, freeze-drying ensures that the vitamins, minerals, and enzymes in the food remain intact. This means your dog gets a close-to-raw feeding experience without the hassle.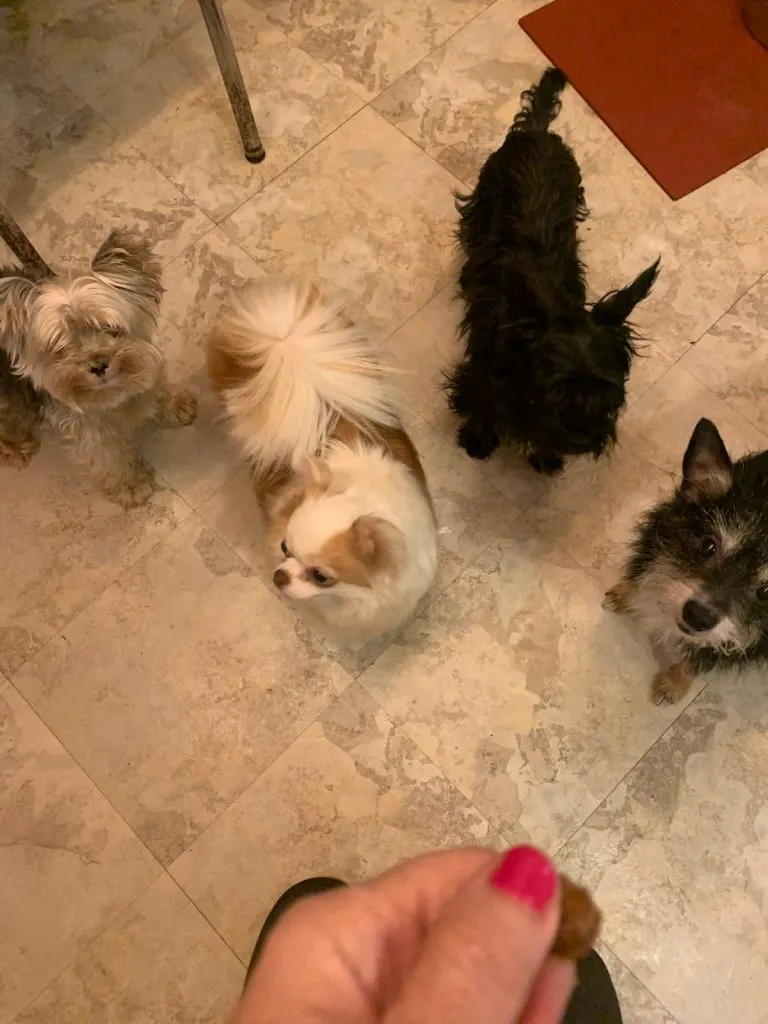 Ease of Use
Unlike some freeze-dried foods, Cubies don't require rehydration, and unlike fresh and raw food, they don't need to be refrigerated or frozen.
When it's mealtime for your dog, it is easy to serve Cubies. Simply open the bag, grab the desired amount, and pour it into your dog's bowl. There's no prep work involved.
Clean-up after mealtime is a breeze, too. The Cubies' dry nature means there's less mess to worry about in your dog's bowl or on the floor. Simply wash the bowl as you would for any other dry food, and you're good to go.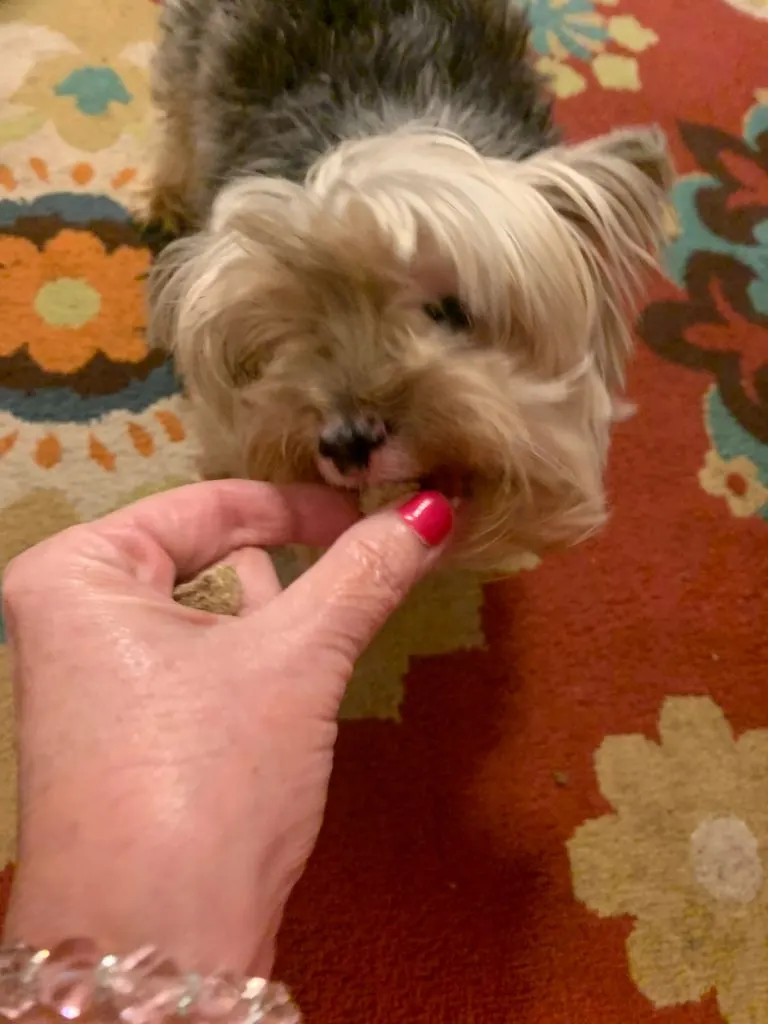 In short, A Pup Above Cubies makes it easy for you to provide high-quality, nutritious meals for your dog without the hassle of food prep or storage concerns.
Versatility
Another notable advantage of these Cubies is their versatility. They can be used in various ways:
As a full meal: You can serve the Cubies as a complete meal.
As a treat: Given their bite-sized nature, they can be a quick reward for your dog during training sessions.
As a food topper: For fussy eaters, sprinkling some Cubies over their regular food can boost the appeal and nutritional value of their meal.
Packaging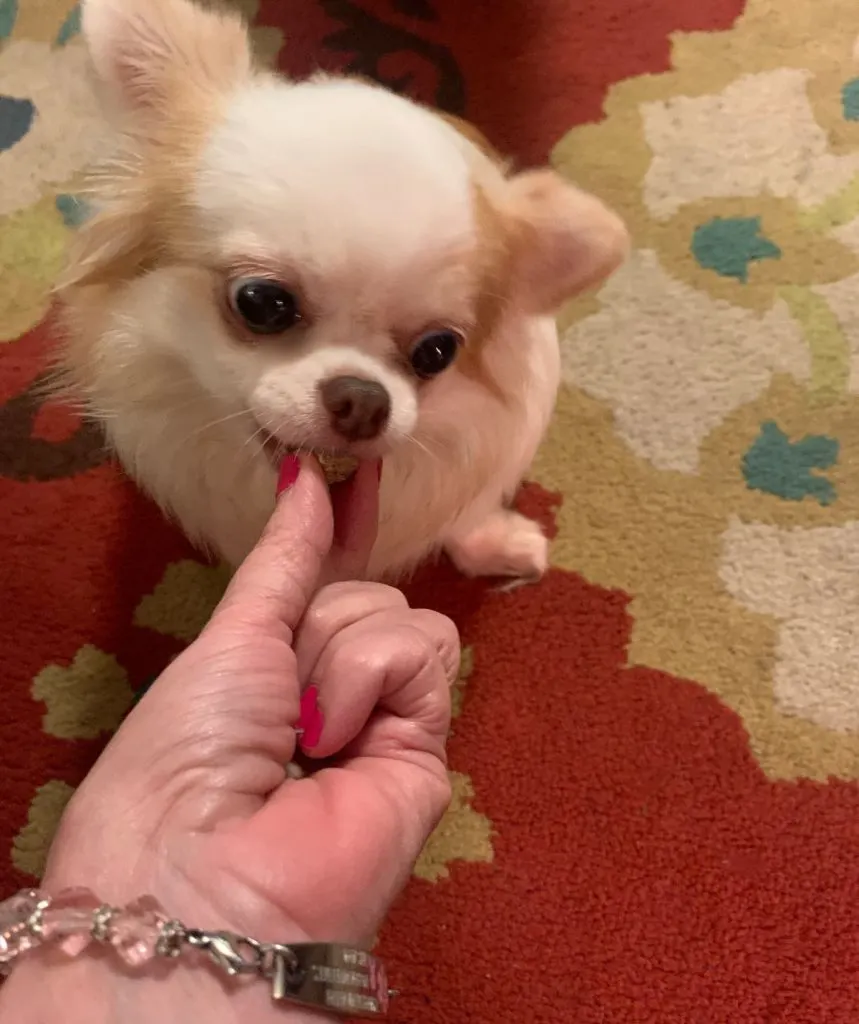 The bags are resealable, ensuring that the Cubies stay fresh and maintain their quality. This is especially handy for our small chihuahuas who may take a while to get through the box of food.
I actually like to store my dogs' food in gallon-sized mason jars but if I wanted to store it in its original package, it wouldn't be a problem.
And there's no need to store this food in the fridge or freezer, which is great because I have limited space in mine.
In terms of portion sizes, A Pup Above offers clear feeding guidelines on the packaging. This helps you easily determine the right serving size for your dog, depending on their weight and activity level.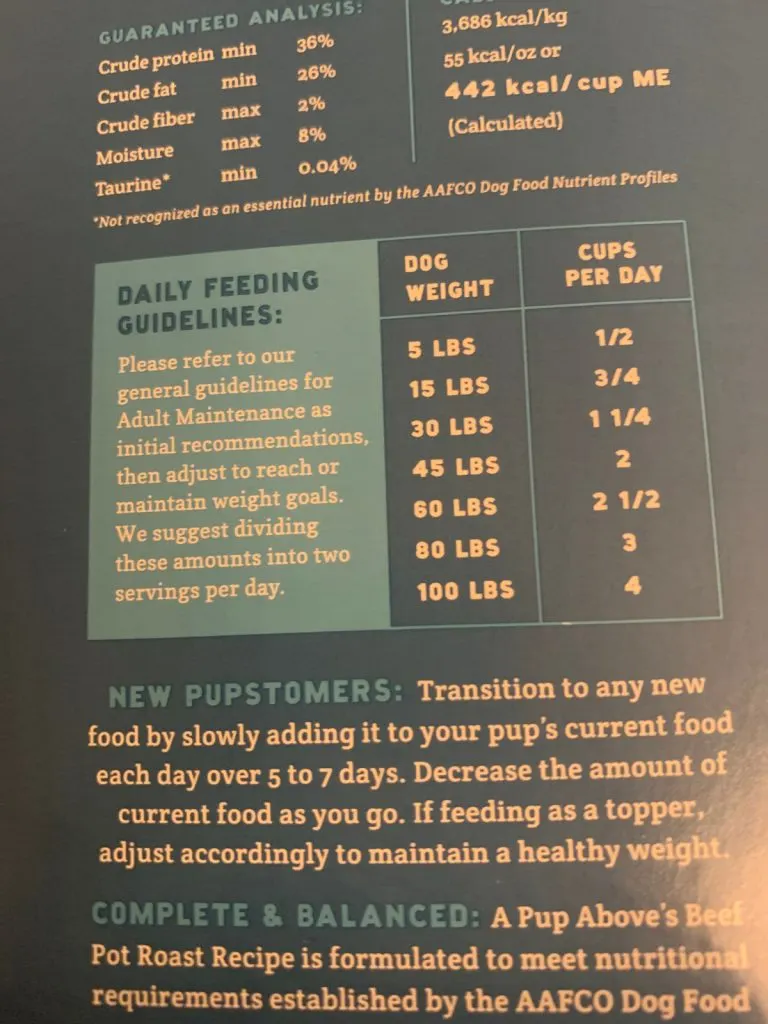 No need to break out a calculator or spend time guessing – just follow the simple chart provided.
Customer Reviews
Pros
Customers appreciate that A Pup Above Cubies are made with human-grade ingredients and ethically sourced meats, giving them peace of mind that their dogs are eating high-quality food.
The four all-natural, non-GMO recipes available (beef, chicken, pork, and turkey) cater to different preferences and provide variety for their pets.
Customers have also praised A Pup Above for their attention to safety, as each batch of food is third-party tested for pathogens like listeria and salmonella. The grain-inclusive and grain-free options ensure that dogs with varying dietary needs are well-catered for.
Cons
There were some concerns among customers about the price of A Pup Above Cubies, as they are comparatively more expensive than other dog food options. However, many justify the higher price due to the quality of ingredients and the benefits their dogs experience from eating this food.
Another potential downside is the limited availability of A Pup Above products. Customers may find it difficult to purchase Cubies in certain locations or mainstream pet stores, potentially creating inconvenience for some dog owners. You can find out if there is a store near you here or order online.
Overall, while there might be some drawbacks to consider, A Pup Above Cubies has received positive feedback from customers who prioritize high-quality, safely prepared food for their dogs.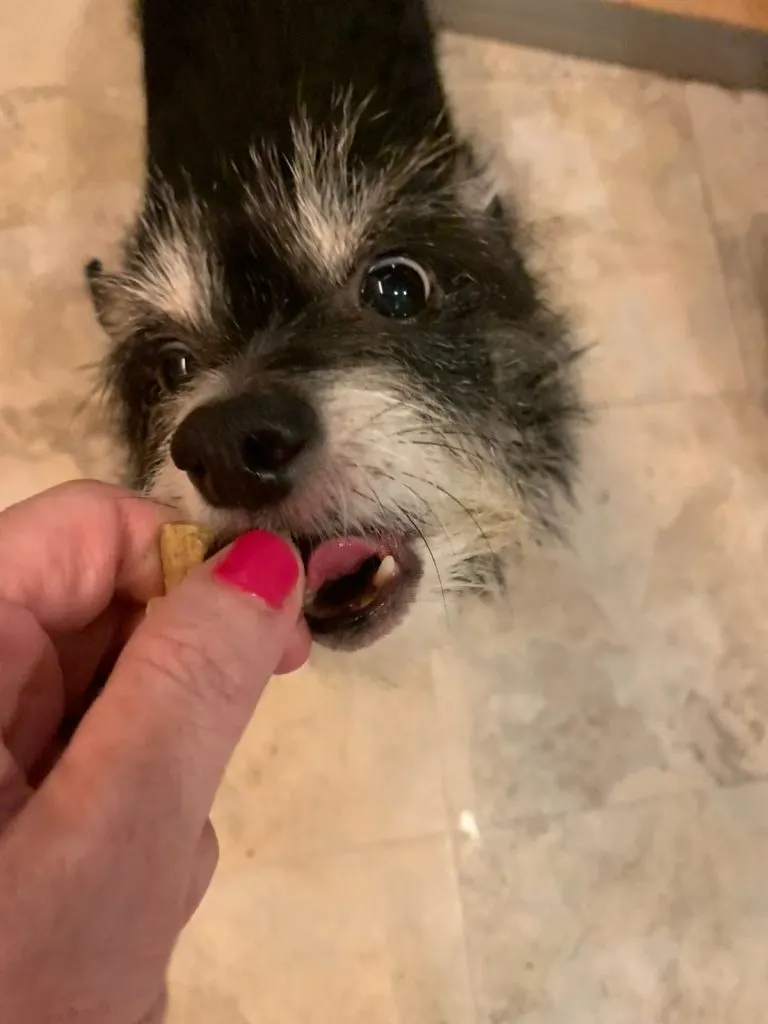 Price Comparison
When it comes to purchasing A Pup Above Cubies, you might be wondering how the cost stacks up against other products on the market. By comparing the prices, you'll have an idea of the investment you're making in your dog's nutrition.
First, let's take a look at A Pup Above Cubies. According to the official website, prices vary depending on the product size and quantity you choose.
However, they offer the convenience of subscription services (if wanted or you can always order once to see if your dog likes the food), allowing you to save on your orders and receive them regularly.
Now, let's consider some popular dry dog food brands. For example, the well-known Blue Buffalo brand offers a wide range of prices depending on the formula and size, with an approximate cost of $40 to $60 for a 24-pound bag.
Another option is the premium brand Orijen, which can be more expensive, ranging between $90 and $110 for a 25-pound bag.
If you're leaning towards grain-free options, Taste of the Wild is often priced around $50 for a 28-pound bag.
In comparison, A Pup Above Cubies may seem to be a more premium option based on price.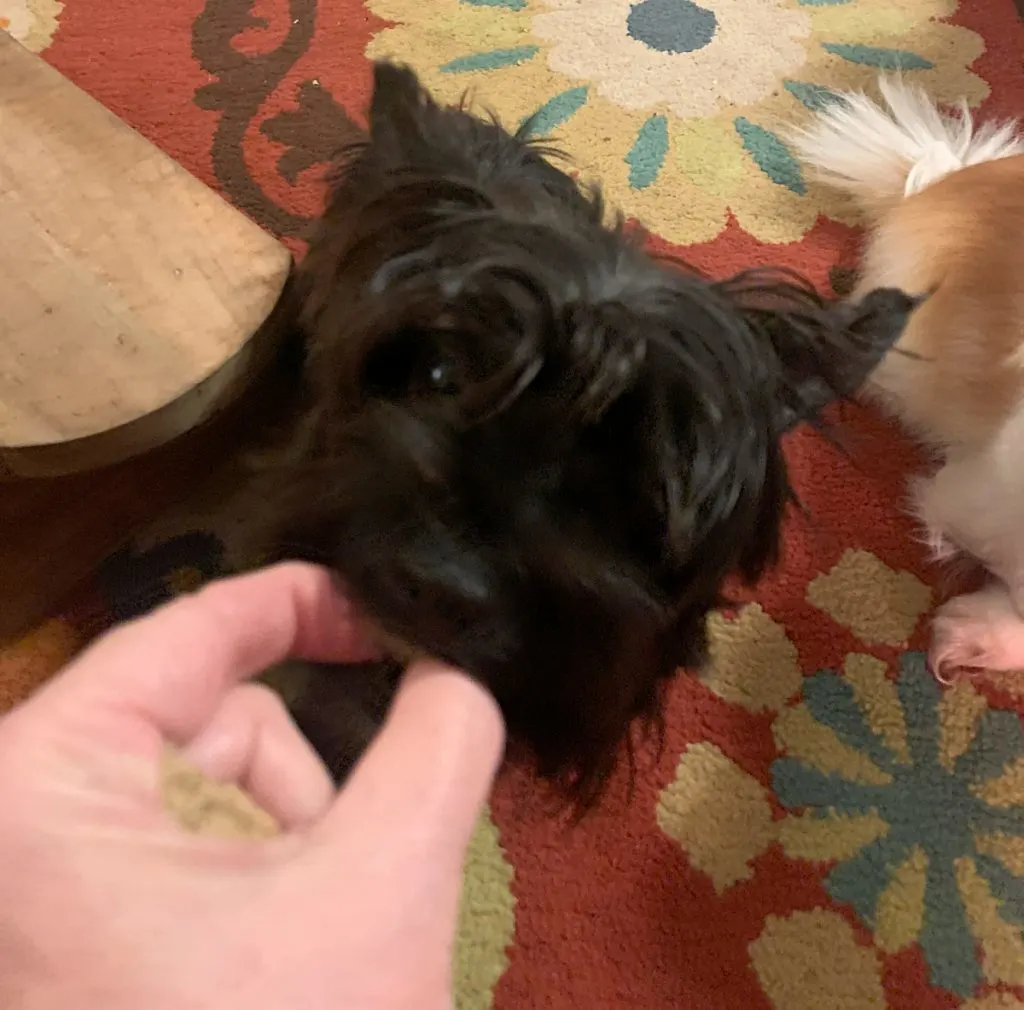 I however feel if I feed my dogs high-quality food, they will be happier and healthier and there will be fewer vet visits and hopefully, they will have longer lives.
So it's worth it to me.
We have already finished one box of the food, and we tried the chicken first because chicken is the most often reported food to cause allergic reactions in dogs. Fortunately, the chicken did not aggravate my Ziggy's allergies at all. And the picky boy likes it.
Remember, every dog has different nutritional needs, and it's important to find the right food for your little buddy. Make sure to consult with your veterinarian if you have any concerns about your dog's diet or would like assistance in choosing a suitable food based on their specific health requirements.
Final Thoughts
I really love this food for my dogs. The cubies are small so they are a good size for my Chihuahuas and Yorkies. My dogs love the Cubies and the quality of the food is excellent.
I have been using it for their morning meal and also I give them a cubie as a treat.
In conclusion, A Pup Above Cubies might be a great option to consider when searching for your dog's next favorite meal. With their commitment to quality ingredients and innovative cooking methods, you can feel confident you're providing your dog with the nutrition they need to live a happy, healthy life.
Frequently Asked Questions
What is the difference between A Pup Above and other dog foods?
While many traditional frozen dog foods undergo processes like freeze-drying, A Pup Above's Whole Food Cubies are cooked using a unique method called Nutridry. This process combines the best aspects of dehydration and air-drying, preserving natural flavors, aroma, and nutritional value. A Pup Above's Cubies don't require rehydration and don't need to be refrigerated or frozen, setting them apart from typical frozen dog foods.
Are A Pup Above meals healthy for my dog?
Yes, A Pup Above meals are made with human-grade ingredients, ethically sourced meats, and are all-natural and non-GMO. Their recipes are third-party tested for pathogens like listeria and salmonella, ensuring safety and quality. They offer grain-inclusive and grain-free options, so you can choose the right fit for your dog's dietary needs.
How does A Pup Above compare to Pet Plate?
Both A Pup Above and Pet Plate offer human-grade, ethically sourced, and fresh ingredients in their dog food recipes. The main difference between the two is the food format. A Pup Above offers both dry food and fresh options, whereas Pet Plate focuses on fresh, refrigerated meals. The choice between the two will likely come down to your preferences and your dog's feeding habits.
How much does A Pup Above cost?
The cost of A Pup Above will depend on factors like your dog's size, dietary needs, and chosen recipe. You can check their prices by visiting the A Pup Above website.
Can I get a free sample of A Pup Above?
Currently, A Pup Above does not offer free samples. However, they occasionally provide promotional offers and discounts, which you can find on their website or social media platforms.
Are there any discount codes for A Pup Above?
Discount codes for A Pup Above may be available through their website, newsletter, or social media channels. Keep an eye out for any special offers or promotions to get the best value for your purchase.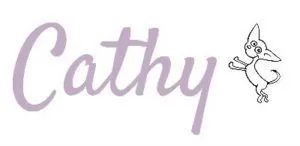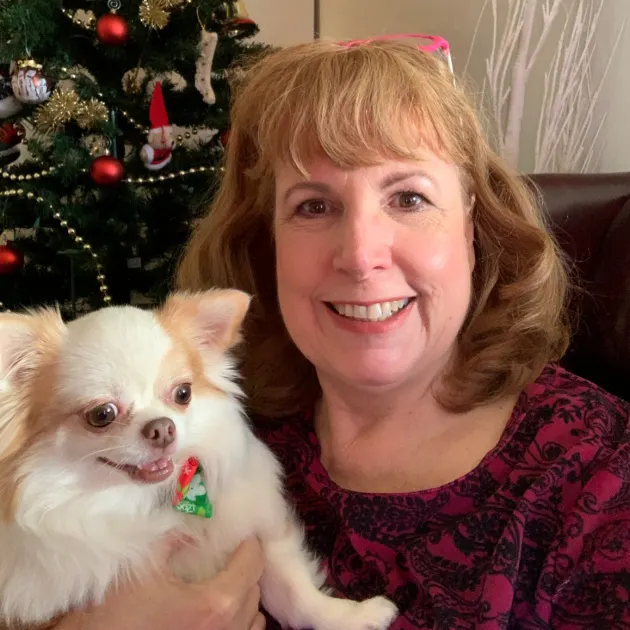 Cathy Bendzunas
Dog Blogger
I'm an avid dog lover and I've had many dogs throughout my life. When I rescued my first Chihuahua, I was hooked on the breed.
I have had dogs all my life and have trained as a dog groomer. I also have been a kennel worker, worked in a pet hotel through PetSmart, and still am a pet sitter.
Read my full bio on my About page