This post contains affiliate links, and I will be compensated if you make a purchase after clicking on my links. As an Amazon Associate I earn from qualifying purchases. Learn More
Choosing the perfect name for your new Chihuahua can be both exciting and challenging. With their big personalities and even bigger hearts, these pint-sized pups deserve a name that captures their unique charm and spirit.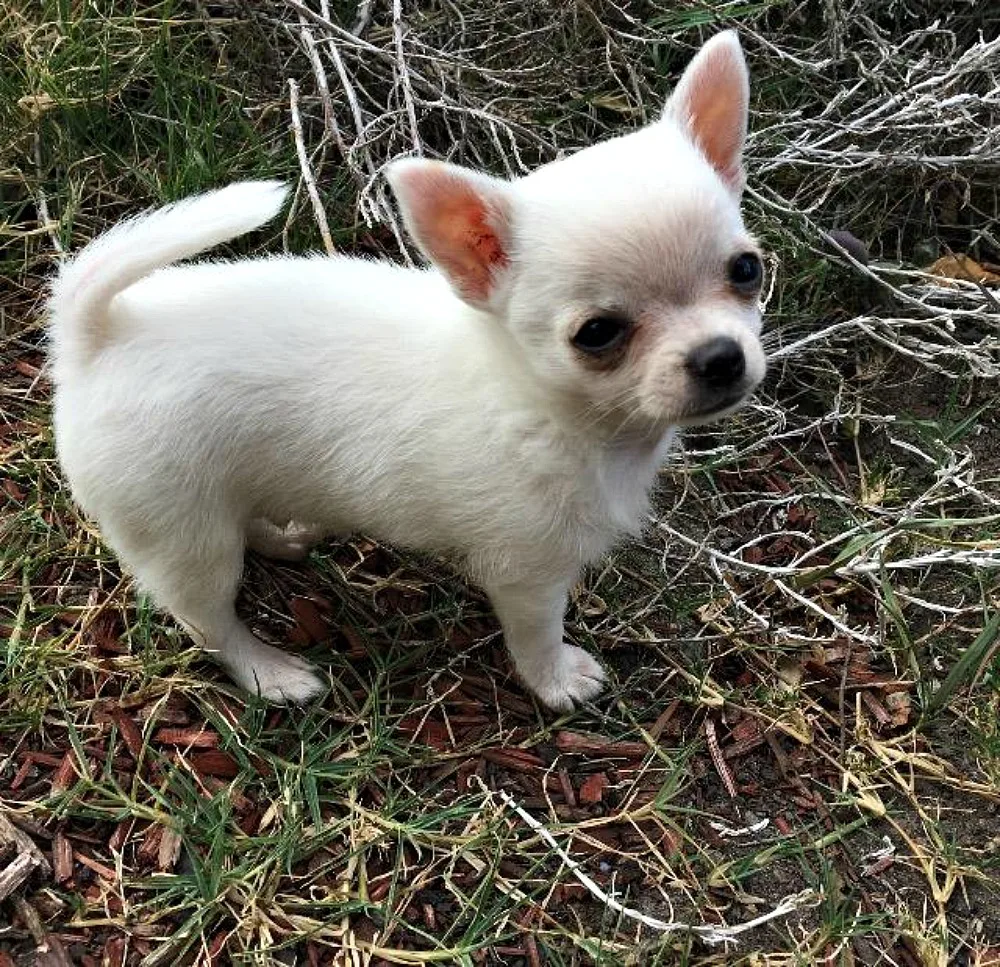 From adorable to sassy, Chihuahua names run the gamut, ensuring that there's a perfect name out there for every little chi.
In this article, we'll explore some cute Chihuahua names to inspire you during your naming journey. Whether you're a fan of the classics or looking for something a little more playful, you're bound to find a name that fits your furry friend like a glove.
So, sit back, relax, and let's explore the wonderful world of cute Chihuahua names together!
What Makes a Great Chihuahua Name
When choosing a name for your Chihuahua, you want to pick something that perfectly captures both their size and personality. One thing to consider is choosing a name with a touch of irony, like Fido, which has fallen out of favor but is perfect for a tiny dog with an outsized spirit.
Using inspiration from favorite foods is another great way to find a cute Chihuahua name. Popular choices include Taco, Nacho, Bean, and Brownie.
Get creative with this approach and explore different types of food for inspiration!
Here are some more cute food names for Chihuahuas:
Marshmallow
Jellybean
Biscuit
Cinnamon
Waffles
Names tied to their Mexican heritage, such as Spanish and Mexican-themed monikers, can also make a great Chihuahua name. Think about names that have a fun, festive, or exotic vibe to them.
Don't forget about names inspired by popular culture. Chihuahuas are well-represented in movies, TV shows, and even by celebrities' pets, so take a moment to delve into this wealth of inspiration.
Hollywood's elite have named their Chi dogs everything from Opal to Oliver, so why not follow suit?
Finally, trust your instincts when choosing a name for your Chihuahua. Keep in mind that the name should be easy for you to say and for your dog to understand. In the end, the right name is the one that makes you smile every time you call your beloved fur baby.
Cute Female Chihuahua Names
Are you looking for the perfect name for your adorable female Chihuahua? With their small size and big personalities, these little dogs deserve a name that truly captures their charm.
Here are some cute and unique names to consider for your new furry friend.
Classic and Sweet Names
You can't go wrong with classic and sweet names like Allie, Amber, or Bella. These names are simple, easy to call out and have a touch of elegance that suits your petite pooch.
Other lovely options include Annie, Audrey, and Ava.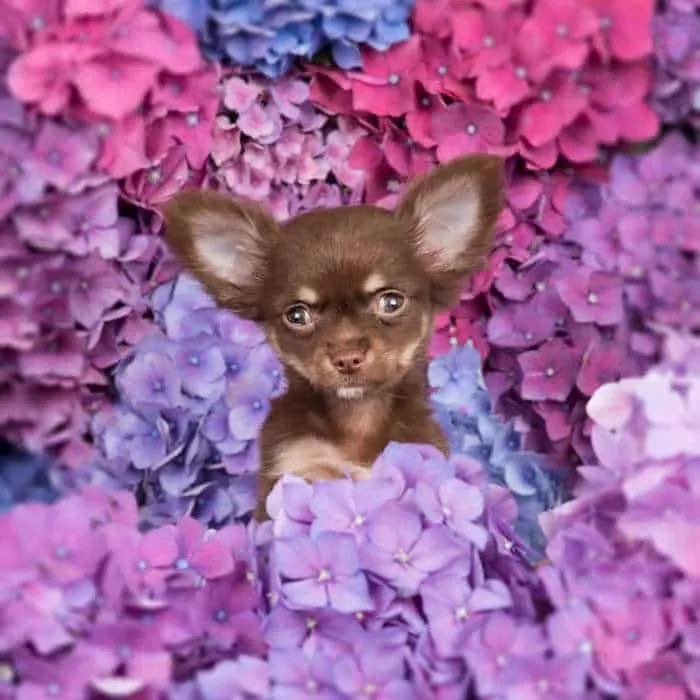 Floral Names
For a name that conveys beauty and grace, consider choosing a floral-inspired name like Aster. This star-shaped flower symbolizes your little Chihuahua shining bright in your life.
Other blooming options include Daisy, Lily, or Rose.
Spunky and Sassy Names
If your Chihuahua has a bold and sassy personality (like many of them do), a name like Zippy or Jinx might be the perfect fit. These names capture the feisty spirit of your little dynamo.
More options in this category include Pixie, Mika, or Gigi.
Inspirational Names
There are plenty of strong and inspiring female names you can borrow for your Chihuahua. Names like Beyonce or Maya (after Maya Angelou) show that tiny size doesn't hinder big achievements.
Other empowering options include Frida, Cleo, or Athena.
Some other girl cute chihuahua names:
Ruby
Zoe
Rosie
Mia
Sophie
Take your time with selecting the right name for your female Chihuahua. With so many cute and fitting options, you're sure to find the perfect name that captures her unique personality and charm. Happy naming!
Oh and be sure to check out our large list of names for girl Chihuahuas.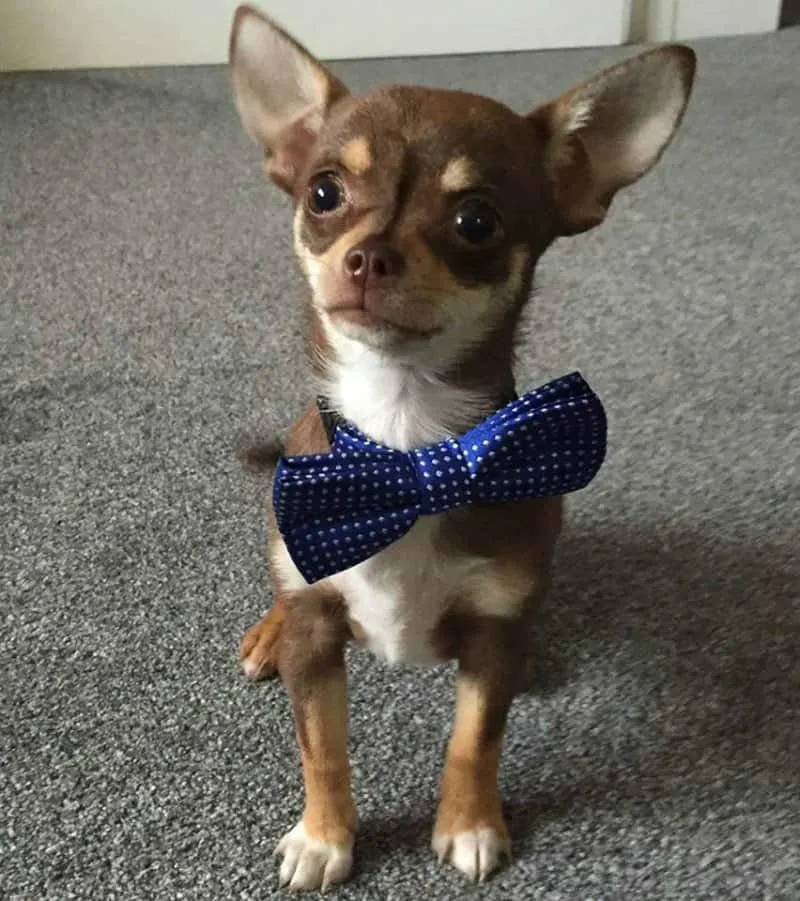 Cute Male Chihuahua Names
Choosing a name for your adorable little boy Chihuahua can be quite the task, as you want to capture his cute and sassy personality. Don't worry! We have gathered some amazing name ideas that reflect your Chihuahua's lovable nature.
Names inspired by their small size, such as Peanut or Tiny, will emphasize their charming miniature stature. You can also go for humorous names like Munchkin, Nugget, or Buddy to showcase their playful spirit.
If you prefer a more sophisticated name for your Chihuahua, consider selecting an elegant name like Oliver, Charlie, or Milo. These names have a timeless quality and showcase your little guy's classy side.
Another great way to name your pup is by looking into his origin – the Chihuahua breed hails from Mexico! So, why not choose a popular Mexican name? Names like Chico, Paco, Diego or Nacho are fun, unique, and grounded in culture. They will make your Chihuahua stand out among his canine friends.
You can get inspired by your Chihuahua's coat color. For instance, if your furry pal has a unique coloring like chocolate or cream, you can name him Cocoa, Latte, or Mocha.
These names not only sound endearing but also highlight your dog's striking appearance.
Some other cute boy chihuahua names:
Teddy
Louie
Rocky
Lucky
Oreo
Remember, the name you choose will be with your Chihuahua for his entire life, so take your time and pick the perfect one that best suits his cute and spirited character.
We have a post with lots of boy chi names here.
Food-Inspired Cute Chihuahua Names
When it comes to naming your adorable Chihuahua, food-inspired names can make for some cute, unique, and memorable choices. These names often reflect the delightful and fun-loving nature of Chihuahuas and are sure to grab attention at the dog park.
If your pup makes you think of a delicious dish, consider names like Taco, Nacho, Churro, Tamale, Burrito or Chip. These names are playful and easy to say, perfect for a Chihuahua who loves to munch on treats.
You might also consider other popular snack-inspired names like Bean, Nugget, or Brownie. It's clear that this breed is often associated with good things in life.
For the Chihuahua with a sweet tooth, adorable dessert-inspired names like Cupcake, Cookie, or Muffin can be perfect too. They not only reflect their tiny size but also emphasize their sweet and lovable personalities.
Talking of size, you may want to play on the tiny stature of your Chihuahua by naming them after small food items like Olive, Peanut, or Cherry. These names are cute and endearing, reminding you of their pocket-size dimensions.
Don't forget about your favorite drinks! Names like Latte, Mocha, Margarita or Espresso can all make for great Chihuahua names, representing their zest for life and energetic personalities.
So go ahead, show off your Chihuahua's irresistible charm by choosing a food-inspired name that's as delightful and lovable as they are.
Remember, the best name is one that makes you smile and suits your furry companion's unique characteristics.
Cute Spanish Chihuahua Names
As Chihuahuas are of Mexican origin, picking a Spanish-inspired name is a great way to honor their heritage. Here are some cute Spanish Chihuahua names to help you choose the perfect name for your pint-sized companion.
One adorable name option for your Chihuahua is Bella, which means beautiful in Spanish. This name is perfect for a little lady with a charming presence.
On the other hand, if you have a handsome male Chihuahua, consider naming him Guapo which translates to good-looking in English.
If you're looking for a name that describes your Chihuahua's size and personality while also staying true to their Spanish roots, Pequeño (meaning small) or Chiquito (meaning little) are both great options.
The world of Spanish literature and history also offers a treasure trove of name ideas. You might consider naming your Chihuahua after renowned Mexican painter Frida Kahlo or even legendary Spanish author Cervantes.
Remember, when choosing a Spanish Chihuahua name, it's essential to pick one that resonates with your pup's personality, appearance, or individual quirks.
Don't worry too much about finding the perfect name straight away – sometimes, it takes a little time to discover the right fit. Ultimately, the most important thing is to enjoy the process and cherish the growing bond between you and your Chihuahua.
Some other Spanish names to think about:
Bonita -means pretty
Luna -means moon
Sol -means sun
Miel -means honey
Amigo -means friend
Rosa -means Rose
Pop Culture-Inspired Cute Chihuahua Names
First off, let's talk about famous Chihuahuas. Names like Gidget, the Taco Bell dog, or Bruiser from Legally Blonde make adorable options for your Chihuahua.
You could also look to the movie Beverly Hills Chihuahua for inspiration with names like Papi or Chloe.
Next, how about picking a name from your favorite TV show or movie character? If you're a fan of Game of Thrones, names like Arya or Tyrion would be perfect for a small but fierce pup.
For a classic and cute name, go for Tinkerbell, Paris Hilton's famous Chihuahua.
Feeling musical? Song titles, band names, or musician names make catchy monikers for your dog. You could go for something like Ziggy, after David Bowie's alter ego, or stick with cute options like Buddy Holly or Fergie.
Since Chihuahuas originated from Mexico, a culturally inspired name might be fitting. Consider names from famous Mexican figures like Frida (Kahlo), Diego (Rivera), or Selena (Quintanilla).
A few other pop culture names to consider:
Play around with different pop culture references until you find the perfect fit for your new Chihuahua. Whichever name you choose, just remember to pick one that makes you smile and feels perfect for your little companion. Happy naming!
Top 10 Cute Chihuahua Names
When it comes to naming your new Chihuahua, you've got plenty of adorable options. To help you with your quest, we've compiled a list of our top 10 cute Chihuahua names:
Taco – A playful and fun name that reflects the breed's Mexican heritage. Plus, it's short and catchy, making it perfect for this tiny pooch.
Peanut – An endearing and descriptive name for your small furry friend. It's also great for a Chihuahua with a playful and nutty personality!
Nugget – Another cute name that captures the small size of your Chihuahua. Whether you have a gold or chocolate-colored pup, this could be a perfect fit.
Bella – A sweet and popular name meaning "beautiful" in Italian. Your tiny Chihuahua will undoubtedly live up to this pretty title.
Pixie – Chihuahuas can sometimes have a mischievous side, making Pixie an apt name choice that celebrates their big personalities in a little package.
Gizmo – With their big eyes and perky ears, Chihuahuas can sometimes resemble the adorable character from the 1984 film Gremlins. This name is great for pop culture enthusiasts!
Coco – A cute and popular name for a chocolate-colored Chihuahua or simply a cuddly companion that you can't resist cooing over.
Chico – Meaning "little boy" in Spanish, this classic name is perfect for your pint-sized male Chihuahua.
Lola – A timeless name with a fun and spunky vibe. Lola is sure to suit a female Chihuahua with lots of attitude!
Teenie -Perfect for your tiny chi.
Cute Names from our Readers
I'm going to add the cute name ideas we get from readers here:
Cooter Brown
Maple Leaf
Mario Speedwagon
Toffee
Feel free to mix and match these names or use them as inspiration to come up with your own unique choice. Don't forget to consider your Chihuahua's personality, color, and breed characteristics when choosing their name. Happy naming!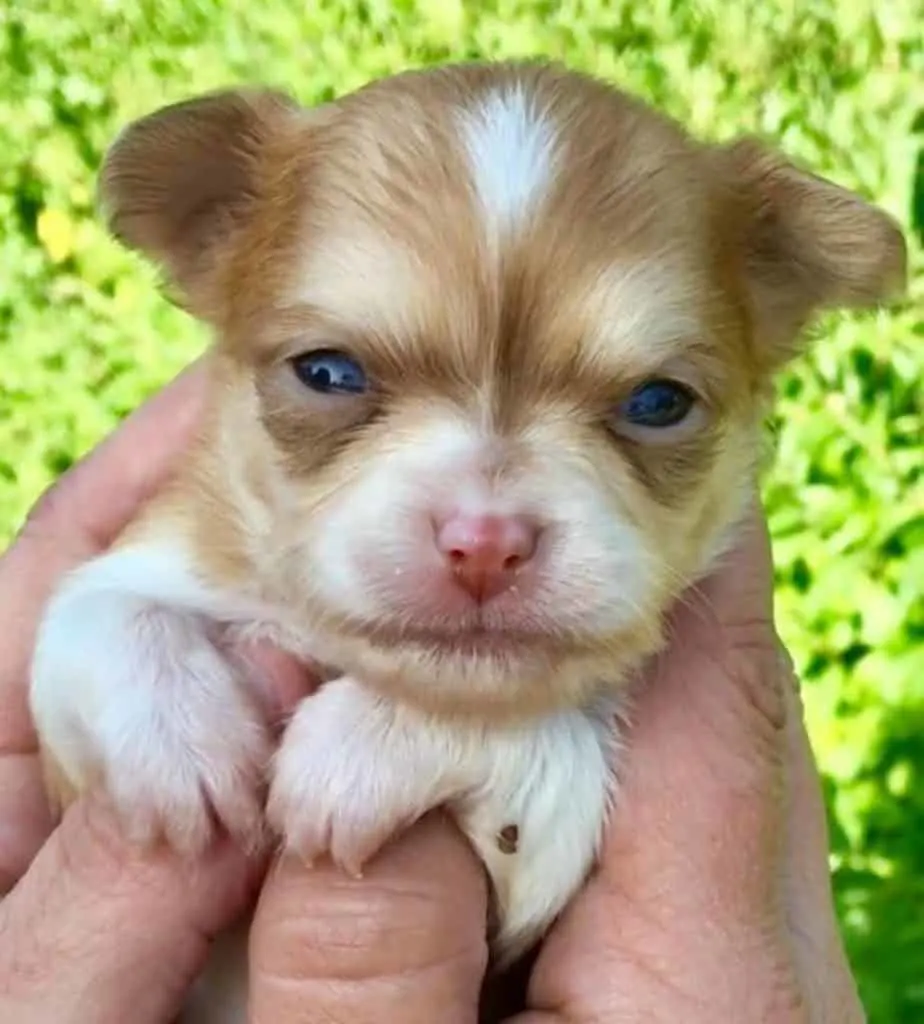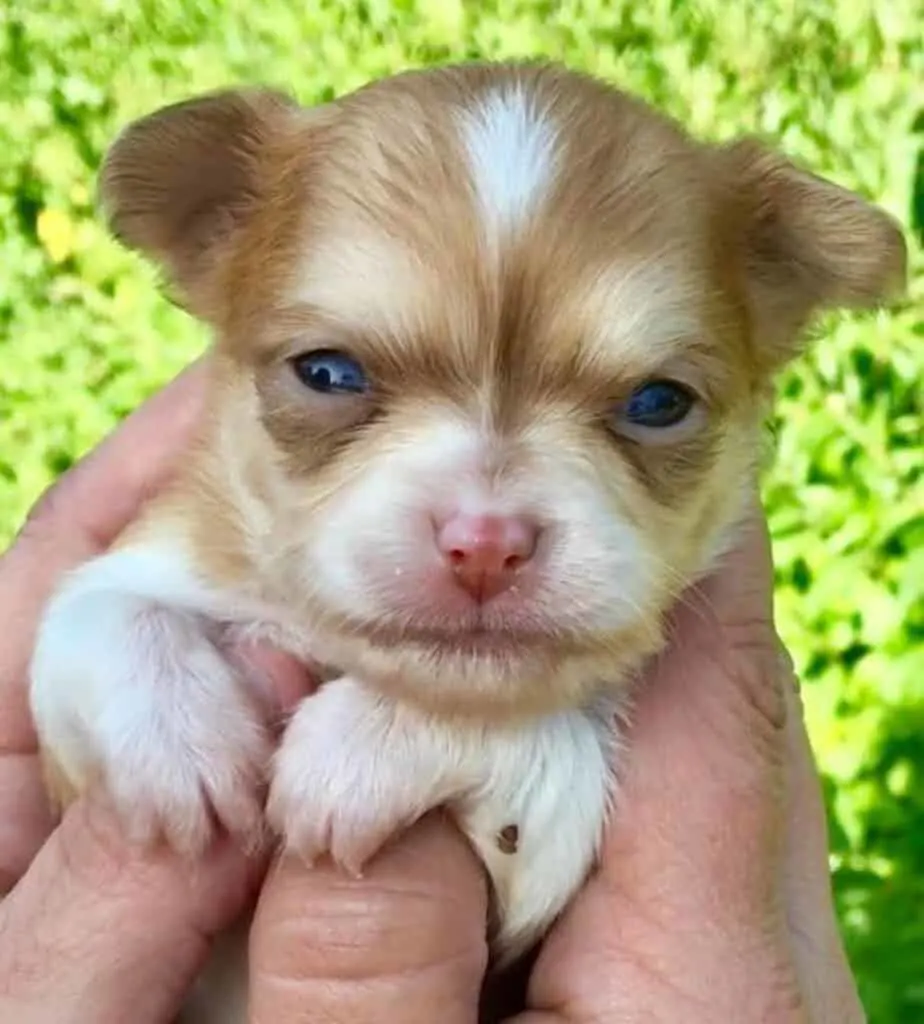 Final Thoughts
Choosing the perfect name for your Chihuahua can be a fun and exciting process. With so many options, it's easy to find a name that truly captures their lovable and spunky personality. We've gathered some of the cutest and most popular names to make the decision a little bit easier for you.
Personality-based names are a great way to showcase your Chihuahua's unique traits. If your little dog is known for their feisty nature, consider names like Sparky or Jazzy. On the other hand, if your pup is more on the affectionate side, names like Snuggles or Cuddles might be more fitting.
Be sure to check out our master post of all the different types of Chihuahua names.
Leave a comment and let us know of any cute Chihuahua names that aren't in this article.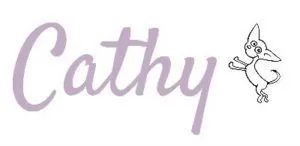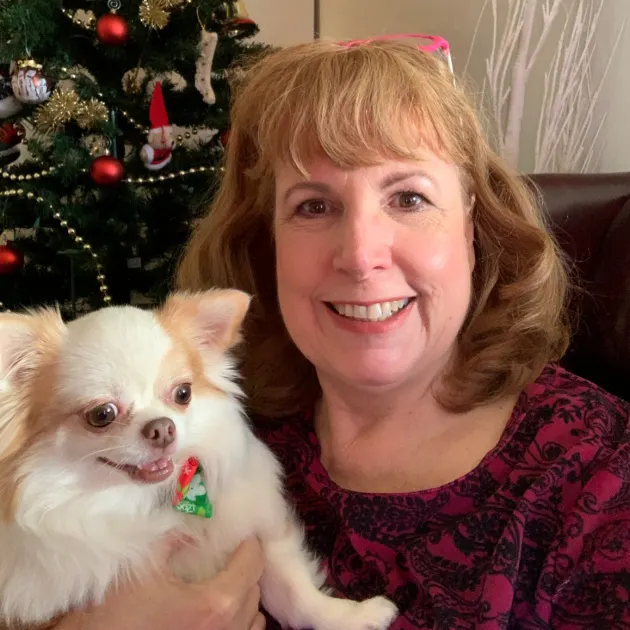 Cathy Bendzunas
Dog Blogger
I'm an avid dog lover and I've had many dogs throughout my life. When I rescued my first Chihuahua, I was hooked on the breed.
I have had dogs all my life and have trained as a dog groomer. I also have been a kennel worker, worked in a pet hotel through PetSmart, and still am a pet sitter.
Read my full bio on my About page