This post contains affiliate links, and I will be compensated if you make a purchase after clicking on my links. As an Amazon Associate I earn from qualifying purchases. Learn More
I dare you to watch this video without smiling. This has got to be the most adorable Chihuahua dance I have ever seen!
Be sure to check out all our other chihuahua videos for more chi goodness!

Didn't you just love watching that puppy dance to the whistling? My yorkie does this too when he wants attention.
Be sure to check out all our other chihuahua videos for more chi goodness!
The puppy in the video was behind a gate, did you notice that?
Puppies do need to be confined for their own safety. You don't want them chewing on cords or getting into possibly dangerous things or situations. It's also a good idea to keep them confined when you aren't with them so that they aren't peeing and pooping everywhere.
You can see in the photo below, the setup I use for all my dogs when I bring them home. That's Lucy when I first brought her home. She was 11 months old here. You can see the playpen we got on Amazon here.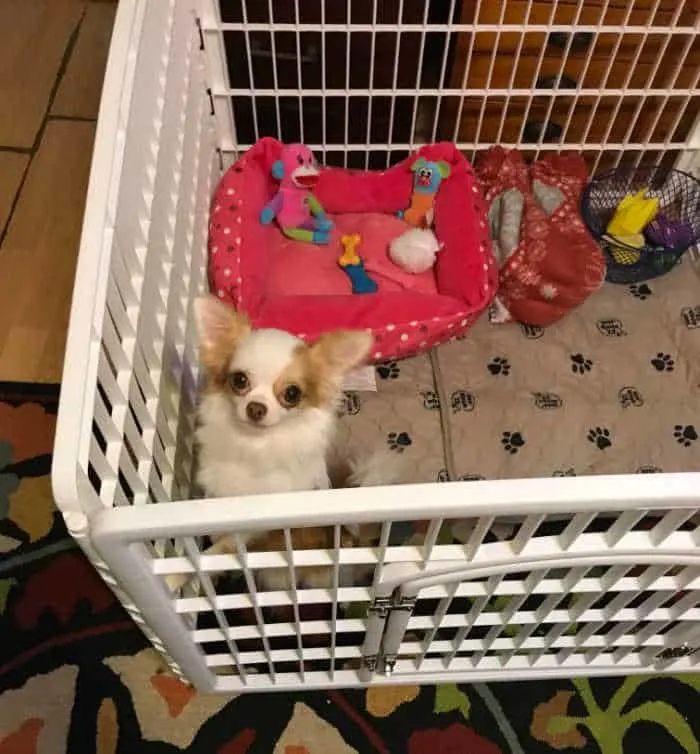 I have heard some pet parents discuss on Facebook that they think it's harsh to leave them in a playpen like this or a crate. If you leave them in there all the time, then yes it is harsh and definitely not a good idea.
Puppies need a lot of cuddling, play and interaction with you. Specially chihuahuas.
But they also need a place to rest, or to be safe when you aren't there and sometimes when they just need a time out.

Many people use crates for this and I have nothing against crates and many dogs seem to prefer them as their own special little room.
Here are two of our popular posts on crating:
How to Crate Train an Adult Dog
The rule of thumb for crates is to not give them too much room, otherwise they will use it to potty. But do give them enough room so they can turn around comfortably and lay down with enough room to stretch out. Amazon has a great crate starter kit here. If you want to buy things separately, along with the crate, be sure to get a washable bed for the crate, a soft blanket and a small water bowl, preferably one that attaches to the side of the crate. Not mandatory, but you may also want to get a crate cover too.
Personally I prefer playpens.
You may also notice in the video above the potty pads in the play area with the puppy. There is also a lot of controversy about pee pads among pet owners. Personally we use them because that's what Lucy prefers much of the time. And if it's rainy, all 3 of my dogs will use a potty pad.
There are pros and cons to using pads. I think most puppies do need them until house trained, unless you are willing to take them out every hour.
Here are our posts on pee pads and housetraining that you may be interested in:
How I Potty Trained my Impossible Chihuahua
You may just be here for the cute puppy video and don't really care about all the "getting started" with a puppy info. That's fine. Below are links to a few of my favorite puppy videos:
And if you dig the little chi's moves in the featured video in this post, check out this video post:
Let me know how you liked that little cutie dancing in the video.