Chihuahua Puppy Supplies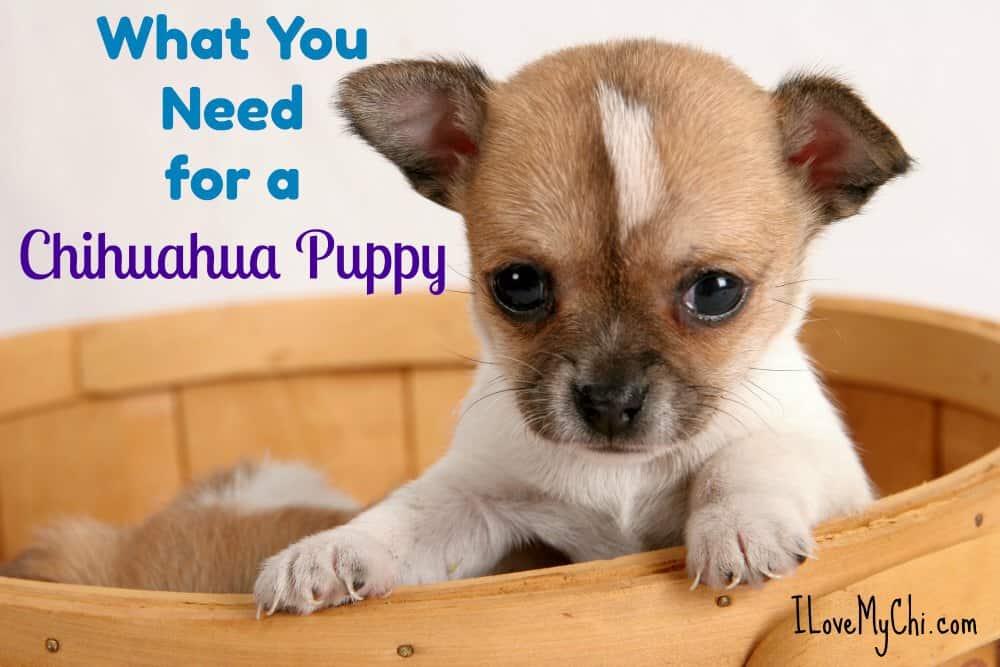 I am so excited for you! You are planning on getting a new chihuahua puppy! Or maybe you just got one and are lost on what this tiny ball of fur needs.
This article should give you a good start.
Wearables
Your puppy will need a harness, collar and leash.
Collar
A collar should not be very wide or heavy. 3/8″ wide is good for a puppy. It should be adjustable so it can be let out as your puppy grows
Even if your puppy is microchipped, it's best to have an ID tag for your dog's collar or your dog's name and your phone number on your dog's collar.
Leash
Leashes should be 5 or 6 feet long and lightweight. Do not use the retractable kind.
Harness
Chihuahua necks are far too fragile to be walked with a leash attached to their collar. Use a harness to attach a leash to, not your dog's collar.
Preferably you want the harness to be adjustable too. Sometimes it's hard to find one small enough to fit your puppy. In that case take them with you to the pet store and try them on there.


---

Grooming
Toothbrush
Chis are known to have dental issues when they get older so it's best to start with a dental routine now while your dog is young. Daily brushing is best but it that's overwhelming, try for every other day.
Some people like using actual toothbrushes made for dogs but I prefer finger brushes. Try both (many come with both types in the same package).
Toothpaste
You can add a little toothpaste to the toothbrush too but don't use toothpaste made for people. They make it for dogs too.
Nail Clippers
Nail clipping is something else you should start early so your puppy will get used to it. You can use nail clippers or a nail grinder.
Click this if you want to read about how to clip your puppy's nails.
Brush
Even if your puppy is shorthaired, a daily brushing will cut down on dander and shedding. It will also help you bond with them as a gentle brushing is very relaxing for dogs. And with more brushing, you should find less baths are needed.
You don't need a brush with wire bristles as that can be painful and chihuahua coats do not need this type of brush. Nylon or plastic bristle brushes work fine for chihuahuas.
Lately we have been using grooming gloves. My dogs really seem to enjoy them and they are really easy to use.
Shampoo
Some people use people shampoo on their dogs but this isn't a good idea. PH levels are very different for dogs so it's best to use a good shampoo specially formulated for dogs.
---

Housing /Bedding
Playpen or Crate
You need somewhere to keep your little one when you can't be with them. I prefer a playpen but many people would rather use a crate.
There are advantages to both.
Playpens give them more room. It's easier to just quickly plop them in there if someone comes to the door or something. And you can move them out to the yard if you are working out there.
Crates are smaller so they don't take up as much room. They are better for travelling. And they give your pup more privacy and quiet when they need a nap.
Puppy Pads
Until your puppy is potty trained, you definitely need puppy pads. I like to buy the bigger pads as they cover more surface area.
You can also get the reusable washable ones too.
Bed
You definitely need at least one dog bed. If you are using a crate, you can get the ones that fit inside there.
Get a washable bed (or one that has a washable cover).
It's best to have several beds and put them in the rooms you are in the most.
I have 3 dogs and I have 3 beds in my office, several on top of my bed (my dogs sleep in my bed with me, but in their own little beds) and several in the family room.
Blankets
Chihuahuas LOVE blankets. They love burrowing in them and you can never have enough of these.
---

Food and Feeding Supplies
Puppy Food
Start your puppy out on whatever they have been eating up to now so as not to upset their tummy.
You can switch them gradually to a high quality puppy food if you want to feed them something else.
Treats
Treats make great incentives for potty training and general training too. Get small or tiny treats as these little guys don't need much.
Food and Water Bowls
Of course your fur baby needs their own food and water bowl. Don't get plastic. Stainless steel is best. Ceramic bowls work well too.
---
Toys
Balls
Believe it or not, there are some balls small enough for chihuahuas. Many dogs, including chihuahuas love chasing after balls.
Chew Toys
Chew toys are a must for a puppy. They love and need to chew. Better to chew on their toys than your shoes or furniture.
Soft Toys
Many puppies (just like human children) need a soft "lovey" for comfort and to cuddle with.
Games
Food game toys are great toys to keep your puppy occupied and busy when you can't be with them. It also helps with their cognitive development.
---

Optional
These are things that you may not need but are nice to have.
Chihuahua Care Book
Of course you can find a lot of the same information online and on this site too but if you'd like to have a physical book at your fingertips to help you raise your chi baby, this is the book on Amazon I recommend.
Enzyme Cleaner
When your puppy has accidents (and he will), you need to make sure you get all the smell up so he won't potty in that spot again.
Enzyme cleaners are great for this. But you can also use white vinegar.
Pet Sling
I find a sling handy when one of my dogs wants to be held but I need to be using my hands. I also use it when I'm going to visit friends and take one of my chis with me.
When I had Kilo (RIP sweet girl) I would use my sling to take her up and down the stairs. She couldn't climb them anymore but I need to hold the railing myself going up. So I'd carry her in her sling.
Pet Stroller
Strollers are great anytime you go to an outside public gathering (a festival, cookout, etc.) and want to take your dog. A stroller gives them a safe place where they don't have to worry about being trampled on. They can still see everything going on.
Car Seat
If your chihuahua puppy is going to be travelling a lot in the car with you, a car seat to keep them safe is a good idea.
Clothes
Chihuahuas tend to get cold easily so it's best to keep a couple of sweaters around to put on them when it's chilly. If you take them on walks in the winter, a coat is a good idea too.
Chewing Deterrent
Puppies love to chew but don't understand why it's okay to chew some things, such as their chew toys, and not other things, such as your chair leg. Just spray on a chewing deterrent on what you don't want them to chew on.
First Aid Kit
You never know when you are going to need one of these. We have an aarticle on what you need in your first aid kit to help you set one up or you can get a kit already put together.
Depending on how your home is laid out, you may want to get a baby gate to keep your little munchkin from going into areas, you'd rather they not go into.
---
I made a printable checklist for you. No opt in is needed. All you need to do is click on it and download the PDF file. Then open it and print it out.
Okay that's it. If you have any questions about any of these products or any questions about your puppy, feel free to leave a comment.
Also if you already have a puppy, leave their photo in the comments section. We'd all love to see them!