This post contains affiliate links, and I will be compensated if you make a purchase after clicking on my links. As an Amazon Associate I earn from qualifying purchases. Learn More
A walk down the supplement aisle at any pet store can certainly be overwhelming! There are so many options, and some of them are quite costly. You might wonder, "Does my dog really need this?" The answer may surprise you.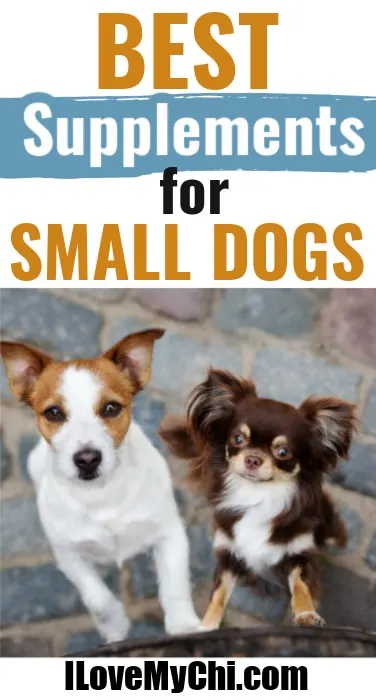 Many dogs may benefit from supplements being added to their diet. Most often, supplements initially become necessary as dogs advance in age.
This article will discuss some of the most common supplements for small breed dogs and why it would benefit your dog for these supplements to be a part of their health and wellness care plan.
Why should I give my dog supplements?
Dogs who are fed quality commercial food receive all the nutrients they need. However, they sometimes have other needs that may be met or improved by the addition of a supplement to their daily diet.
Similar to how humans take supplements and vitamins to meet specific needs, dogs have similar choices available to them.
Does my dog really need supplements?
Some dogs can truly benefit from supplements, but not all dogs need them. Most dogs tend to benefit from supplements as they age rather than in puppyhood.
For example, a senior dog who is moving more stiffly usually benefits from a joint supplement.
If you are considering giving your dog a supplement, consult with your dog's veterinarian to see what they would recommend before administering the supplement.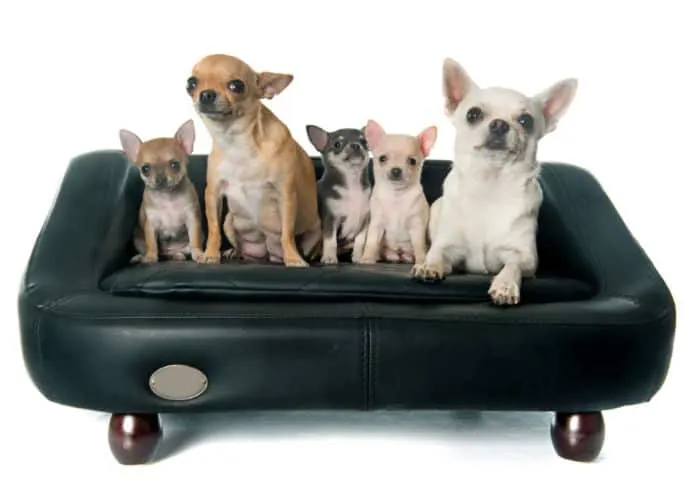 How do I know if a supplement is safe for my dog?
Similar to how people have allergies and unique needs that necessitate avoidance of certain foods or medicines, some dogs may not be able to safely take certain supplements. In the case of canines, there are certain things that dogs just cannot have, which limit what supplements may be administered.
For example, garlic is often sold as a natural supplement for flea control, and I have heard some people in foreign countries utilize garlic in their dog's diets for a similar purpose. However, according to the American Kennel Club, it is toxic to dogs.
The only way to know for sure if a supplement is safe for your dog is to consult with a trusted veterinarian. If you are unsure if a supplement is safe, do not administer it first and ask questions later; always ask questions first to keep your dog safe and healthy.
How do I choose a supplement for my dog?
No one knows your dog better than you; you will notice physical changes in your dog and there are appropriate supplements that can assist your dog with those changes. Other times, your dog's veterinarian may recommend the addition of a supplement to your dog's diet.
For example, one of my readers was taking her Chihuahua, Maxine, to the veterinarian almost every two weeks due to severely soft stool. Maxine's veterinarian recommended Purina FortiFlora be added to her meals and this probiotic greatly assisted Maxine's digestive health.
What Are The Best Supplements for Small Dogs?
Based upon my personal experience and feedback from my readers, I have compiled a list of the most common supplement needs, and good quality supplements to meet those needs:
Joint Health
The most frequent supplement needed is joint support. As dogs age, most of them begin to suffer from arthritis. When owners notice their dogs slowing down, a joint support supplement can help keep them comfortable and moving better.
Cosequin is a high-quality, effective supplement that helps seniors stay comfortable. Several of my readers have told me that they saw a noticeable difference in their senior's movement and comfort when Cosequin was administered.
This joint supplement comes in many different forms to suit different breeds, the severity of joint stiffness, and sizes of dogs. I would recommend the following for small breeds based on their unique needs: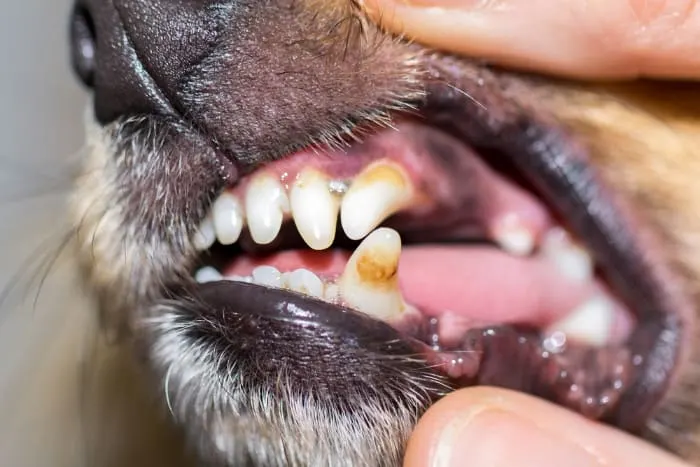 Oral Health
Small breeds are prone to dental health issues, so many owners decide to administer supplements to support dental health early in life as a preventative measure.
However, many veterinarians agree that the majority of the oral supplements available at pet stores are not effective. Keep in mind that even if you administer one of my recommended oral health supplements, regular dental care should always be arranged to include brushings at home and professional veterinary dental cleanings.
Based upon my veterinarian's recommendation, and confirmation of success from my readers, there are three oral supplements that I am confident to recommend:
*Consult with your veterinarian before feeding your dog a prescription diet.
Coat Health
Dogs who suffer from dry skin, or light-colored dogs who get tear stains on their faces, benefit from supplements that support healthy skin and coat.
Digestive Health
Some dogs have digestive upset or have overactive anal glands. Both of these issues may be supported with supplements:
Emotional Health
Dogs who suffer from anxiety may be given calming supplements such as:

Overall Health
Dogs who are fed homemade diets or raw diets should be fed a multivitamin to ensure that all their nutritional needs are met. Dogs who are fed a commercial diet do not usually require multivitamins; consult with your veterinarian to see if your dog would benefit from a daily multivitamin.
The Zesty Paws Multivitamin is a tasty chicken flavored soft chew that will make this vitamin seem like a treat.
Vitamins for Puppies
We really like these vitamins for puppies from Waggedy Chewable Dog Vitamins .
Closing Considerations
Many dogs may benefit from supplements. By studying your dog's overall health and consulting with a trusted veterinarian, you can determine what supplements your dog may benefit from.
Remember that supplements are never a substitute for veterinary care and they cannot cure any medical issues. However, they do have the potential to help your dog have a better quality of life by making them more comfortable.
What supplements have you given your dog? Did you notice a difference in their comfort and quality of life? Let us know if there's a supplement that works great for your dog. Share your experience in the comments.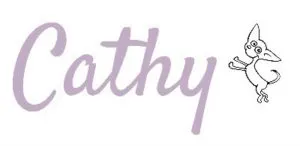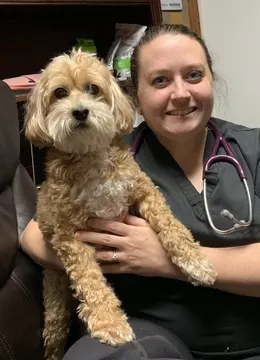 Dr. Sara Ochoa
DVM
This article has been fact-checked and approved by Dr. Sara Ochoa DVM. You can read more about her on our About page.