This post contains affiliate links, and I will be compensated if you make a purchase after clicking on my links. As an Amazon Associate I earn from qualifying purchases. Learn More
Have you ever thought of having a nice piece of artwork done of your dog? Something you could keep forever. I actually did a painting about 5 years back of my 3 dogs I had at the time. They have all passed but I still have the painting hung up and love to look at it and remember them.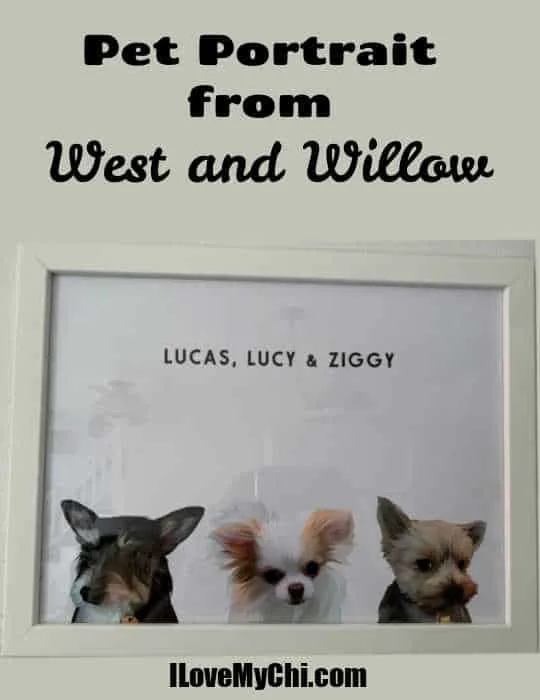 Recently I came across some cool pet portraits that are digitally made by a company called West and Willow. They actually offered to make me a portrait of my 3 little munchkins in exchange for a review. I'm not receiving any other compensation from them other than the portrait. All opinions are my own.
These portraits are so artsy and cool looking, I have already had several compliments on mine from people who came to my home.
They won't include people in the portrait but you can have any kind of pet in it. I saw some cute examples on their site. One was of a bunny with a cat and dog.
You can have up to 3 pets and you can have their names on it too if you want them.
You can get the portrait fully framed and ready to hang, or just as a poster. You have 3 background color choices (white, pink or gray) and 2 frame color choices (black and white). There are different sizes available and also an iphone case too.
The prices range from $39.95 to $179.95 but there are often sales. You can get 15% off your order by using the code PAWFRIENDS15 at checkout.
Shipping is free on orders over $100 or a flat rate of $9.95 for under $100. They ship to other countries too for a flat rate of $14.95. It takes about 2-3 weeks to receive your portrait after ordering.
What I Liked
Very easy to order from. Just pick which product, size and colors and upload your photos and type in the pets' names.
Customer service was very responsive. I had a question and they got back to me quickly.
The finished portrait looks high quality and is something I will cherish forever.
In reading some reviews on a review website, with the few people who had issues, West and Willow was quick to fix their issues and make things right.
What I Didn't Like
Although I LOVE the finished portrait, there does seem to be a little too much white space in it.
You can't see a review of the portrait before it's completed. If I had been able to see it first, I would have asked for less white space.
Here's the 3 original photos I chose: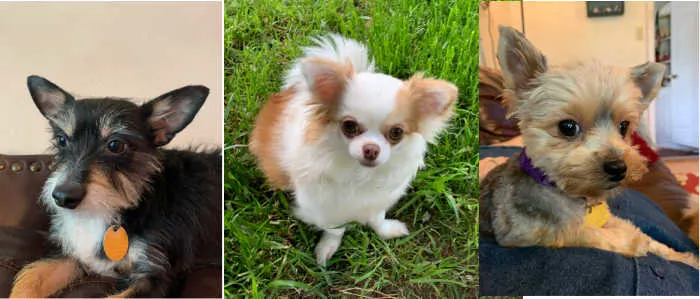 And here's the finished portrait (be aware there's some glare and a lot of shadows in this photo that aren't on the portrait):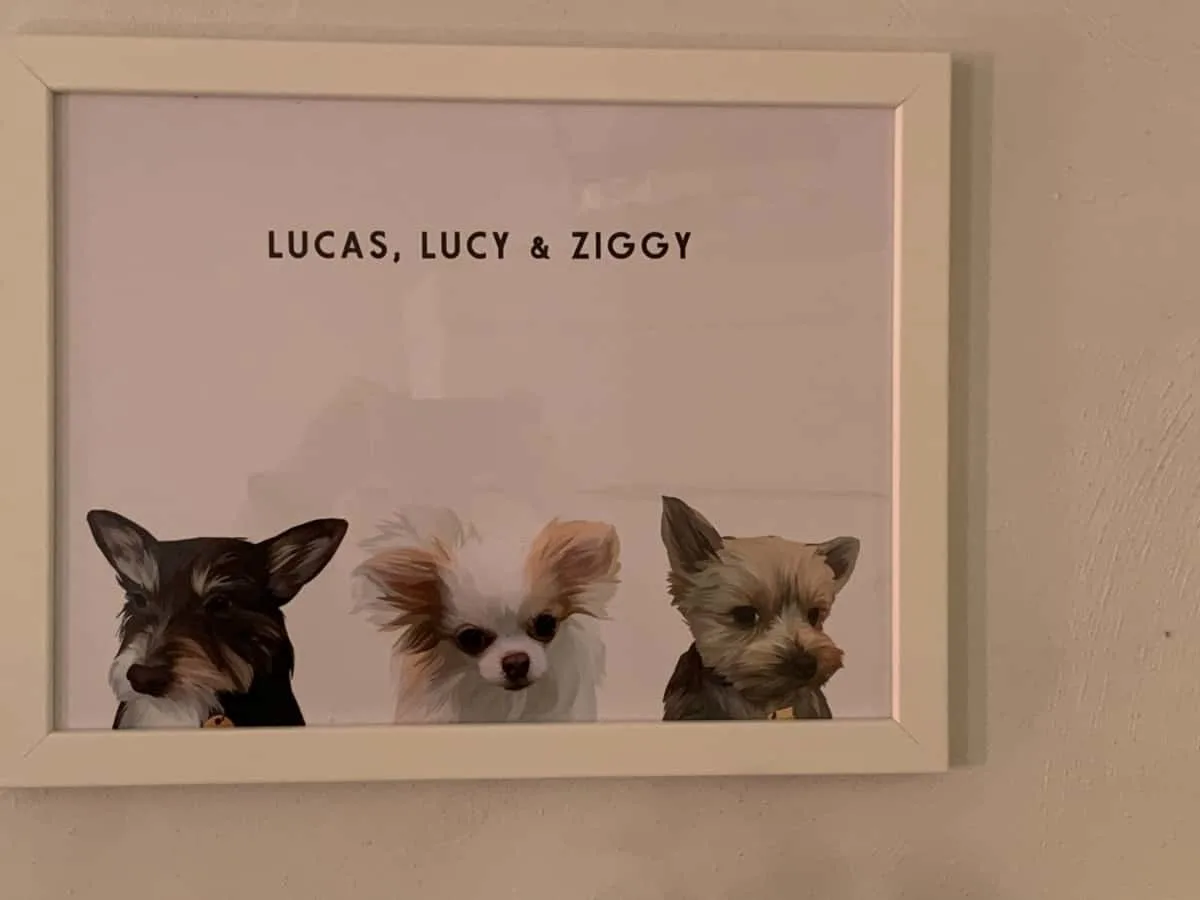 I put this above my sideboard in my dining room and it looks awesome there. These portraits will go with pretty much any decorating style: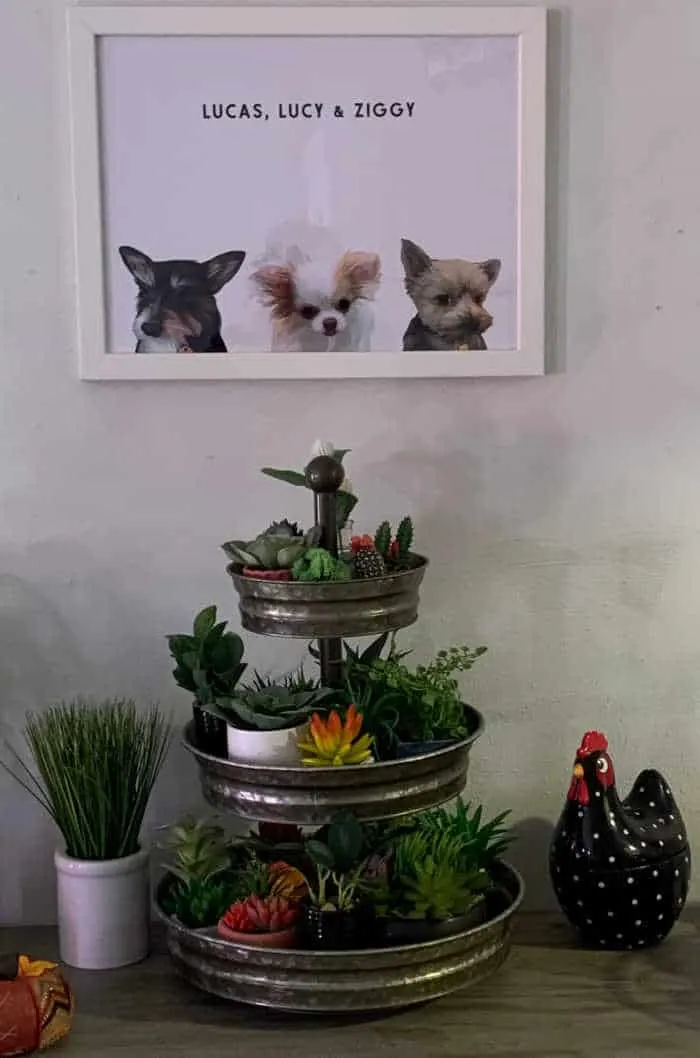 So would I order another portrait from West and Willow. Yep, in a heartbeat. I really love seeing my babies every time I walk in the dining room. If you'd like to check them out, here is their link again: West and Willow. If you decide you want to order something and would like to support me, you can order through my referral link here: West and Will referral link. You can still use the coupon code PAWFRIENDS15 at checkout for 15% off.
If you order a portrait (or phone case) I'd love to know about your experience and how you like it!