This post contains affiliate links, and I will be compensated if you make a purchase after clicking on my links. As an Amazon Associate I earn from qualifying purchases. Learn More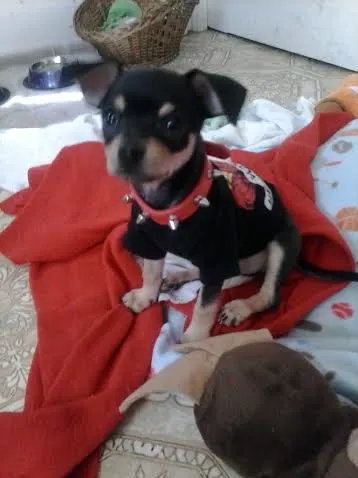 My name is Carrie, I haven't been on Facebook lately due to some personal stuff and the thing I miss the most about it is your FB page. I love looking at everyone's sweet chi babies and of course I love showing off my Boomer.
You have been awesome enough to post pics of my baby Boomer as 'Chi of the hour' several times.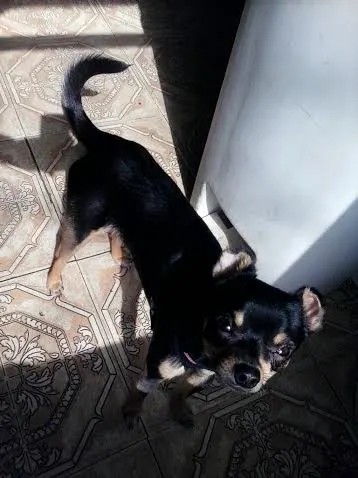 Boomer is doing very well, when he was a young puppy before I met him, his litter mates ganged up on him and bit off his ears. His previous owner said he used to have 'Batman' ears before the incident and had named him Batman.
We were approached by Boomer's previous owner when that litter was younger about adding one of his pups to our family. I had always wanted a poodle so with out any thought I quickly turned him down.
Weeks later my husband came home and told me he had met this puppy and he insisted I consider meeting this puppy. I was very hesitant, for I have 2 kids and the chi breed gets a bad rep due to people who just don't understand the commitment and everything else that goes with adding a new member to the family.
I began researching immediately, everything I could find I read; in fact I'm still reading and have 4 more books to read once I finish the book I'm on now.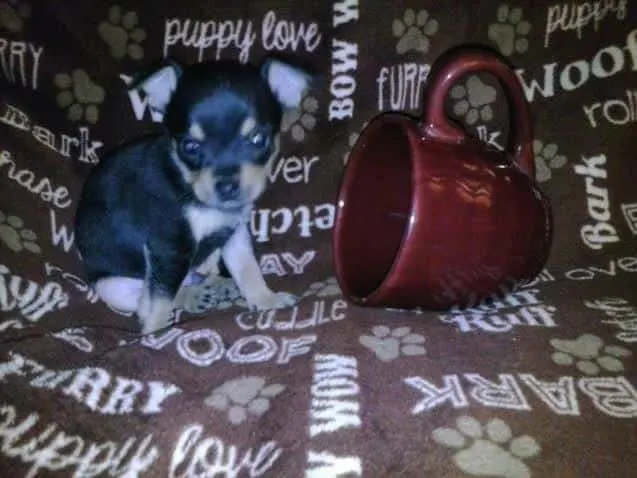 But anyways, back to the story. I've always known I needed a dog or I really should say I've always known that there was a dog out there that needed me… and when my husband took me to meet Boomer, I knew at that very instant, that dog and I need each other.
I will never forget that day, I fell in love the second I laid eyes on him. And now he's doing great, loves to cuddle, kind of plays fetch, loves it outside when weather permitting.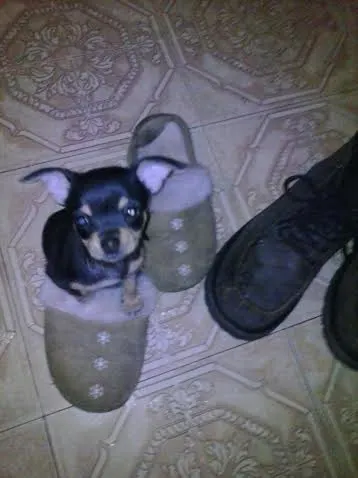 Oh and for an added bonus, he's a good alert dog, which is awesome because I always wanted to have a security system!….
So Boomer's mom got preggers again, not planned. Hubby and I had discussed, we wanted to get Boomer a friend. Lucky for us, we were given 2nd pick of the new litter (the breeder's daughter got 1st pick).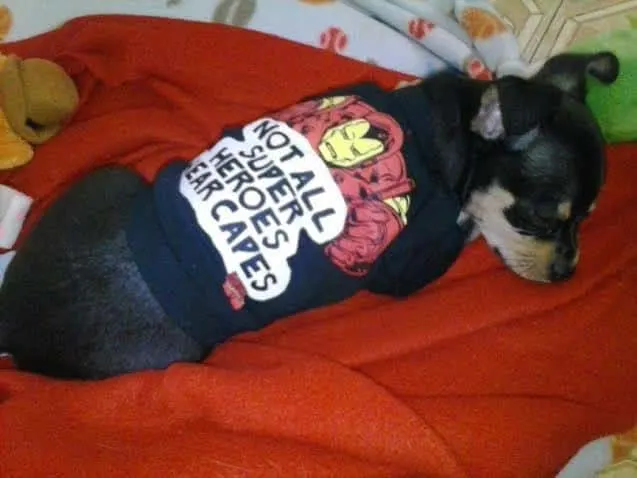 There were 2 for me to choose from, the whiny bitch runt was a great looking pup but the male was already confident and outgoing.
When the pups were 5wks, mama quit taking care of her babies. So we got our Beaner baby a bit earlier than planned.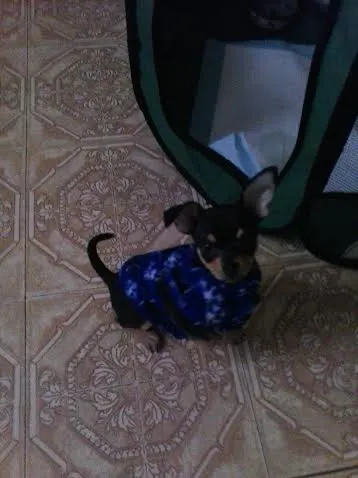 Since I been doing so much reading, I was very confident I could take care of him, after all, I do have 2 healthy human kids. And my Beaner will be 10weeks this coming Saturday.
I forgot to mention that my father and my sister share the same birth date, my Beaner baby also shares December 28th! Crazy that the 3 of them share the same date, I love it. Boomer and Beaner are best buds. I keep Beaner in his puppy pen a lot to keep him out of trouble, its a fabric one, about half the price of those metal ones and it works great.
My chis really are my babies. I've read a lot of stories of pets and how they have made their owners lives brighter. I love most animals and honestly, most animals love me too.
Most of my life I have struggled hard with depression, and the last few years I have developed panic/anxiety disorder. I began self mutilating before I reached the 3rd grade. Began substance abuse around 13 and I survived a very serious attempt to take my own life at the age of 14. As result I received many stitches which I then developed keloid scarring, I am really lucky I didn't end up with worse nerve damage. I was also lucky enough to receive multiple reconstructive treatments and even 5 surgeries to help repair some of the emotional damage and to help me to move on.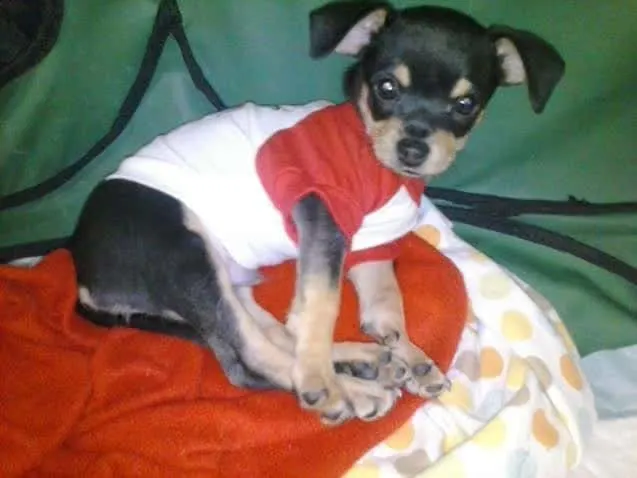 I am very lucky to be where I am today, I been through more than I can tell but I've made it. The last few years have been a struggle with my depression/anxiety, I have tried meds but my body just doesn't respond to it right. I have tried a few different methods and have found I can not take meds and need a natural approach.
I don't drink, don't smoke, I don't take pills other than my allergy pills, funny how my 2 hobbies in life are gardening and pets, I used to be very allergic to everything outside and of course pet dander. How ironic? Since my chi babies came into my life, well, I'm absolutely head over heels in love with my chi boys.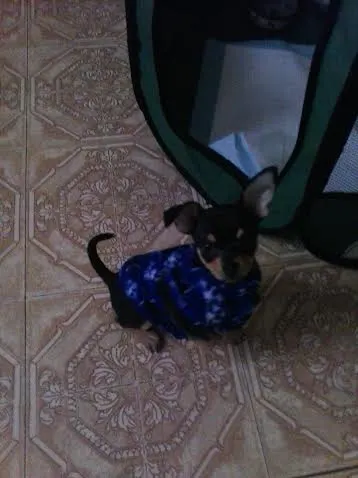 When I'm in one of my moods, my chi boys help me feel better. And I've noticed something else, my daughter will be 10 in June, when I watch her with the animals, its like looking into a mirror. She's reeeeally good with them all. She's just like me but the better version. lol. Good ole evolution, am I right? Lol
I really enjoy getting your emails and I'm going to attach a few pics of my babes for you since you haven't seen my Beaner baby and my baby Boomer has matured more, I can see his skull is still growing and he's starting to build his grown up muscles.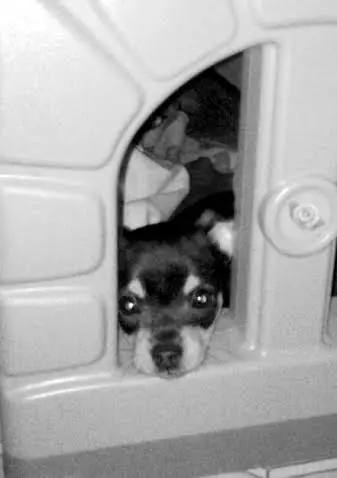 I just kinda wanted to share my story with you and let you know I miss your fb page. . Thank you for your time and like I said before, I look forward to your emails.
Take care
Carrie Monahan