This post contains affiliate links, and I will be compensated if you make a purchase after clicking on my links. As an Amazon Associate I earn from qualifying purchases. Learn More
Best Chihuahua Sweaters on Amazon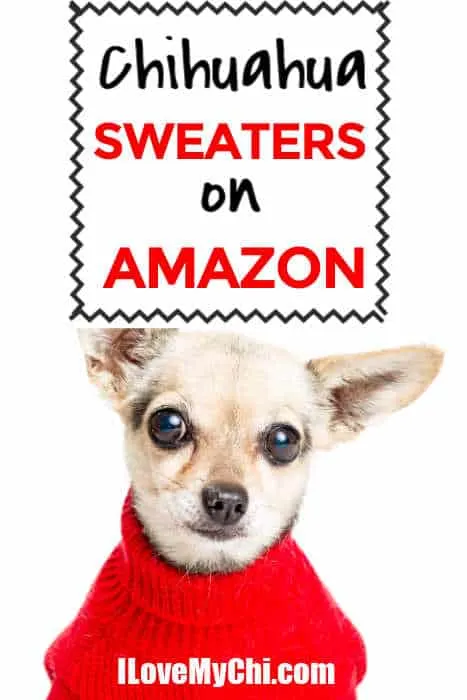 If you love your Chihuahua, your chi probably has a wardrobe of their own and you will have some Chihuahua sweaters in your closet too.
Also be sure to check out all our posts on chihuahua sweaters.
Since no one likes to wait on packages shipping at a turtle's pace when they find something awesome online, I compiled a list of Chihuahua sweaters for Chihuahuas and their humans on Amazon so that you can take advantage of prime shipping to get your sweaters faster:
Sweaters for Chihuahuas
Even if your chihuahua doesn't like wearing sweaters, they love the warmth they provide. Owners love dressing them in sweaters because of how cute they are in them!
Luckily, the breed loves being cozy so hopefully your Chihuahua will complain about being dressed up – as long as the sweater fits properly.
While it might be tempting to guess your Chihuahua's size, always be sure to measure your dog before ordering a sweater. Some size charts will recommend a size based upon weight, however, that is not an accurate way to size your dog for a sweater.
Here is a list of quality sweaters that come in Chihuahua size:
Make A Sweater For Your Chihuahua
If your Chihuahua is in-between sizes or needs a unique fit, consider learning to knit or crochet sweaters for him or her to fill their wardrobe with custom creations that fit perfectly. Owners of male Chihuahuas will especially appreciate the ability to make sweaters with a belly piece short enough to avoid being peed on.
Consider ordering one of these books to get started learning how to knit or crochet custom fitted sweaters for your Chihuahua:
Chihuahua Sweaters for Humans
Show the world that your Chihuahua is your best friend and partner in crime by rocking lots of Chihuahua sweaters like these unique finds:
Closing Considerations
Not all dog breeds enjoy wearing sweaters, but Chihuahuas do. And they need the added warmth. Your Chihuahua's wardrobe might be just as big, if not bigger, than yours once you discover how many cute dog sweaters are on the market and if you learn to knit or crochet your own sweaters!
Chihuahua rescues may also need sweaters, so considering purchasing two of sweaters that you choose for your Chihuahua and donating one to your favorite Chihuahua rescue.
There are also lots of Chihuahua sweaters for humans on the market. With some purposeful shopping, you can make your wardrobe reflect how much you love your sweet little furry friend!
Did you find awesome Chihuahua sweaters on Amazon? Share in the comments below!