This post contains affiliate links, and I will be compensated if you make a purchase after clicking on my links. As an Amazon Associate I earn from qualifying purchases. Learn More
All dog owners have to buy most of the same supplies, but Chihuahua owners have an added item on their list: Chihuahua sweaters or coats. These little dogs are not suited to cold weather and are prone to shaking, so it's important to keep them warm.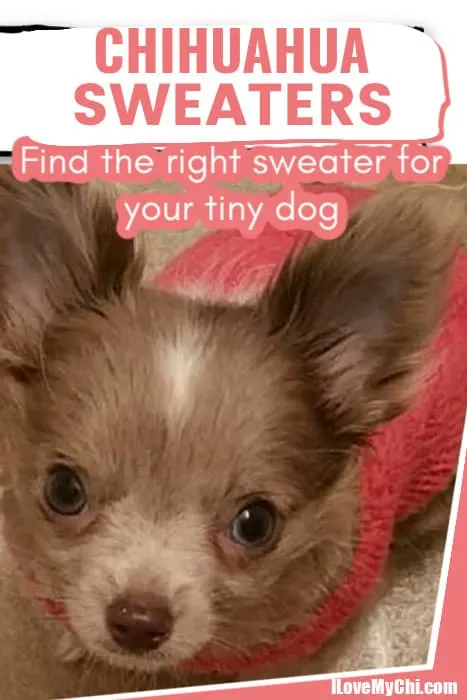 Sweaters for Chihuahuas
The market is saturated with Chihuahua-sized ensembles, so to help my fellow Chi parents to find quality Chihuahua sweaters for their best furry friends, I have carefully curated collections of sweaters for your convenience.
This collection of sweaters features the smallest-sized sweaters available specifically for the tiniest Chihuahuas, affectionately known as "teacup Chihuahuas."
This collection of sweaters is for humans who love their Chihuahuas; they are all human sweaters with various Chihuahua-themed designs.
If you're looking for a Chihuahua Christmas sweater, this collection showcases several adorable options for your dog. You'll also find sweaters for humans who plan on attending an ugly Christmas sweater party, or who just love the Christmas season and want to include their Chihuahua in their festive fun!
The Chihuahua sweaters for dogs collection features an assortment of Chihuahua clothes from Etsy, Chewy, and Amazon.
The Chihuahua sweaters on Amazon collection lists my top picks from prime eligible* Chihuahua-sized sweaters. (*These sweaters were prime eligible at the time of the publishing of this article).
This post has my top sweater picks from all the sweater posts. See if you agree with my choices.
Chihuahua Sweater Shopping Tips
Before you begin shopping for sweaters for your Chihuahua, you will first need his or her measurements. Never guess the size by using your Chihuahua's weight. Weight is not an accurate way to size a dog because dogs of the same weight may have different measurements.
If you have never measured your dog for a sweater, refer to this helpful video by Chewy.
The size of the sweater your Chihuahua wears matters. If it is too big or loose, he or she will trip over it and potentially be injured. If a sweater is too small, it will be uncomfortable and your Chihuahua may not want to wear it.
Before taking off the tags, be sure that the sweater you ordered fits your Chihuahua well. To know if the sweater is a good fit, observe your Chihuahua wearing it and consider:
Can your furry friend move freely, or does the sweater hinder his or her movements?
Does he or she seem comfortable in the sweater?
Would it interfere with him or her relieving themselves?
Some Chihuahuas will be in-between commercially manufactured sizes. If you have tried multiple sweaters from different manufacturers and nothing fits, it is time to go custom.
For example, Etsy is a website where skilled and novice crafters alike sell handmade items. You could search for a seller who makes custom dog sweaters based on your dog's measurements.
Should you order a custom sweater for your Chihuahua on Etsy, keep in mind that you should measure very carefully, as most Etsy sellers would not accept a return on a custom-ordered item since they are relying on you to measure your dog.
Alternatively, you could learn to sew, knit or crochet sweaters for your Chihuahua yourself. Lion Brand Yarn offers knitting and crochet patterns for pets for free download or for a reasonable cost. If you are new to knitting, their City Stripes Dog Sweater Pattern is very easy and would be a good pattern to try learning with.
Even Chihuahuas who do fit into commercial sizes may benefit from a few custom pieces. For example, the belly piece of sweaters is most often what needs customization. Female dogs may have a longer belly piece to keep their tummies warm on chilly days. Male dogs may urinate on the belly piece of a sweater and might need a sweater with an extra short belly piece to prevent this from happening.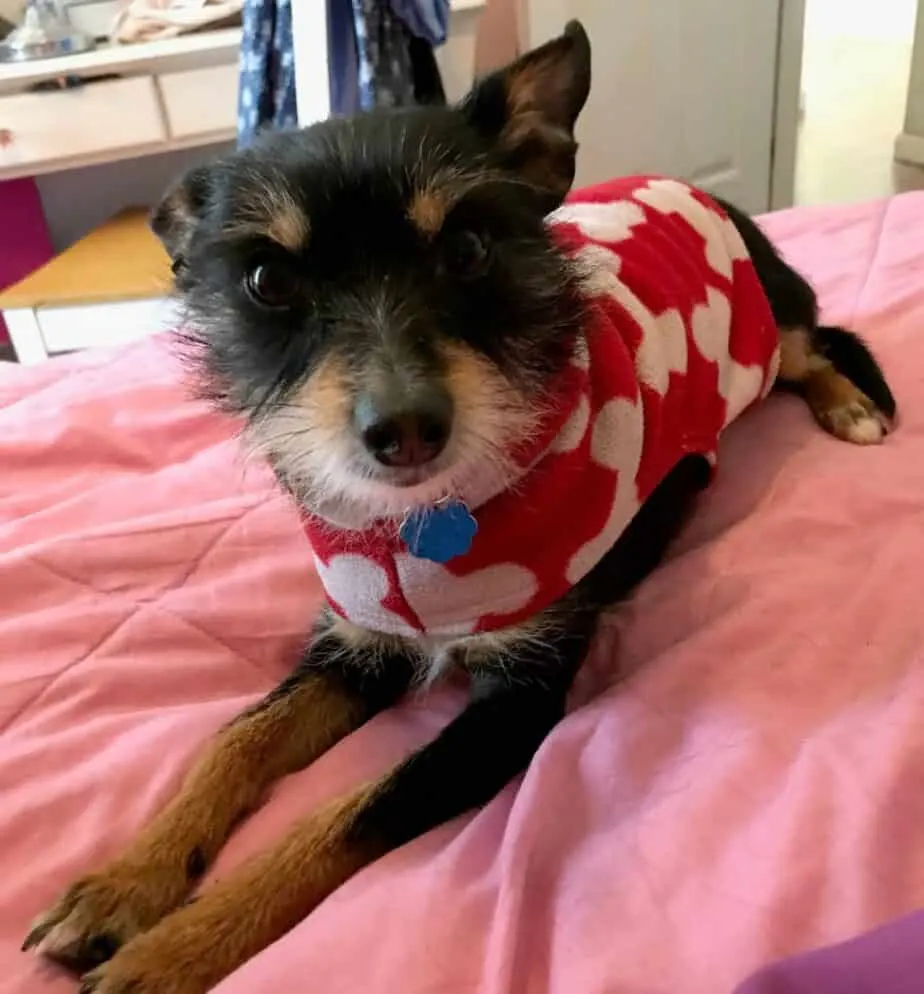 What Temperature Should My Chihuahua Wear A Sweater?
If your Chihuahua enjoys spending time outside he or she will need protection from the elements. When temperatures start to fall below 45°F, your Chi will get uncomfortable and will need a sweater for extra warmth.
Keep in mind that it is important to bring your furry friend inside and give their skin and coat a break from the clothing. Your Chihuahua should wear a sweater to protect them from the elements, but they should not always be dressed. If a Chihuahua constantly wears clothes, their fur may become matted or irritated, causing skin rashes or bald patches to develop.
If you and your Chihuahua will be home on a cold day, it is better to wrap your Chihuahua in a cozy blanket than to put a sweater on him or her.
Do Chihuahuas Need Sweaters?
When you see a little doggy outfit that is really adorable, you might stop and wonder, does my Chihuahua actually need this outfit or is it purely for my entertainment?
The answer is yes to both questions! Chihuahuas do like to be dressed warmly in cold weather, but it is also for your entertainment because of how cute they look in their outfits.
Most short-coated Chihuahuas do benefit from an extra layer of warmth during the cold months of the year. Some long-coated Chihuahuas are able to stay sufficiently warm with their majestic coats, but even they may benefit from a jacket on very cold days.
If your Chihuahua will be going for a walk in the snow or in very cold temperatures, bundling him or her up is a good idea. Or, if you notice your Chihuahua is shivering and his ears, belly and paws are cold to the touch, he would probably want to wear a sweater.
Though Chihuahuas do need to sometimes wear clothing, they don't need to all the time, and may actually become overheated if dressed up in the summer.
Chihuahuas love being kept warm in cold weather, so do not hesitate to dress up your best furry friend! Just be sure the sweater fits well so that your Chihuahua can move around comfortably.
Did you purchase a sweater from one of my collections? Or do you have a go-to sweater recommendation for other Chihuahua parents?