This post contains affiliate links, and I will be compensated if you make a purchase after clicking on my links. As an Amazon Associate I earn from qualifying purchases. Learn More
We all know chihuahuas think they are big dogs but how well do they get along with big dogs?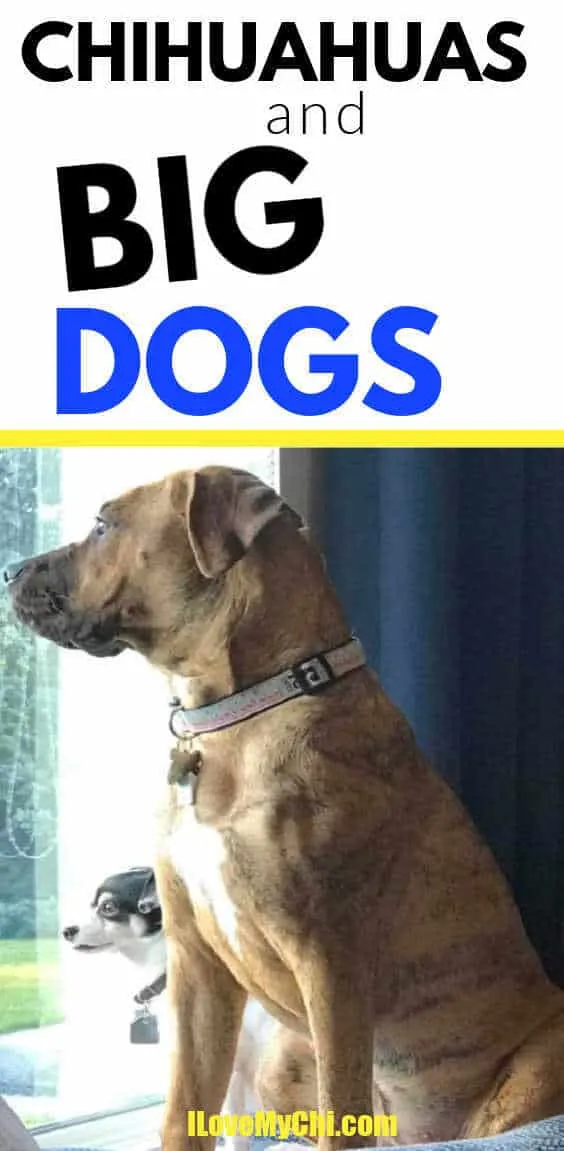 I know my little Lucas adored his big 80 pound brother Buddy. In fact, when I came home one day and found that Buddy had passed away in his dog bed, Lucas was laying right there with his head on Buddy's head. He was heartbroken when Buddy passed. They were the best of friends.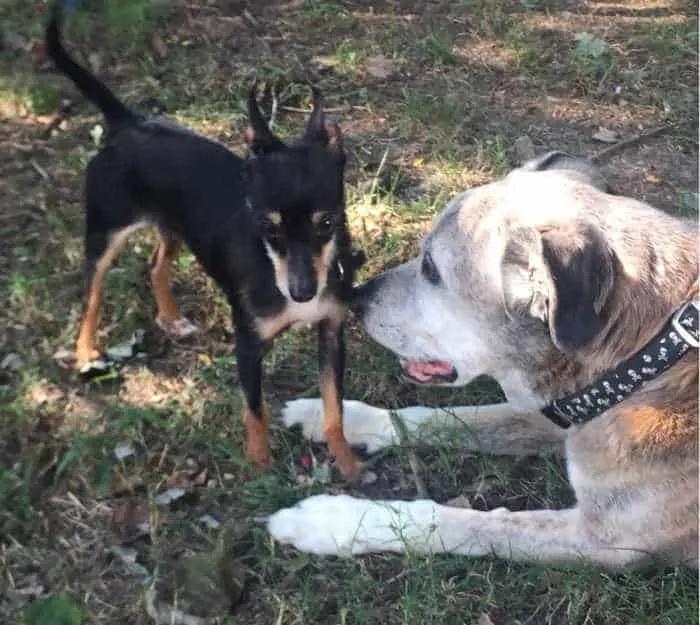 Recently I saw a post on our Facebook page where someone was asking if anyone else had a big dog along with their chihuahua. They had an adorable photo of a tiny little merle chihuahua and a big English bulldog.
I thought this subject would make an awesome idea for a gallery post and put the call out for big dog and chihuahua combos. We got almost 300 responses!
As hard as it was, I had to narrow it down quite a bit. So please enjoy this gallery post of big dogs with their little chihuahua companions.

This first one is the photo that started it all and was submitted Brooke Carmichael.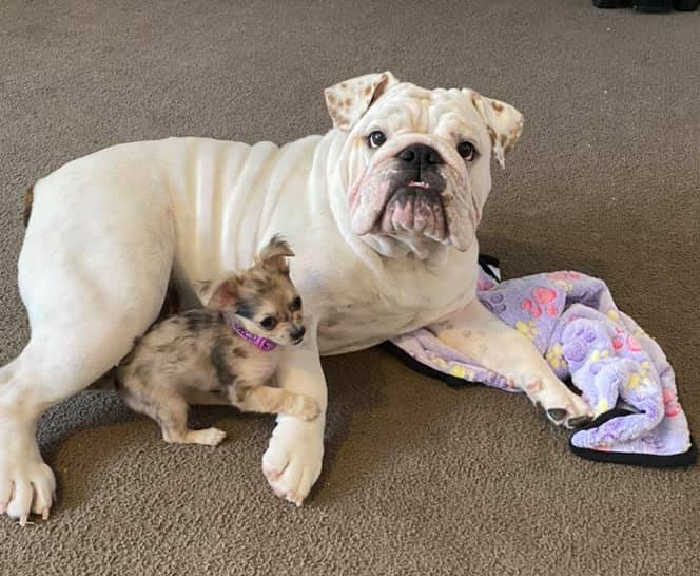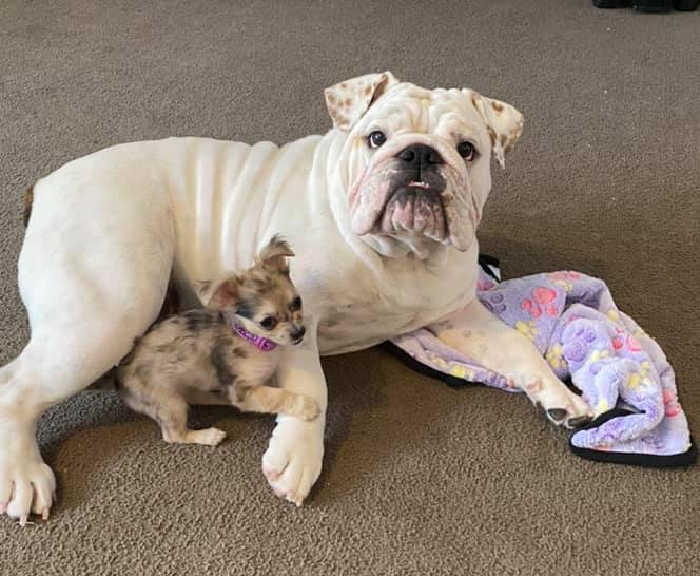 I love this one of the little dog sitting on the back of the big dog and the big dog is just looking out the window. This photo was submitted by Angie Blish.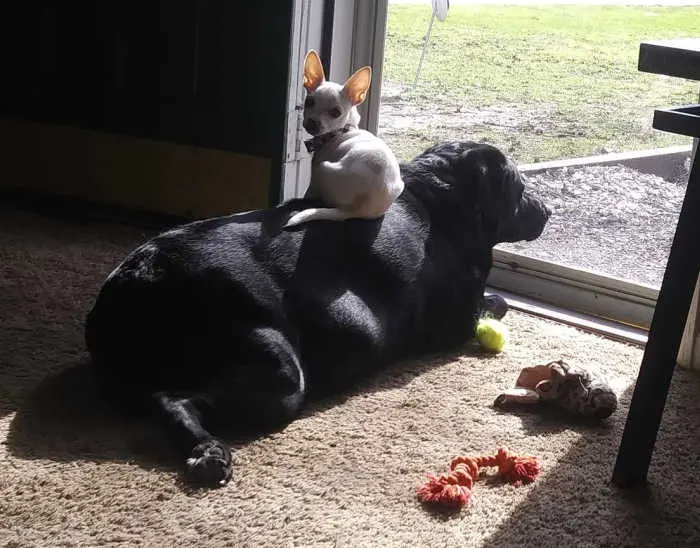 Beth Leach submitted this photo of Yogi and Bob. So cute!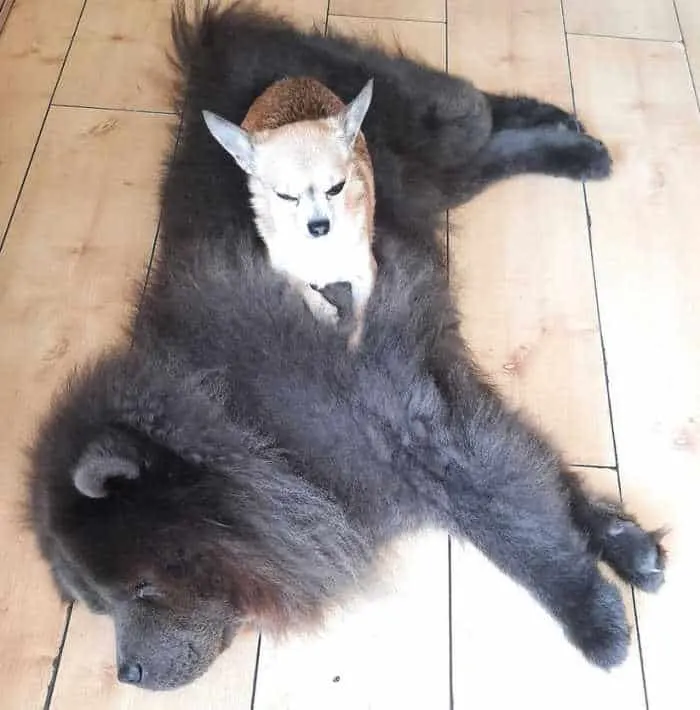 How cute are these bath buddies? Photo submitted by Bonnie Martin.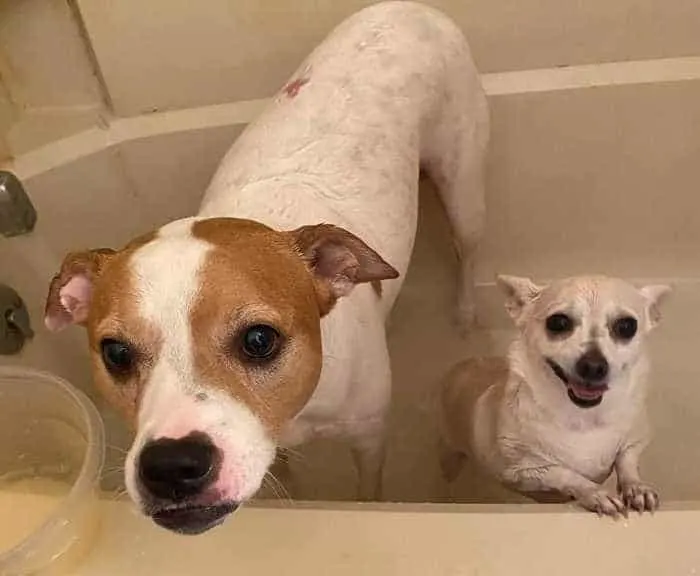 These cuties are Pudgy and Jade and they belong to Cathy Frankie Rodriguez.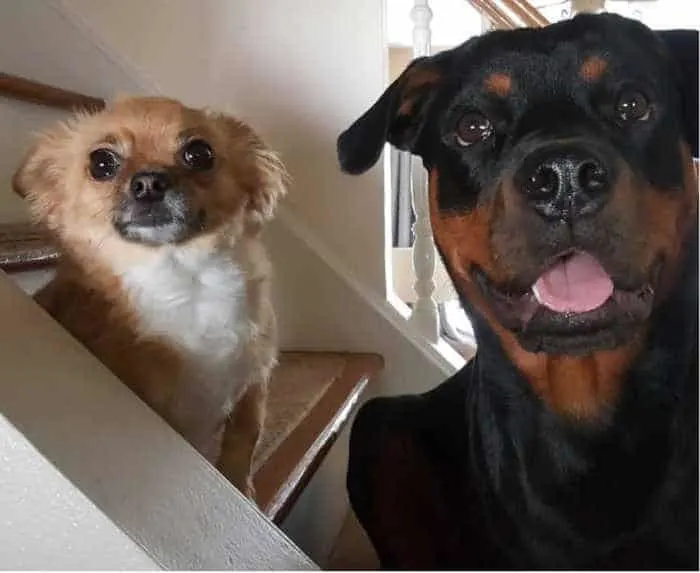 These 2 white beauties are Buster and Teddy and they belong to Chris Clements.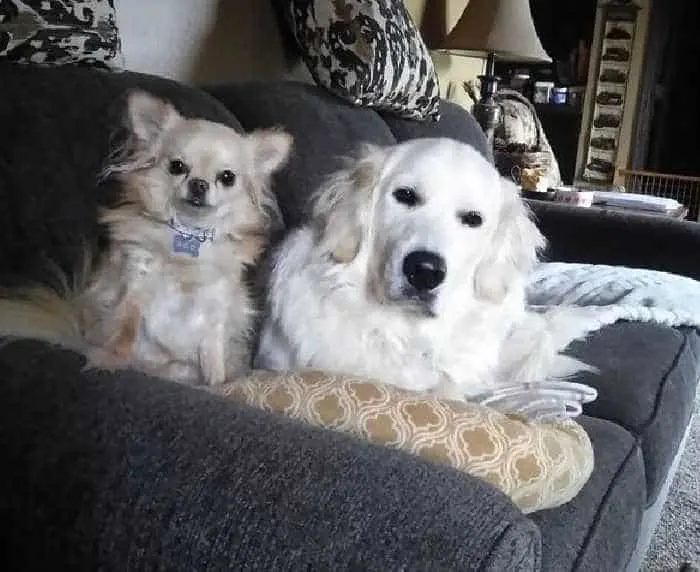 Little Loki has climbed Mount Daisy here. LOL. Photo submitted by Dennis Hamilton.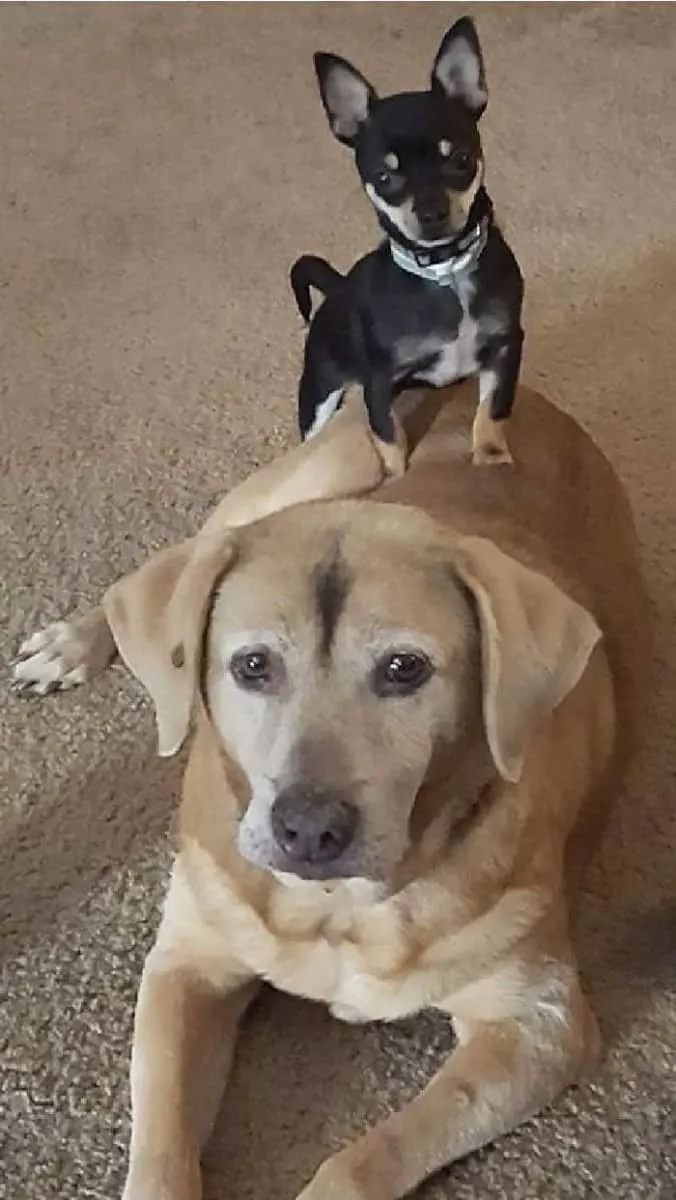 This adorable duo is SweetAnnie and EllieBelle and they belong to Elise Davis Ellis.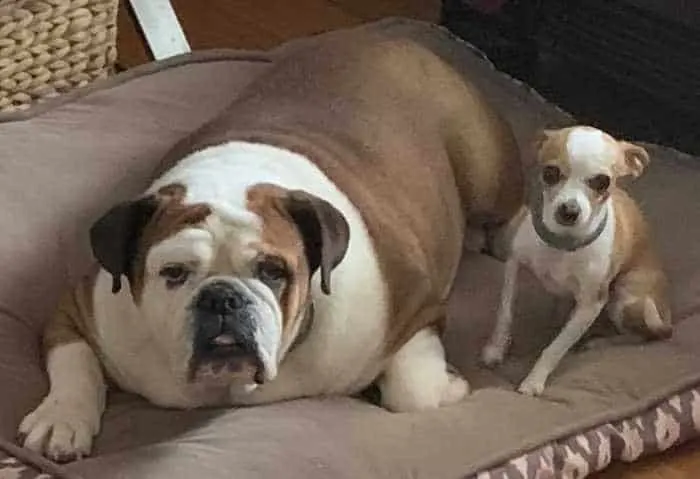 Isn't this so sweet? This duo belongs to Fleck Sherman.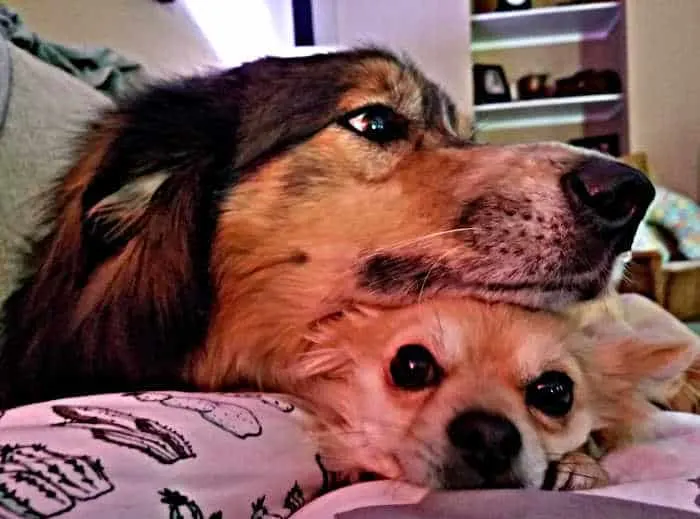 Heather Callicutt submitted these 2 cuties. Chis sure love to be close to their big buddies, don't they?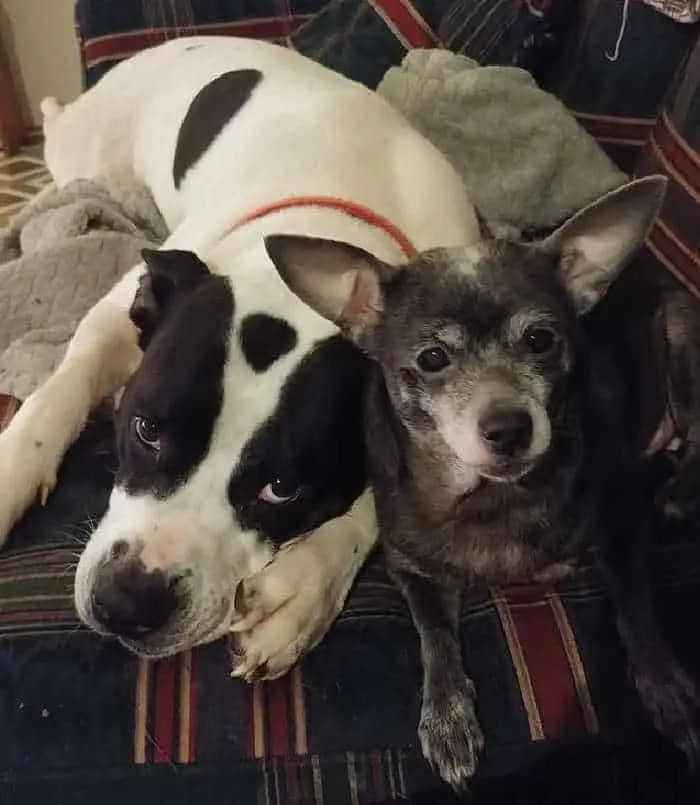 Heather Oswald submitted this photo of her two fur babies. Rowan is a boxer-bull mastiff mix and is 7 months old. Sully is a chihuahua mix and is 5 or 6.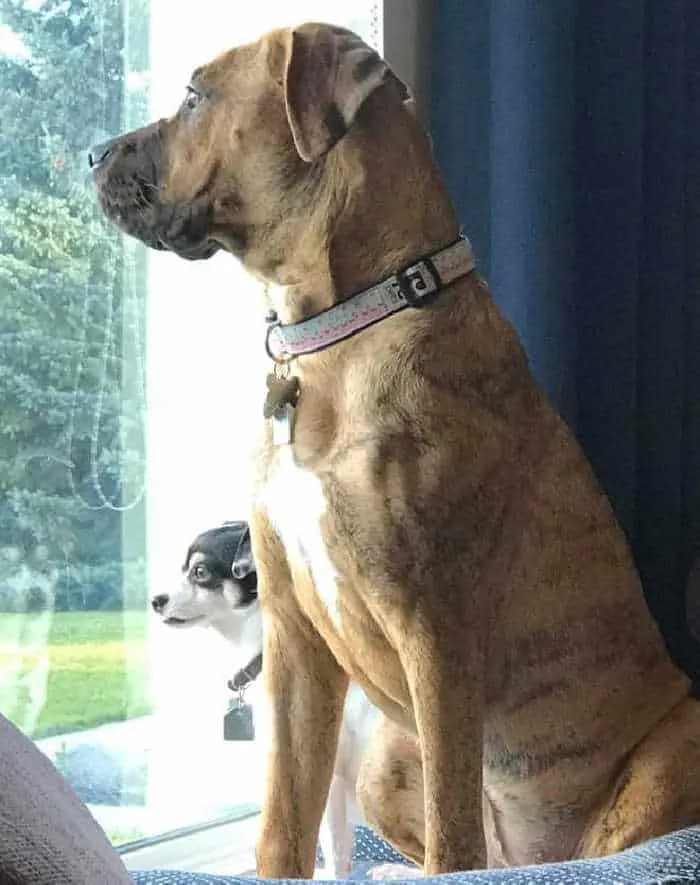 Jamie Pinkal says little Jake runs the show. Baby Girl is the pitbull.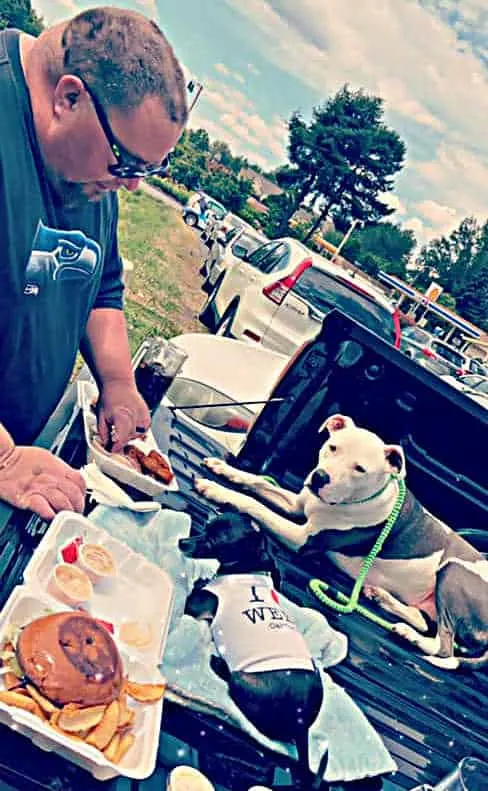 This is Reggie and Itsy Bitsy Mitzi (love that name) and they were submitted by Jennifer Kelly Karle.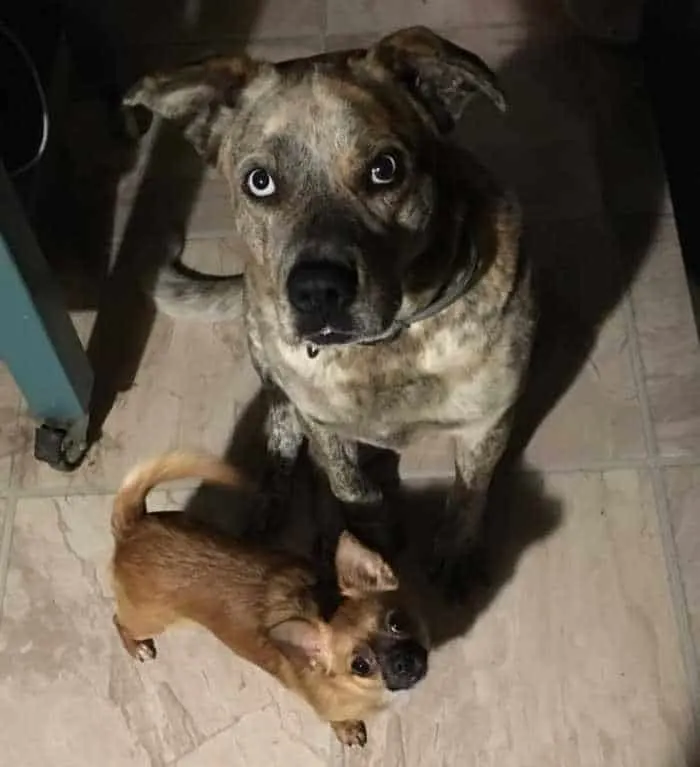 Ok, I know this isn't a dog with the chihuahua but it was just so adorable that I had to include it. Photo was submitted by Kathleen Daley.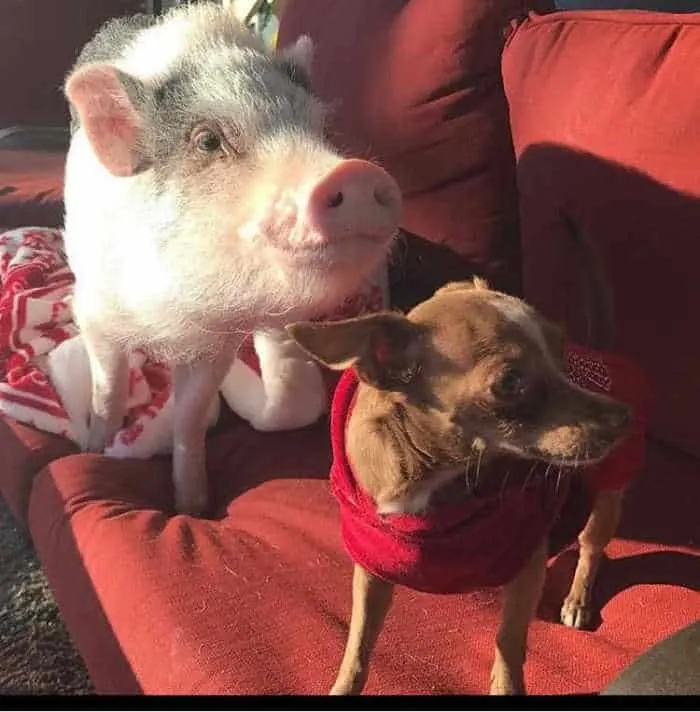 Aww, look at these buddies taking a nap head to head. Photo was submitted by Kendra Barbey.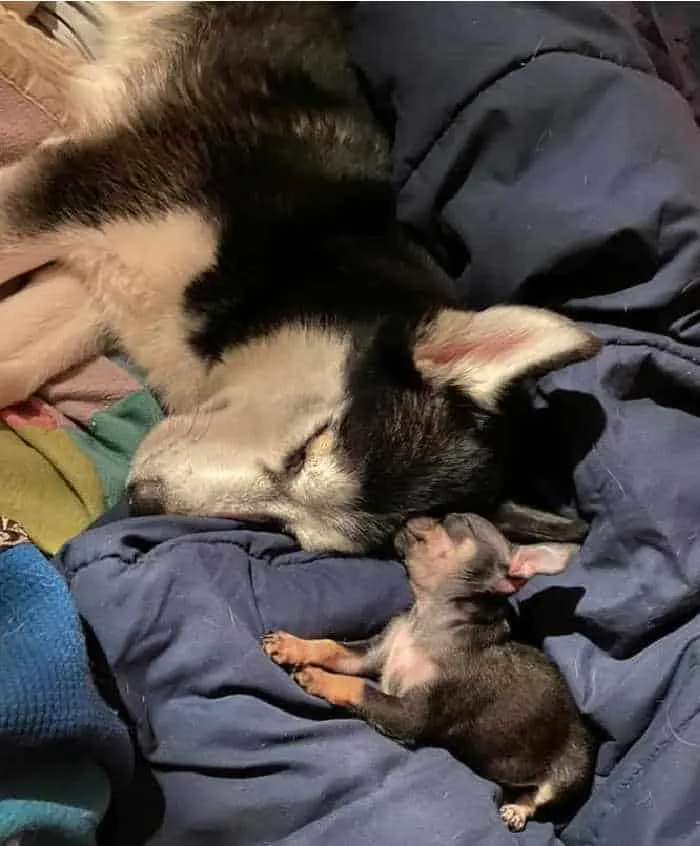 How cute is tiny little chihuahua sitting on top of the golden retriever! It was submitted by Kim Justice.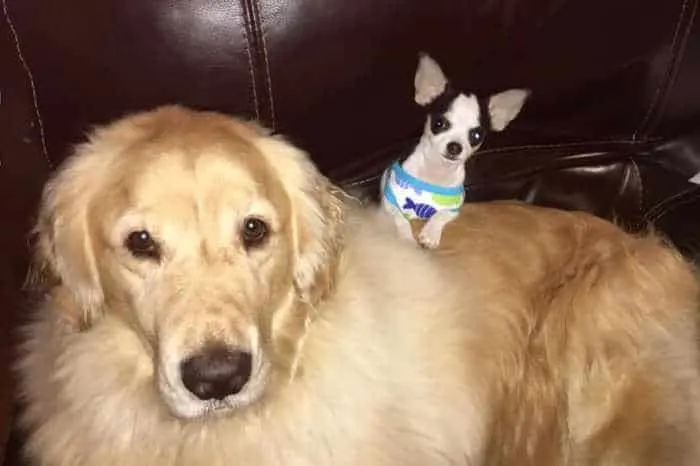 This threesome is Hope (the doberman), Carlie Jane (the Cavalier King Charles Spaniel) and Zoe Louise (the chihuahua). The photo was submitted by Kristine Thornton.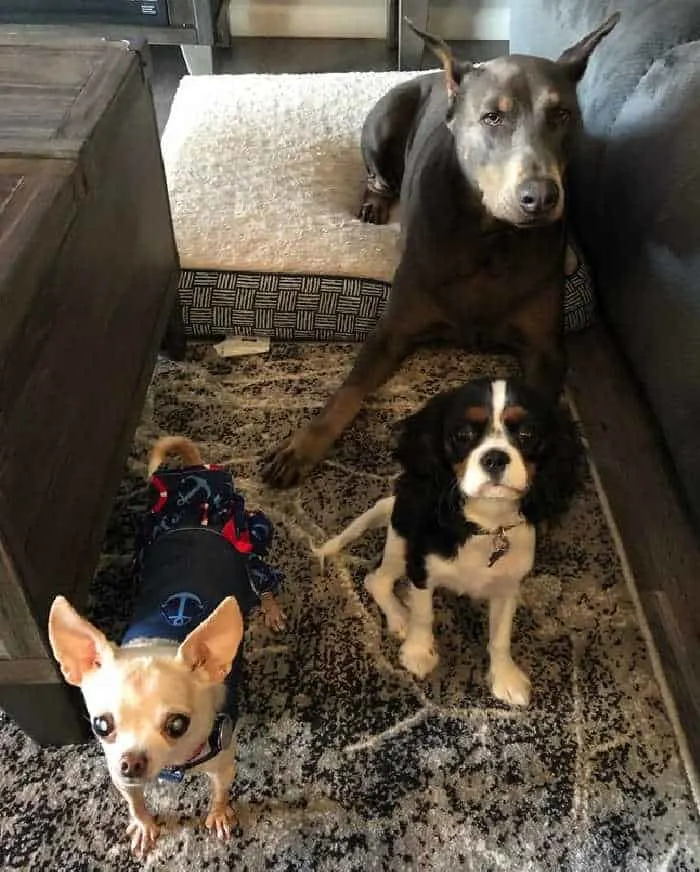 This is Teddy and his tiny brother Rocco. They were submitted by Lilly Long Montague.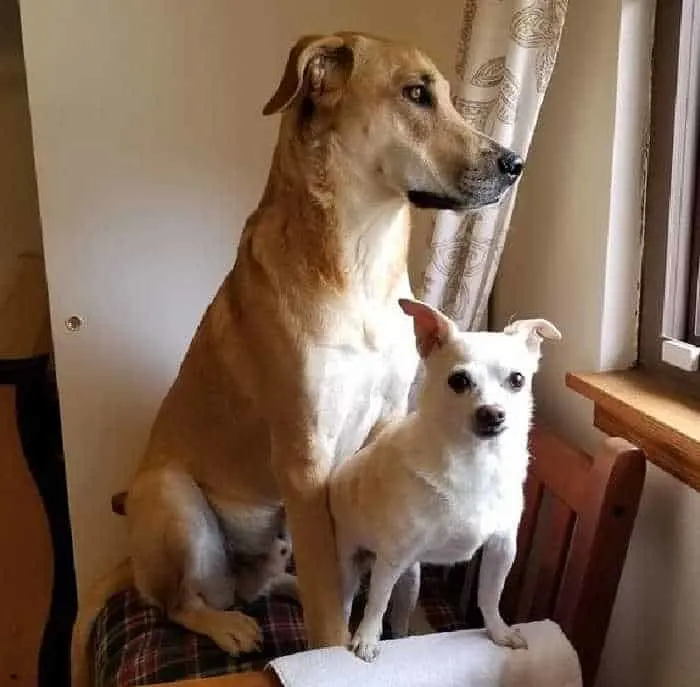 The lab is named Katie and her little sister is Jasmine. They were submitted by Lori Barnett.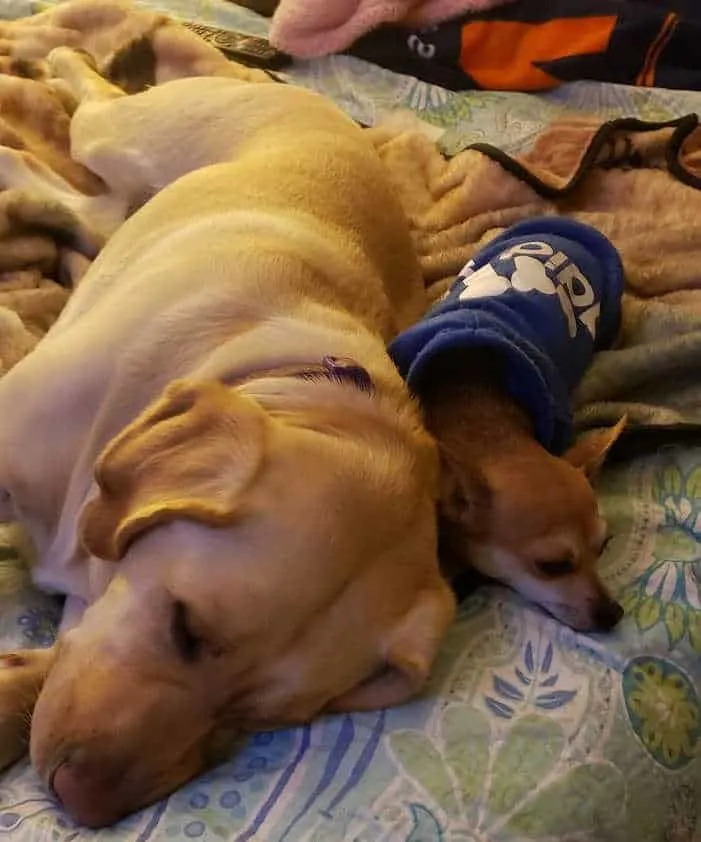 Little Minnie here is giving big brother Reese a kiss. This photo was submitted by Lynn Deleff.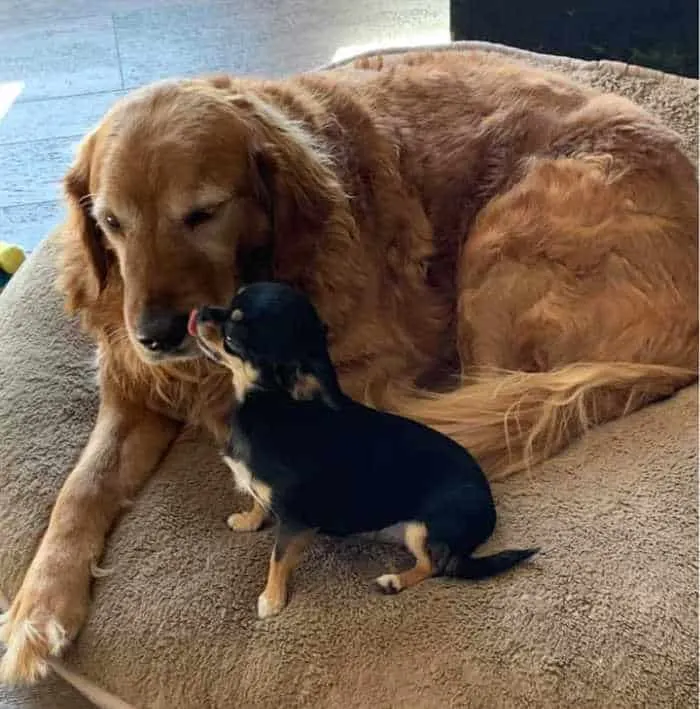 I love this photo with both dogs being the same color. It's hard to tell where one dog starts and the other dog ends. You can tell these two really love each other. Photo was submitted by Marci Klein.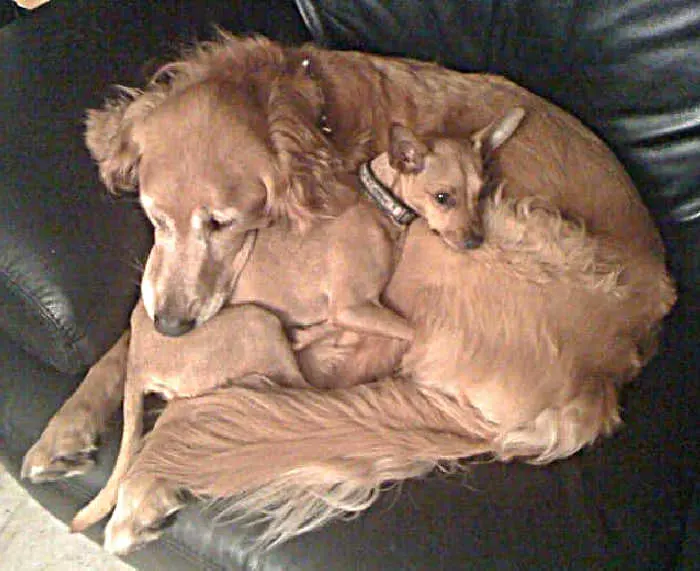 Michael Schafer Bullard submitted this photo of Lexi, Tibby and Parker. Michael says little Tibby is in charge.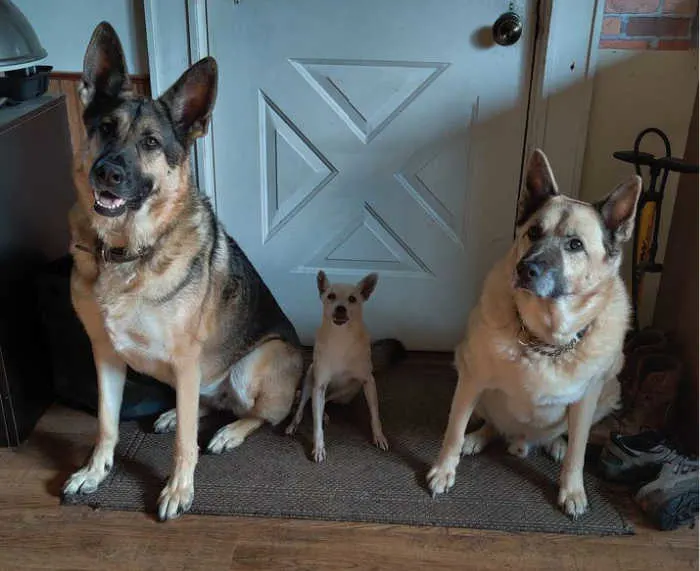 Norma Cicero says she has 2 other chihuahua besides Dixie here. Dixie is just 2.5 pounds and her big brother Chase is 80 pounds. She says there is love/hate relationship between the littles and big brother.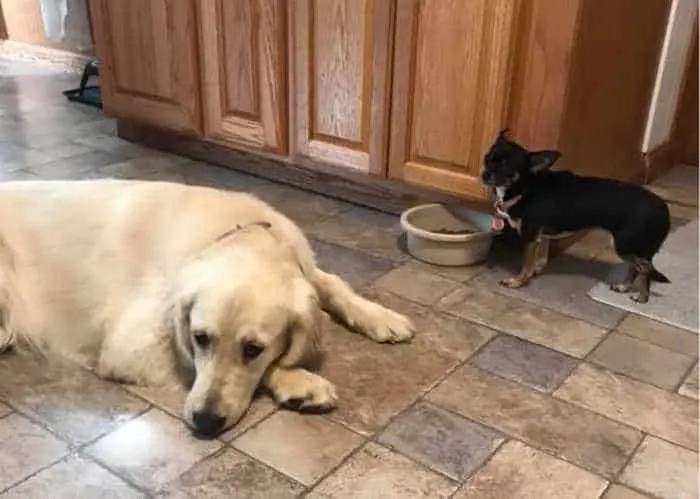 Look at how pretty these two are posing. This is Sofi and Chiquita.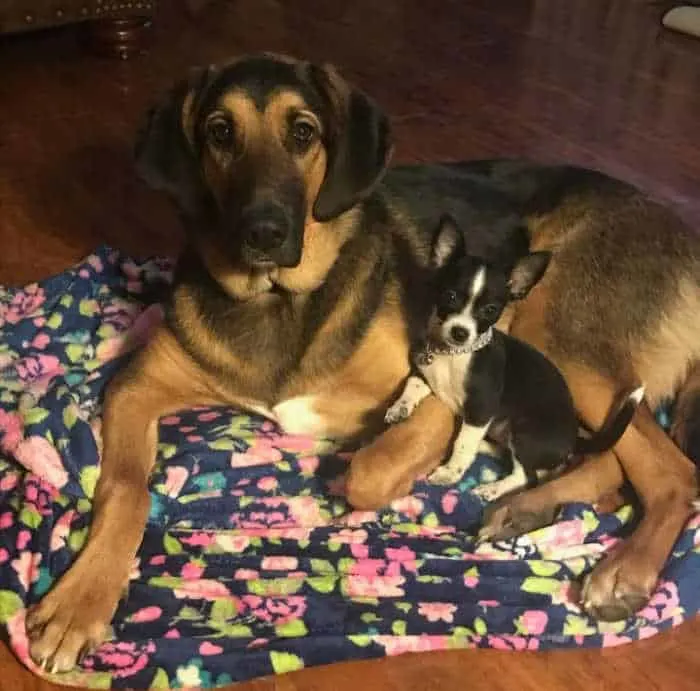 These two are Spanky and Chubbz (love those names!). This photo was submitted by Rebecca Bell.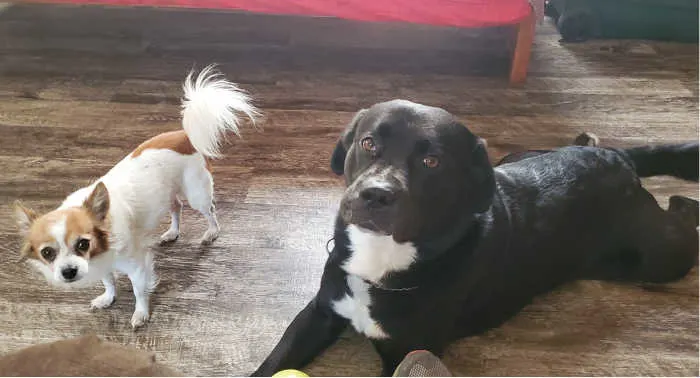 This is Kilo and Dobby. What a precious pair. They were submitted by Stephanie Manor.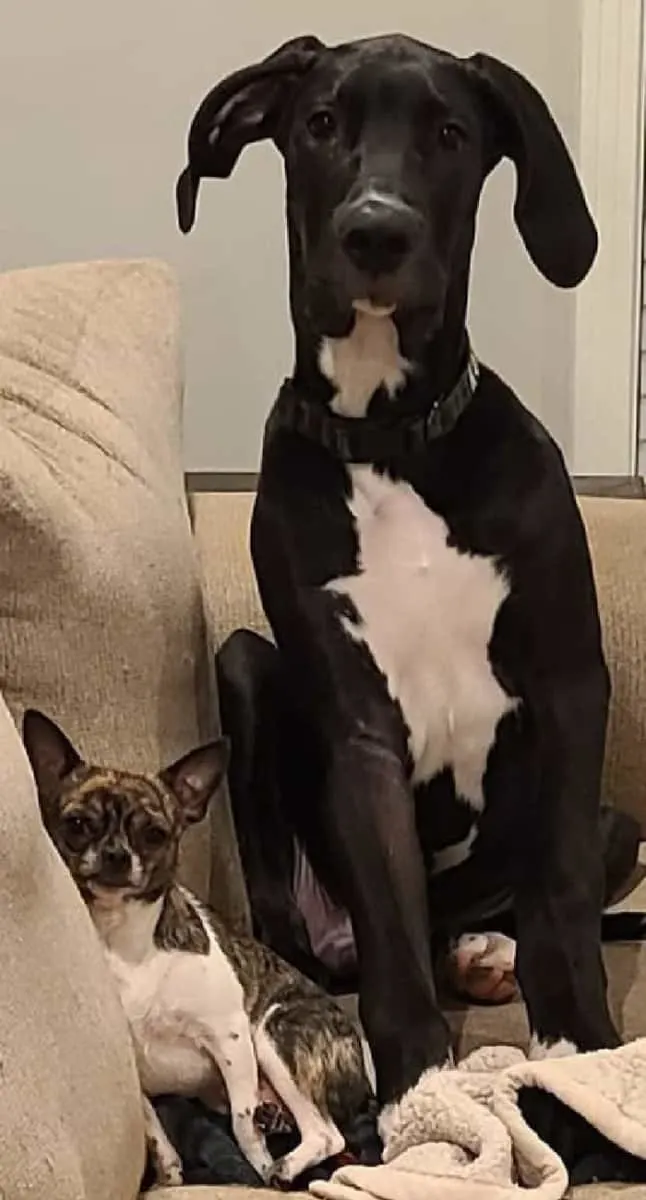 Susan Pereira says her big girl loves her little guy so much. But the little guy doesn't return the feelings. I love the head tilt the German Shepherd is doing.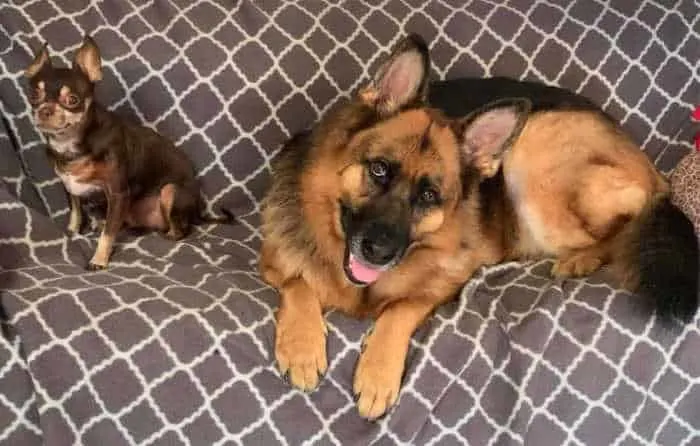 Teresa Faulkner submitted this photo of her Ozzie and Bruno.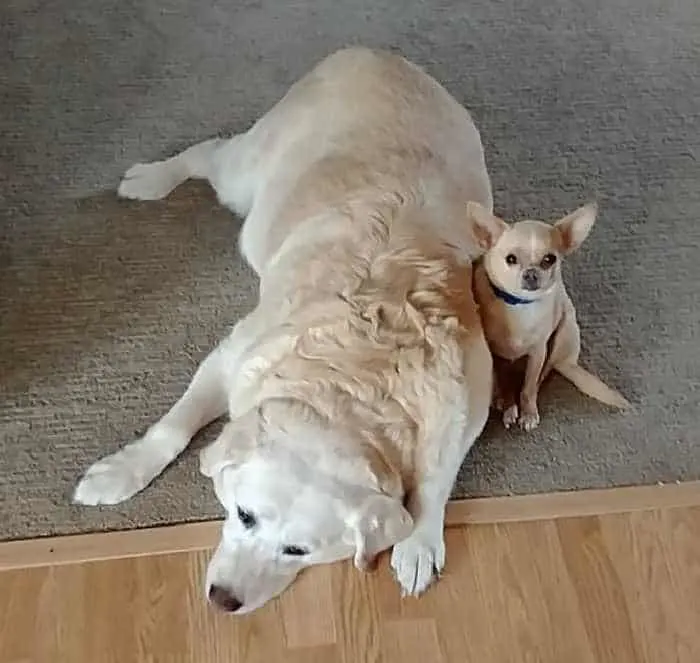 These two are Mick and Thor and they belong to Tracy Marie.

This is Thor and Chuy and they belong to Veronica, Doug and Medina Swank.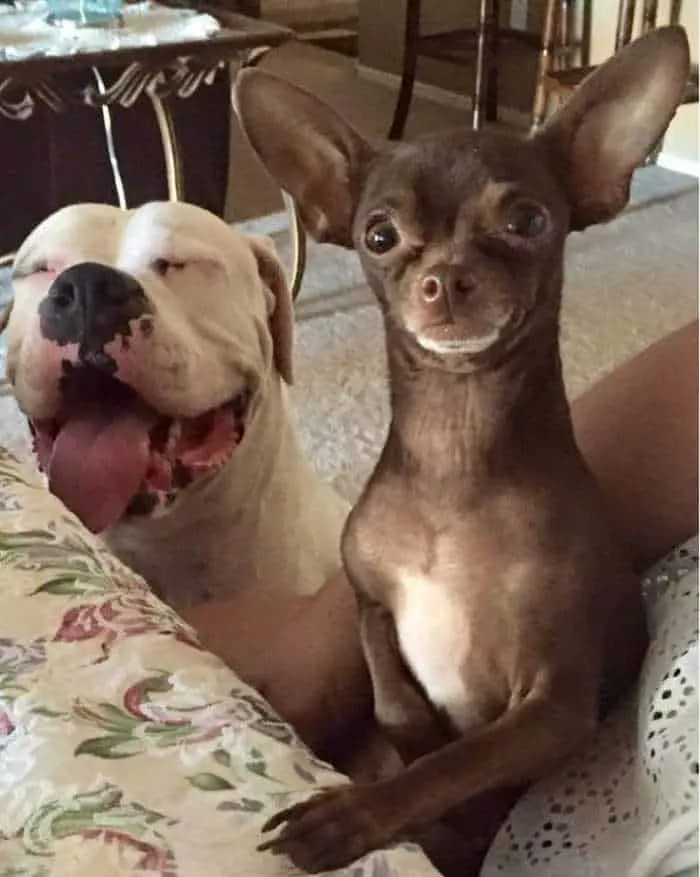 Last but not least are siblings Ciaran and Darla. Aren't they adorable in their pink hats? Their mom is Val McCready.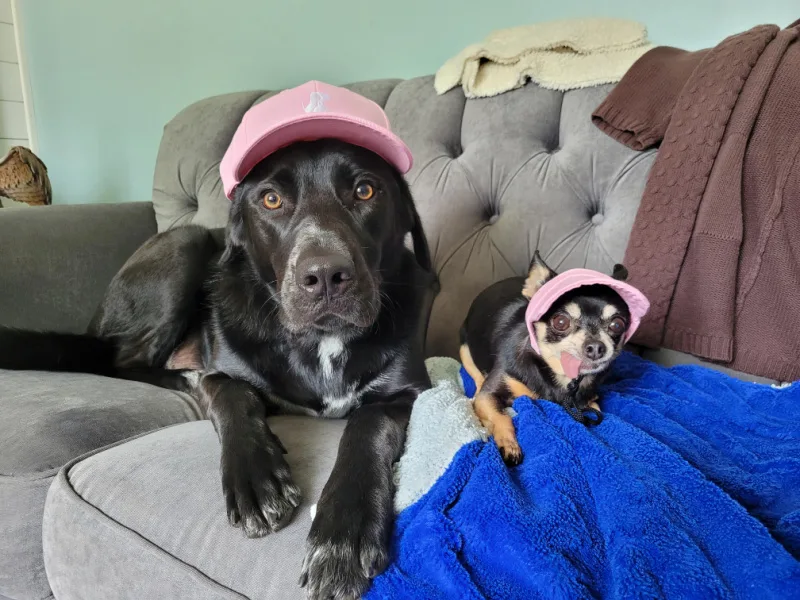 I hope you enjoyed these big dog, little dog duos. Which one is your favorite?