This post contains affiliate links, and I will be compensated if you make a purchase after clicking on my links. As an Amazon Associate I earn from qualifying purchases. Learn More
If you're honest, your dog is probably your favorite family member. Thanksgiving is all about food and family, and leaving your favorite family member (your dog) out of the food part just feels wrong.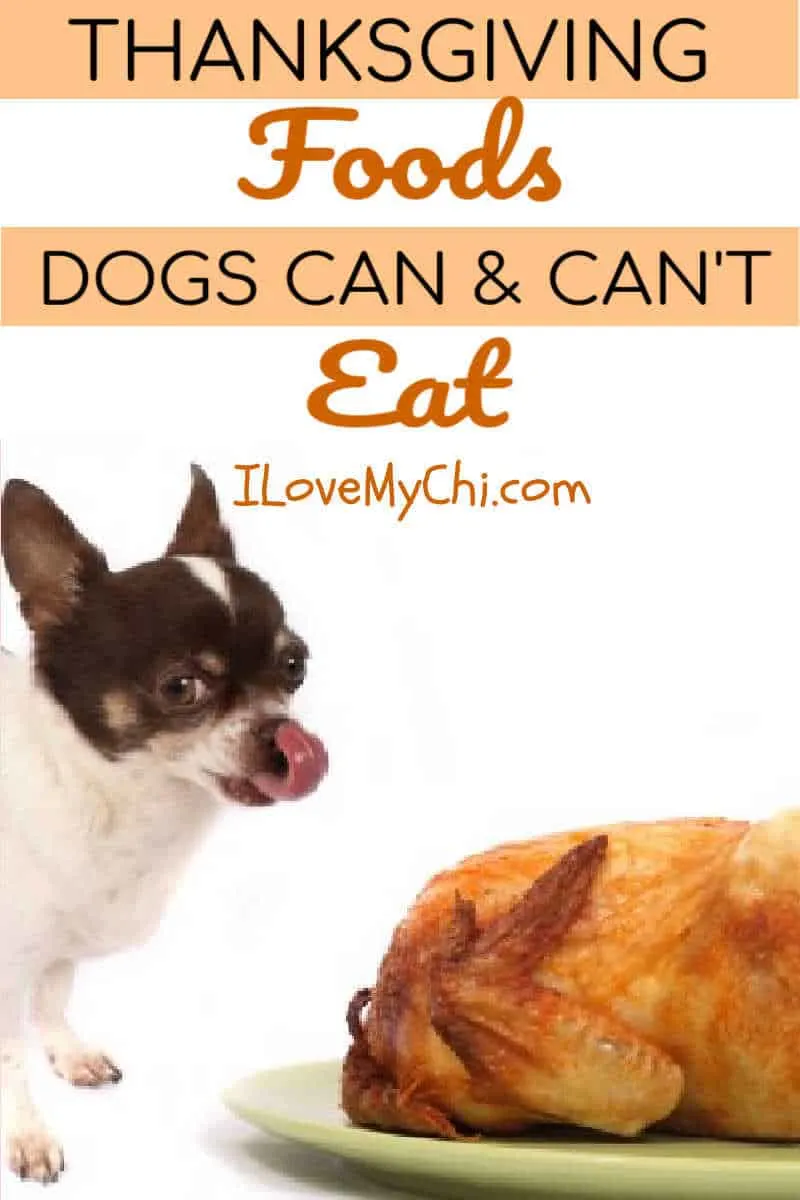 The good news is that your dog can be a part of the food festivities with a few minor adjustments and careful considerations. Let's discuss what you need to know to make your Thanksgiving fido friendly this year:
What Thanksgiving Foods Are Not Safe For Dogs?
Dogs cannot eat all the Thanksgiving foods that humans can, so you cannot prepare them a bowl as you fill your dish with your Thanksgiving favorites. Here are the foods that your dog should never be fed at Thanksgiving according to the AKC:
Ham. Your dog will most definitely want a helping of ham, but sometimes things that you want are not good for you. Offer your dog a piece of tasty plain turkey instead; he will be thankful for that healthy snack.
Turkey bones, turkey skin, and turkey gravy are not safe for dogs. See a homemade dog gravy recipe below if you want your dog to have gravy for their Thanksgiving dinner.
Yeast dough or other raw dough is not safe for dogs or people. Consider baking your dog the cranberry biscuit recipe below.
Grapes and raisins are toxic to dogs. Seek veterinary care if consumed.
Onions should not be fed to dogs. All parts of the onion, and processed versions of the onion, are toxic to dogs according to the AKC. If your dog consumes onion, seek veterinary care immediately.
Garlic should not be fed to dogs. This may be confusing to some of us, as garlic supplements are often advertised as natural flea and tick prevention. However, the AKC states that garlic has not consistently proven to be effective in a positive way for dogs. If your dog consumes garlic, seek veterinary care promptly.
Stuffing often contains seasoning that would cause dogs digestive upset, so keep that off the doggy menu as well.
Casseroles should be avoided; they often contain lots of seasoning that is not good for dogs.
Potatoes are not great for dogs in general; they should never be served raw, and even when cooked, they are not the healthiest option for a dog to eat. Mashed potatoes often contain seasoning and butter which is unhealthy for dogs. The AKC recommends avoiding potatoes entirely.
Creamed peas are rich and heavy in seasoning, which would cause digestive upset.
Any food that is heavily seasoned or heavy in fats will wreak havoc on a dog's digestive system. No one wins here; your dog does not feel good, and you have an epic mess to clean up later.
Desserts and sweets that are safe for humans are rarely safe for dogs. Be sure to keep anything chocolate, high in sugar, containing raisins, or containing xylitol also called Birch sugar (which often hides in peanut butter), out of your dog's reach.
What Thanksgiving Foods Are Safe For Dogs?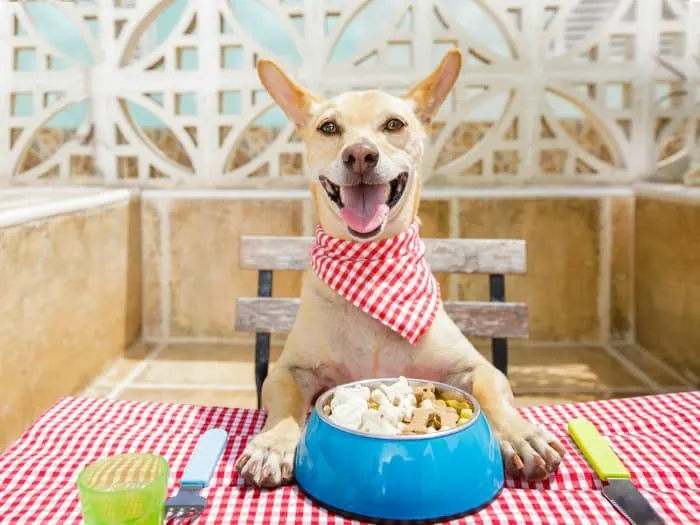 Your dog will be thankful for being served any of these Thanksgiving favorites:
Turkey. Dogs may eat unseasoned turkey, however, they should not be given bones or skin with the meat, or turkey gravy. You may be surprised to know that turkey is commonly an ingredient in dog food and treats.
Cranberries. Dogs may be fed plain fresh or dried cranberries in moderation according to the AKC. Always exercise caution, as it is common for dried cranberries to be mixed with raisins or high in sugar. Do not feed your dog cranberry sauce, as grape juice is a common ingredient in cranberry sauce, and grapes are toxic to dogs.
Pumpkin. Pups may partake in snacks of plain pumpkin! According to the AKC, pumpkin is great for a dog's digestion, skin, and coat. Be sure to avoid feeding pumpkin that has pie spice or other seasonings added to it.
Apples. Apples are healthy for dogs to eat, and these crunchy treats may help clean teeth. Be sure to cut out the core, seeds, and stem before serving.
Carrots. Dogs may eat carrots and many enjoy them. Similar to apples, carrots may also assist with dental health. If you have a large breed dog, exercise caution when feeding baby carrots, as they may be a choking hazard.
Green Beans. Dogs may eat unseasoned green beans. These are actually great for them to eat year-round and are often recommended by veterinarians to owners of portly pups. If you have a chubby puppy, a portion of their meals may be replaced with green beans to help them feel full while reducing their caloric intake.
Sweet Potatoes. Dogs may be served plain sweet potatoes in moderation according to the AKC. Many dogs like sweet potatoes, and they are often an ingredient in natural foods and treats.
Thanksgiving Recipes For Dogs
If you love cooking and baking, you will want to prepare something special for your dog as you are preparing your family's special Thanksgiving meal. If you set aside a few ingredients as you prepare your human family's Thanksgiving meal, your dog can enjoy a few special recipes too. Here are some doggy-safe Thanksgiving recipes:
Conclusion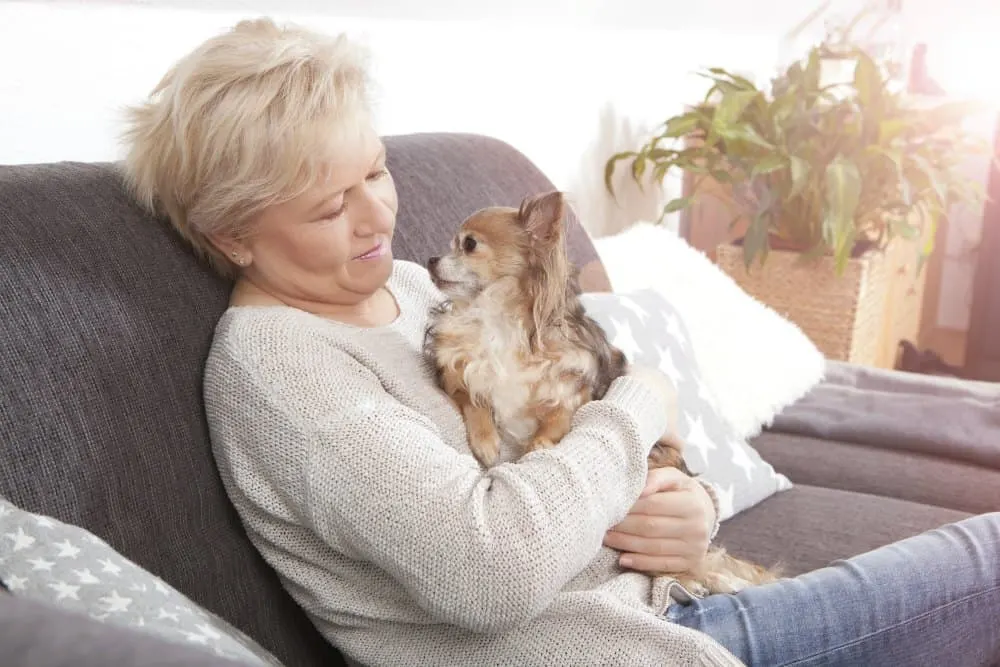 Although many of the traditional Thanksgiving recipes that humans enjoy are not safe for dogs, by making a few adjustments and being smart, your dog will enjoy a feast fit for a king along with the rest of your family.
While it is difficult to say no to dogs' sweet faces, keep in mind that nothing is free. They may enjoy a special snack for a moment, then later suffer from digestive upset. In this case, saying no means you are helping your dog to be happy and healthy.
If your dog has eaten something from the unsafe foods list provided, seek veterinary care immediately. If your dog has eaten something from the safe foods list provided and is reacting badly, she may have an allergy or other issue with that food and veterinary care should be sought promptly.
Keep in mind that a large dog might have to eat a significant amount of something toxic to get sick, but a small dog such as a Chihuahua would not have to eat as much to become ill. So if you discover that your Chihuahua has eaten even a small amount of a potentially toxic food, do not shrug it off. When in doubt, seek veterinary care as soon as possible; it could save your dog's life.
Be sure to read our other posts to keep your pup safe through the holidays:
Before I close this, I want to relate my own Thanksgiving story. Years ago, I had my little chihuahua Kilo and 2 large mutts, Buddy and Roxy.
My husband decided to give all the dogs some turkey skin and gravy, and some of the dark meat we don't like. All 3 dogs had diarrhea all night long. It was not a fun night. That was a good lesson for me not to let that happen again.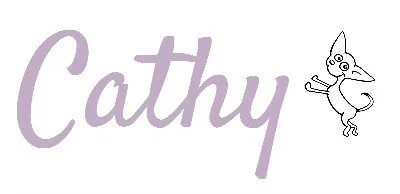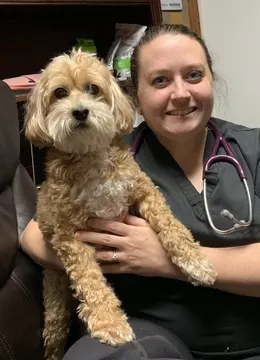 Dr. Sara Ochoa
DVM
This article has been fact-checked and approved by Dr. Sara Ochoa DVM. You can read more about her on our About page.