This post contains affiliate links, and I will be compensated if you make a purchase after clicking on my links. As an Amazon Associate I earn from qualifying purchases. Learn More
Ever since I can remember I have been an animal lover. It must've rubbed
off on my daughter because she loves animals of all kinds.
Last year my husband jokingly talked about getting a Chihuahua soon after we lost a dear Papillion named Simba that we had for over 10yrs. I was dead set against it because losing Simba broke all our hearts.
Christmas 2013 our daughter surprised her father with a little 1.5 lb chi puppy she had saved up for. His eyes lit up when he saw the puppy.. We
named him Frankie and he has taken over our hearts completely.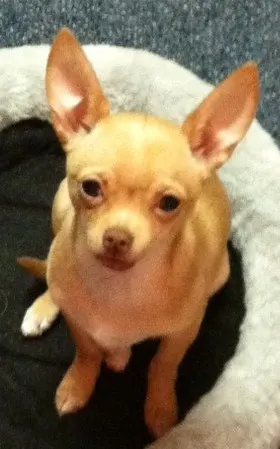 Our daughter has also grown very attached to Frankie and we thought we would return the
favor.
This year we surprised our daughter with her own little applehead chi puppy she named Ruby. Frankie and Ruby are getting to know each other and will no doubt be cuddle mates soon.
We just love our little ones so much.There is just something about a Chihuahua. They may be small dogs but they love bigger than any other dog I know.
Thanks for letting me tell our story,
Cynthia Shaner