This post contains affiliate links, and I will be compensated if you make a purchase after clicking on my links. As an Amazon Associate I earn from qualifying purchases. Learn More
Many moons ago, back in the day when no one thought twice about buying dogs in a pet store, and most people had never heard of a puppy mill, I bought my first purebred dog. I have had dogs all my life but this was the first dog I ever got on my own.
I was a teenager and Ernie, my little Yorkshire Terrier became the love of my life. Although he was a pet store dog, he was actually a really good specimen and I began to enter him in dog shows. He won some and lost some. He did exceptionally well in Obedience Shows.
Soon, I decided I wanted to get a female and breed them. My boyfriend at the time bought me a sweet little female named Chassie. He got her from a breeder and although she wasn't show material, she had a wonderful disposition and intelligence that I knew I wanted in my puppies.
So I bred them. And they had puppies. My family kept a few, but most of them I sold. I was careful about who got them and even turned away a few people who I didn't think would be good pet parents to my precious babies.
Do you know why I finally stopped? I went to a dog grooming school, graduated, and got a job as a pet groomer. I decided to offer my services free of charge to my local SPCA to help make the dogs there "pretty" and more adoptable.
It didn't always help and it broke my heart to know dogs that I had spent time with and had grown to love, were euthanized because nobody wanted them.
I just couldn't bring myself to bring more dogs into the world, when so many of them needed homes.
The decision was finalized when Chassie's last delivery had complications and if not for the quick actions of my veterinarian, and the emergency surgery he did, she would have died.
Even if I wanted to, there would be no more breeding of Chassie. I make it sound like she was bred numerous times but in actuality, it was only a few times. I had planned to find a stud for one of her daughters that I had kept, but I immediately got her spayed.
This is one of the puppies I kept. Her name was Amber.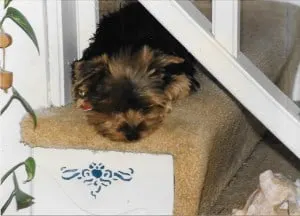 So as time went on, it seemed dogs in need of rescuing just kept popping up into my life. Some were lost dogs and I helped find their owners. Some were abandoned and I either kept them or found homes for them.
It's been going on this way for the last 30 years. In fact, that's how I got Kilo, my first Chihuahua and fell in love with this breed. You can read the story of how I got her here: Kilo's story.
Now I can say I have been on both sides. I have been a breeder and I understand the need for breeding by people who will strive to improve the breed and are not just in it for the money. However, I will never breed again.
I have to say here that I often see the controversy ignite on our Facebook page between the rescuers and the breeders. Some people get mad that I allow people to show pictures of their newborn puppies.
I try to explain that the Facebook page (and this site) is not for being militant against one side or the other. It is for Chihuahua lovers to be able to share their Chihuahua stories, photos, problems, and lives with each other. There are plenty of very good Facebook pages dedicated solely to rescue dogs. That's not what I choose for our group to be.
I do however support adoption and rescue and try to share posts about dogs who need rescue.
But I will not judge those who choose to breed their dogs. That's their decision, not mine. And I think of it this way. If all those who really love the Chihuahua breed stopped breeding their dogs, then the only ones left would be the puppy mills and backyard breeders. And no one wants that!