This post contains affiliate links, and I will be compensated if you make a purchase after clicking on my links. As an Amazon Associate I earn from qualifying purchases. Learn More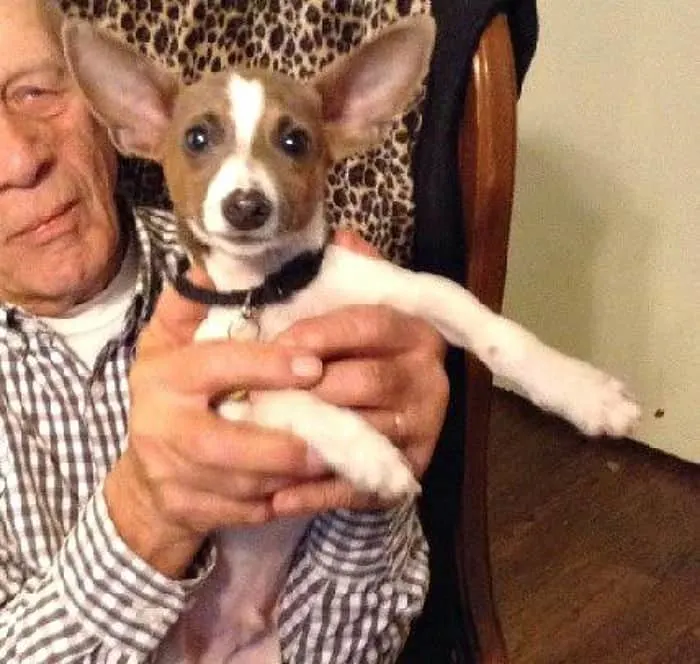 I had wanted a new black and white chihuahua baby and looked every place I could to find one but couldn't.
One evening about 2 weeks ago my husband and our son went for coffee at their usual place about 7 in the evening and (by the grace of God) there was the most beautiful deer head chihuahua just wandering around.
He followed them into the quick stop, continued to follow my son, and nobody who worked there or anybody shopping there had any idea where he came from or who his owner was, so my new deer head chi, Pinto Bean came home with them!!!
My husband took him to our vet and his chip was not registered. We called the phone number on his tag and it was disconnected. So he took him to a no kill shelter for help and the man in charge said he could not get any more info on Pinto Bean, just that he was bought in NJ (we live in TX).
He offered to put Pinto up for adoption for a donation of $100 but my husband brought Pinto Bean back home. We made fliers that only gave our phone number and only said "IF YOU HAVE LOST A HOUSE PET, PLEASE CALL THIS NUMBER AND DESCRIBE". Didn't want just anybody to claim him, only an owner would know the lost house pet.
There has been no response and now Pinto Bean has his new fur-ever home with me, the devoted owner and 3 other chis and 1 rescue terrier mix.
Pinto is very happy, has a full tummy all the time, never thirsty anymore, sleeps in bed under the covers, has his new vet to take care of him and all the Bark Box toys and snacks he wants.
I believe my Pinto Bean was sent to me by God, Now I am not ready for a tiny black and white chi puppy, we have Pinto to love……….