This post contains affiliate links, and I will be compensated if you make a purchase after clicking on my links. As an Amazon Associate I earn from qualifying purchases. Learn More
I don't know about you but I love making crafts! I used to make them to sell and made them for myself, my family and friends. It never occurred to me until recently, that I could make some crafts for my dogs too. I've got some craft projects in the works and will add them to this post as I get the posts written for them but until then, I went looking for some inspiration.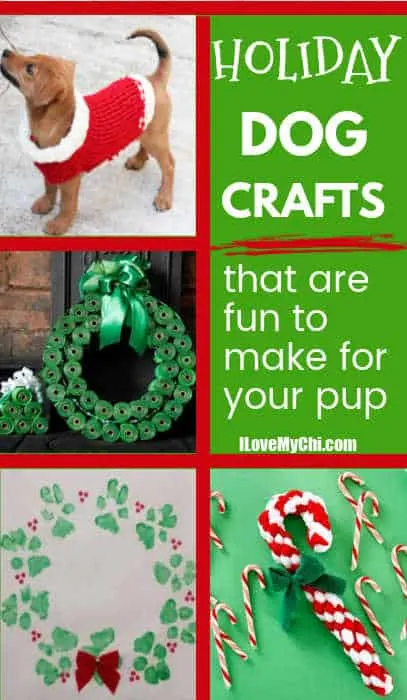 Crafting for the holidays is a great activity to bond with family and friends indoors when it's cold outside.
Here are some canine crafts with holiday themes to help you celebrate the whole month of December:
Milk Bone Wreath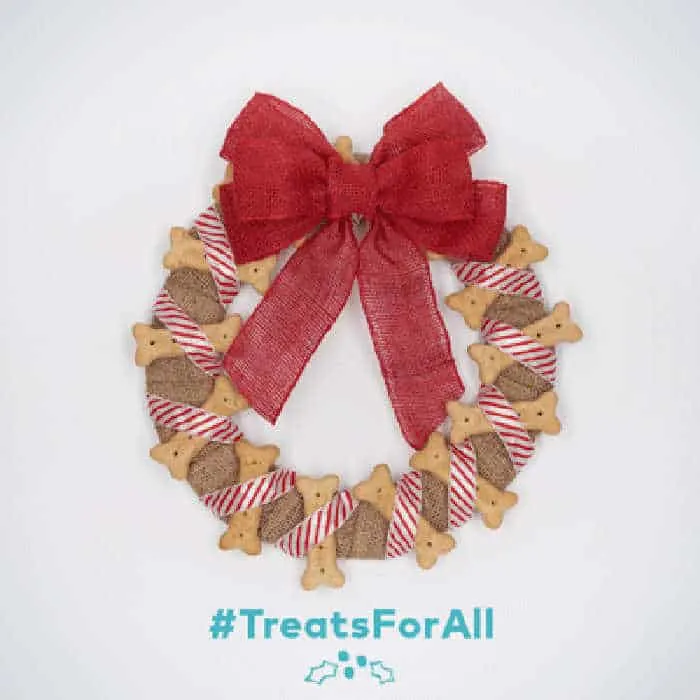 This Milk Bone wreath makes a great gift, or an auction item for a dog rescue fundraiser. It is easy to customize to your decor style and could be altered for different occasions.
Reindeer Milk Bone Ornament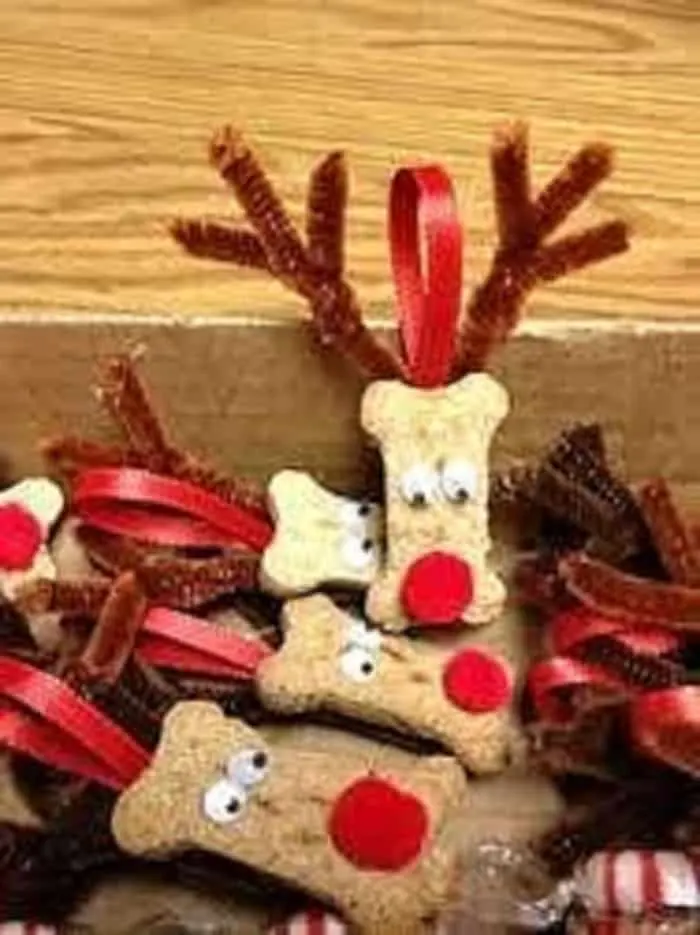 A great activity for children, make reindeer milk bone ornaments for your Christmas tree, to gift to others, or to raise money for a local dog rescue or shelter. Just be sure to hang them high on the tree out of your pup's reach!
Cranberry and Pumpkin Dog Treats
This homemade cranberry and pumpkin dog treat recipe by the blog Miss Molly Says is sure to become one of your dog's favorite snacks. Not only is this recipe festive and tasty, but also healthy. Pumpkin may aid in dog's digestion according to the American Kennel Club.
Painted Paw Print Wreath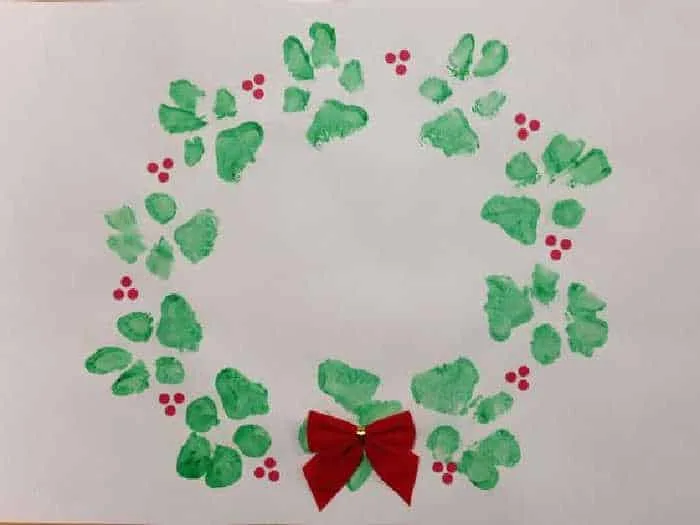 A beautiful keepsake or gift, dogs who do not mind their paws being handled will enjoy helping their owners make this painted paw print wreath. Using pet safe paint, use your dog's paw to stamp a wreath on heavy weight paper, wood or anything else that you can think of.
Santa Dog Craft
This Santa Dog Craft made of paper and popsicle sticks is the perfect activity to occupy kids inside on a cold December day. They may easily be turned into ornaments, used as decorations, or gifted to friends and family.
DIY Paper Dog Ornaments
The Broke Dog Blog has shared some festive and free printable dog ornaments! A great activity for a girls night or a snow day, this is an inexpensive project that will create memories with your loved ones and canine themed ornaments to enjoy for years to come.
Milk Bone Dog Picture Frame
The Miss Molly Says Blog shares how to make an adorable milk bone frame for photographs of your favorite furry friends. The blog post features milk bones painted in holiday colors, but you could paint them another color to make a gift that friends or family could display year round. While this frame is very cute, it should always be displayed well out of your dog's reach!
Crochet Candy Cane Dog Scarf
The blog Golden Lucy Crafts posted a crochet pattern for a festive candy cane dog scarf. This craft makes a great gift or a unique fundraiser item.
DIY Woven Fleece Candy Cane Dog Toy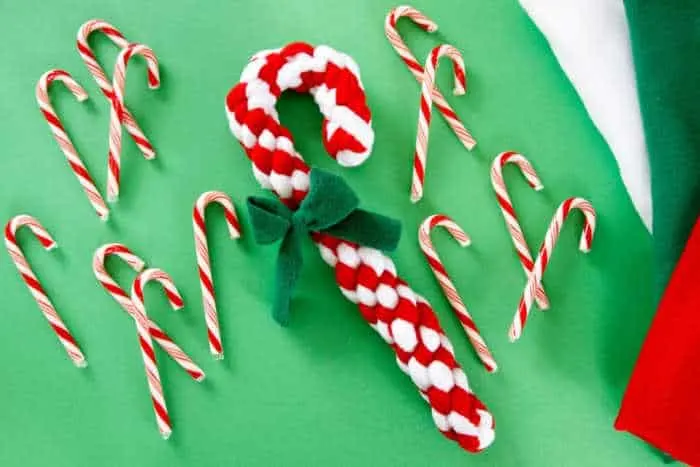 Dalmatian DIY shared this simple and festive craft: DIY Woven Fleece Candy Cane Dog Toy. All you need for this project is fleece and scissors! Make lots to give to all your canine's companions as gifts, or make them in bulk to donate to a local dog rescue.
Dog Bone Holiday Signs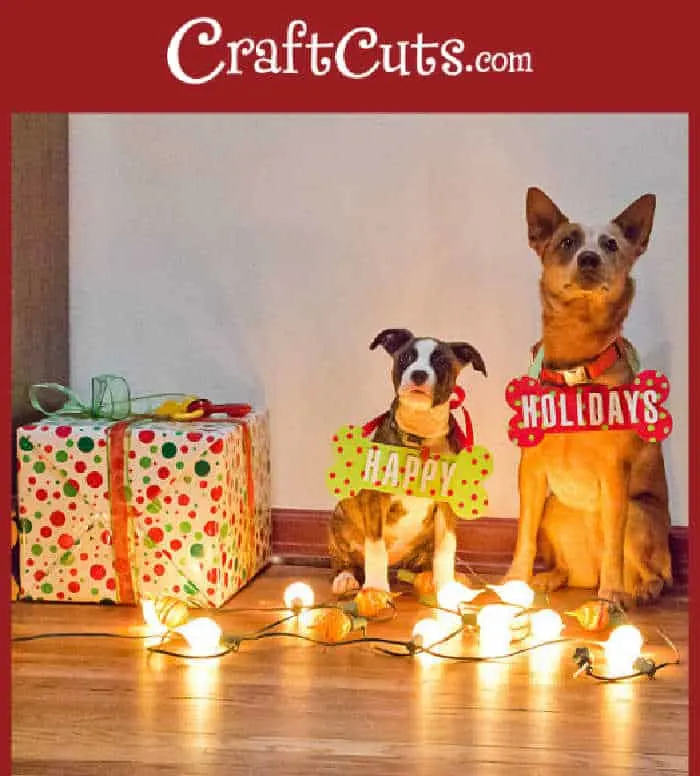 Make these Holiday Dog Bone Signs by Craft Cuts to use as props in your family's Christmas card photograph, or to donate to a local rescue to use as a prop to use when taking unique pictures of adoptable dogs.
DIY Pet Silhouette Ornaments
The Kitchen Concoctions Blog shares this cute and classic vintage style Pet Silhouette Ornament DIY. Your family will cherish this ornament for years, or it would make a special gift for a friend.
DIY Dog Bag Wreath and Mini Christmas Tree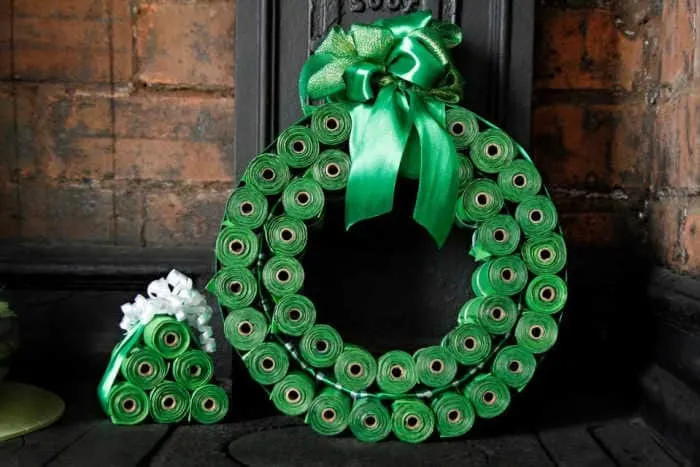 A great gift for a new or seasoned pet parent, or a fundraising item for a dog rescue, this DIY dog bag wreath and mini Christmas tree by Dalmatian DIY is sure to be a hit. Not only is it practical, but it is creative.
Christmas Puppy Sweater Pattern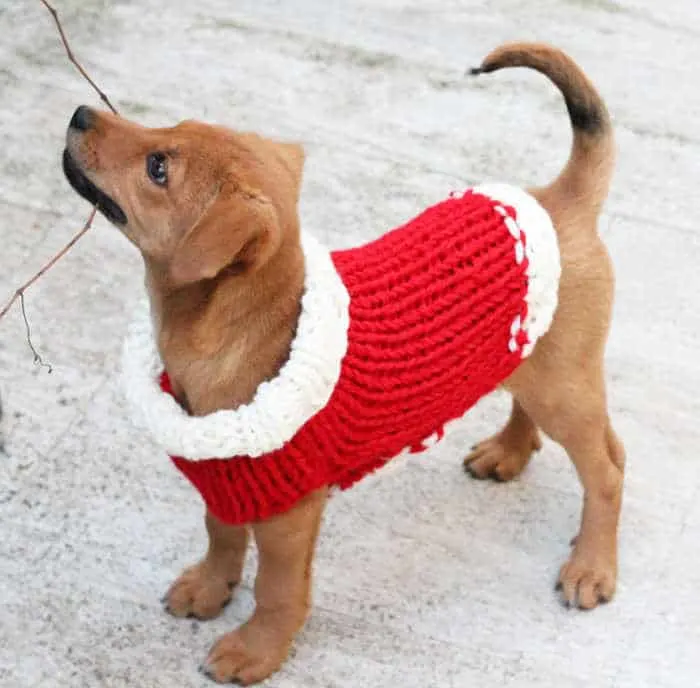 The blog Handy Little Me published a darling hand knitted sweater pattern, easy enough for people who are new to knitting to make successfully. This pattern is made for puppies or small dogs and may be adjusted for a custom fit for a specific dog. The pattern is free so check it out!
Easy Christmas Tree Cookies For Dogs
Gone to the Snow Dogs You Tube Channel posted a video on how to make festive Christmas Tree cookies for dogs. Be careful – they look so good that they are easily mistaken for people cookies! If you plan to gift these cookies or display them at a doggy Christmas party, be sure to label them clearly.
Mini Sausage Dog Christmas Decoration
Perfect for people who love dachshunds, this free mini sausage dog knitting pattern available on Ravelry includes a pattern for a Santa hat for the dog to wear. The pattern does not require much yarn; it could even be made from scrap yarn if you have enough available in your stash. This craft would make a great gift or a fundraising item for dog rescue.
Holiday Biscuits
The Duke and Duchess blog shares a tasty holiday dog biscuit recipe and free printable gift tags to include when gifting them. Putting the biscuits in a mason jar or tin and attaching the the tags with holiday ribbon makes a great gift.
Build A Dog Christmas Activity
This free printable Christmas dog craft by the Simple Mom Project Blog is a great way to entertain children this holiday season. Print it in color or blank for your child to color in the dog whatever color your family's dog is, or to express their creativity with a unique color.
DIY Dog Bone Christmas Stocking Sewing Pattern
The Wear Wag Repeat blog shared an easy DIY sewing patten for a dog bone shaped Christmas stocking. These stockings make great gifts or they may be used in holiday fundraisers for dog rescues.
DIY Dog Treat Advent Calendar
When your family enjoys treats from their advent calendar, do not leave your dog out! Pawsitively Pets posted this cute doggy advent calendar craft to include your dog in your family's Christmas traditions. This is very easy to customize to your family's decoration style and does not require any sewing. This craft would also be good for fundraising for dog rescue.
Closing Considerations
Crafts are not only fun to make, but they also can be used to show that you care and to help others this holiday season. Instead of opting for store bought items, make special home made gifts for family and friends. Make some of these crafts to sell to raise funds for your favorite dog rescue or your local animal shelter. Dogs living in shelters do not get the loving care of home made treats during the holidays that most cherished dogs receive; consider baking a batch of treats to give to your local animal shelter so that the dogs waiting for their furever families can enjoy a home made treat.
Leave a comment and let us know if you try any of these crafts. And if you have a great dog related Christmas craft that you'd like featured in this post, leave a link in the comments and I'll add it.