This post contains affiliate links, and I will be compensated if you make a purchase after clicking on my links. As an Amazon Associate I earn from qualifying purchases. Learn More
Sweaters for extra tiny Chihuahuas, sometimes referred to as "teacup Chihuahuas", can be difficult to find. Luckily, there are many options available online for teacup chihuahua sweaters.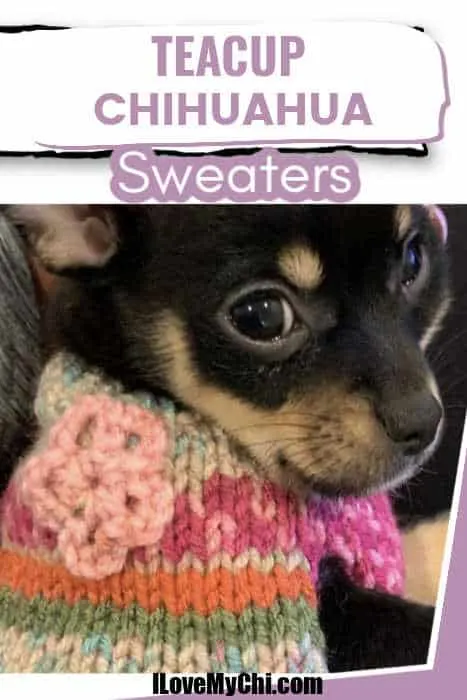 Also be sure to check out all our posts on chihuahua sweaters.
I have compiled a list of quality tea cup sized sweaters and tips on shopping for sweaters for your teacup Chihuahua:
Teacup Chihuahua Sweaters on Etsy (click the image to see the details of the sweater):
Teacup Chihuahua Sweaters on Chewy
Here is a selection of teacup sized sweaters on Chewy (all fit a dog between 3-7 pounds):
No wardrobe is complete without a simple cable sweater: GF Pet Chalet Dog Sweater
This bright sweater is so cute, check it out here: GF Pet Alpine Dog Sweater
Here's a perfect Halloween sweater: Frisco "Boo!" Dog & Cat Sweater Dress
Teacup Chihuahua Sweaters on Amazon
Here is a selection of teacup sized sweaters on Amazon:
Girly and sweet, this strawberry sweater is sure to be one of your favorites for your Chihuahua to wear: Pink and White Strawberry Sweater
Ideal for any season, this sweater is very cute: Blue Owl Sweater
Classy and cute, this sweater is appropriate for any occasion and is available in olive green, orange, pink and camel: Stinky G Aran Dog Sweater
This sweater sports a comical sock monkey design sure to get lots of likes and laughs on Facebook: Chilly Monkey Hoodie Sweater
Perfect for Christmas, this sweater has an intricate and pretty design: Red and White Snowflake and Hearts Fair Isle Sweater
Available in a soft pink or baby blue, this turtle neck is very cozy: Bro Bear Cable Knit Turtle Neck Sweater
My 2 boys have worn this sweater every year for about 3 years now. It wears well and keeps them warm. This sporty knit wear sweater is available in a rainbow of colors and is great for a chilly walk in the park: Idepet Classic Knit Wear Sweater
How to pick the right size sweater for your teacup Chihuahua
When you are shopping for sweaters for your Chihuahua it is important that you measure your Chihuahua. Some sweater manufacturers will recommend sizes based upon weight, however, it is more likely that you will order the wrong size when the size is selected based upon weight alone.
If you have never measured your dog for a sweater before, refer to this helpful video how to measure your dog for clothing video by Chewy:
What should I do if my Chihuahua is in-between sizes?
If you are struggling to find a sweater that is small enough for your teacup Chihuahua, you will probably not be able to find a sweater in big box stores.
However, you are fortunate enough to live in a time where the internet gives you many options to find what you are looking for. Here are a few tips when shopping for a tiny teacup Chihuahua:
To Go Custom, Shop Small
Etsy is a website where people all around the world sell hand made items. Sellers on Etsy often knit, sew or crochet clothing for dogs. Armed with your dog's measurements, search for what you are looking for. If you do not find exactly what you are looking for, message a seller who has something close to what you want and see if they are up for a custom order.
Get Crafty
If you enjoy crafting or if you are considering learning to craft, learn to knit or crochet sweaters for your Chihuahua. You will learn to create custom pieces that fit your furry friend perfectly.
If you are new to crafting, get started with these kits: learn to knit pet projects or learn to crochet pet projects.
If you are more experienced with knitting or crocheting, here are some pattern books to consider:
Switch Species
Shop for cat sweaters instead of small dog sweaters, because cats are always smaller than dogs even when they weigh the same.
Pro tip: for Chihuahuas with really tiny necks, try a cat collar or even a ferret collar!
Conclusion
Chihuahuas love being warm, so your Chihuahua will likely be happy to wear whatever sweaters you choose for him or her. However, if the sweater does not fit will, it will be difficult for your Chihuahua to wear the sweater as he or she goes about their day. Be sure to measure your Chihuahua to ensure that the sweaters you purchase fit so that your furry friend may comfortably wear their sweater.
Although shopping for tiny teacup Chihuahuas can be tricky, there are many options available if you simply cannot find a sweater that fits in a store such as ordering a custom sweater on Etsy, learning to knit or crochet sweaters for your Chihuahua, or shopping for sweaters for other species such as cats or ferrets.