This post contains affiliate links, and I will be compensated if you make a purchase after clicking on my links. As an Amazon Associate I earn from qualifying purchases. Learn More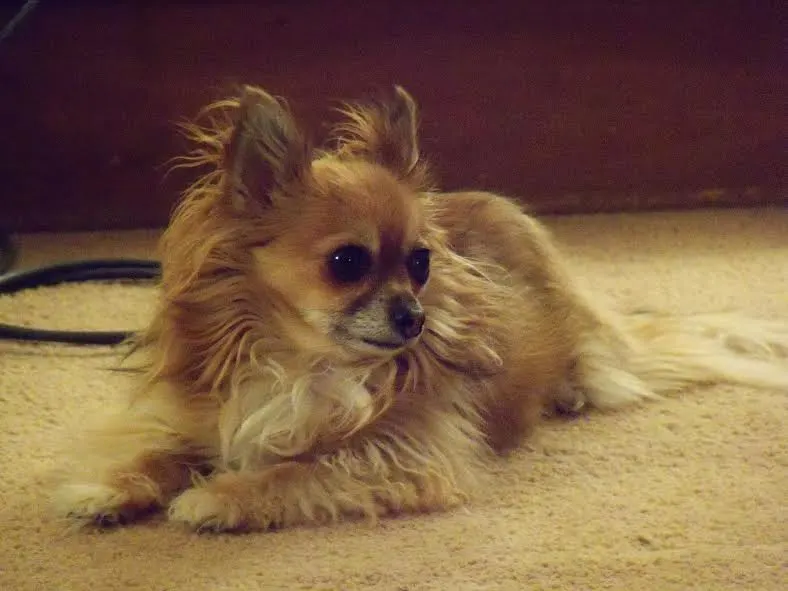 Hi, my name is Lisa, and Chelsea is my first Chi. We had been breeding and showing Cavalier King Charles Spaniels until one day we decided to foster some puppies from our local shelter. One was a terrier/ chi mix. The tiniest, cutest thing ever. Also very sick. My daughter and I took turns nursing this poor dog back to health. I took her everywhere with me and she was a very social puppy. The lady at the bank was going to adopt her. I took her back to the shelter where she was suppose to get her shots, spayed and sent home with my friend.

Days passed and I did not hear from her. When I called I found out they had put that puppy down because they found a spot on her ear that was ringworm!!! I was horrified and sick! How could they do this to that tiny puppy. I just remember her tail wagging as I left her with the lady. It still upsets me. I was so upset for so long I told my husband I wanted a chihuahua. Now mind you, we had 5 Cavaliers at the time. But I just loved how little my visitor was and I wanted another. I felt really guilty because I thought about keeping her myself and if I had done that than I would have taken her to MY vet where the ringworm would have been treated, and she would still be alive.

So I researched breeders and found one an hour and a half away. My daughters and I drove out to "see" the puppies, annnddd….one came home with us!! She is the love of my life. Chelsea is MY dog thru and thru. She follows me around, (right into the bathroom too), and watches for me at the window when I am gone. I have been told that she mopes around when I am gone. I just love her to pieces. Chi's are such a unique breed. So much fun.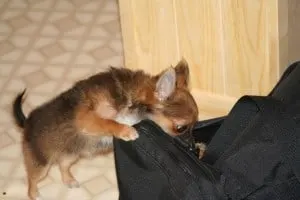 When we first brought her home, she found this old ratty toy on the floor and declared it as hers. She would carry this thing around with her all over. Still does, when she wants you to play with her. But back when she was a puppy, she would actually "put" it places! The picture here she is putting it in my son's gym bag! I have also found it in my potted plants, stuffed in between cushions, under pillows, inside shoes. She finally put it someplace I could not find. I had to go to the fabric store and buy some fake fur and make her another one. Luckily she took to it. She is my girl!
Thanks for reading my Chihuahua Story.
Lisa Wagner