When people think about chihuahuas, they often picture the more common short-haired ( or smooth coat) type.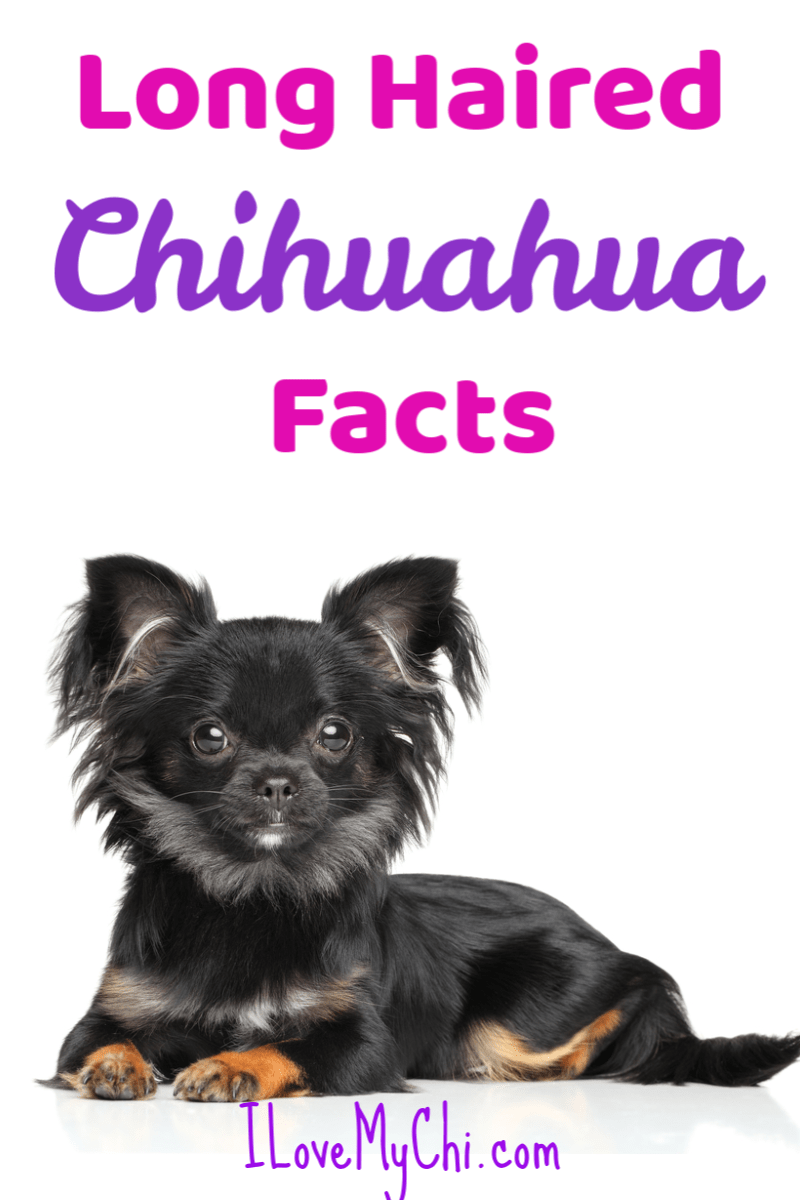 Long haired chihuahuas deserve some recognition too! They have all the spunk and energy of short haired chihuahuas, and they come with extra fluff. What's not to like?
Many people may wonder how long haired chihuahuas differ from other chihuahuas (besides the coat length, obviously).
It turns out that they are similar in many ways, but long haired chihuahuas have several interesting characteristics that separate them from the rest of the pack.
Check out our main post that showcases all our chihuahua fact articles!
Long haired chihuahuas get cold easily
Don't be fooled by what looks like a cozy coat of fur! Long haired chihuahuas, like all chihuahuas, do not tolerate cold weather well.
They originated in a hot climate, after all. Long haired chihuahuas, being very small, lose body heat more easily than bigger pets. If you own a long haired chihuahua, make sure to keep her warm, especially if you live in a cold area.
Many chihuahua owners like to dress up their pups in cute sweaters. Chihuahuas also tend to enjoy blankets and will burrow underneath them.
Don't keep your long haired chihuahua outside for too long on a cold day, and watch her closely to make sure she isn't shivering. Even though she has more hair than her short hair counterpart, she can be just as sensitive to the cold.
Be careful of the sun
Though long haired chihuahuas do not do well in the cold, that doesn't mean they are fine in the summer sun.
They also tend to struggle in hot weather. It is important to make sure these dogs are in a comfortable, warm environment as much as possible. Excessive panting can be a sign that they are getting overheated.
Male long haired chihuahuas are fluffier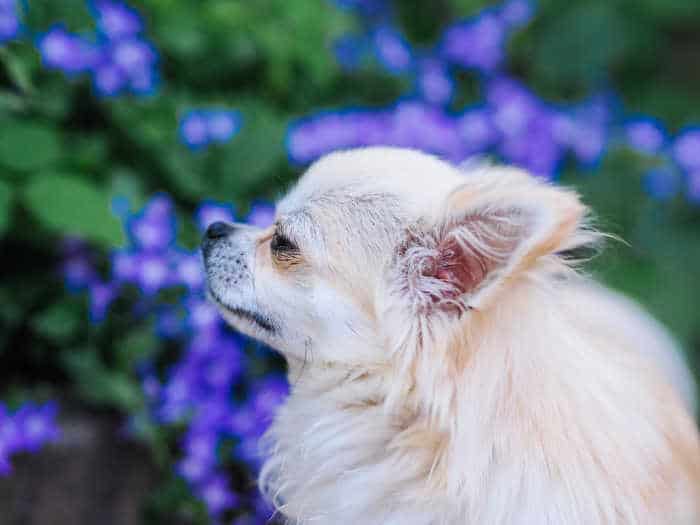 Due to genetic factors, boy chis tend to be blessed with more luxurious coats than the girl chihuahuas. There might be some female long haired chihuahuas out there with longer fur than some male long haired chihuahuas. However, on average, the males have longer, fluffier hair.
The gene for long hair is recessive
This means a couple of different things. One is that two short haired chihuahuas can actually have long haired puppies.
In order for that to happen, both short haired parents must be carriers of the gene for long hair.
Both short hair and long hair puppies can be born in the same litter.
The other thing is that because long hair is a recessive trait, long haired chihuahuas are less common than short haired chihuahuas.
However, if long haired chihuahuas were to have a boom in popularity, breeders might respond by producing more long haired puppies. Long haired puppies are much more likely if both of the chihuahua parents have long fur.
Long haired chihuahua puppies don't always have very long hair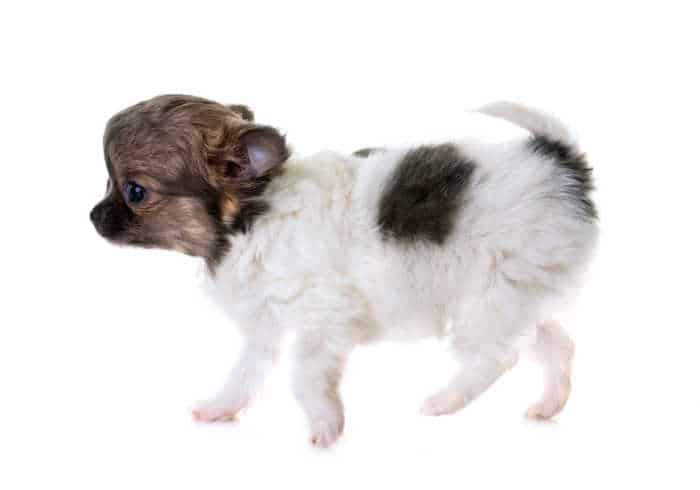 The fur can take a really long time to grow! Some long haired chihuahuas don't grow their full coats until they are almost two years old. Others have a fully fledged coat of fur at a younger age.
Long haired chihuahuas are the same size as short haired chihuahuas and share the same temperament
Both types of chihuahuas belong to the same breed and have most of the same general characteristics.
Long haired chihuahuas simply have a genetic variation that gives them longer, fluffier fur.
A common misconception is that long haired chihuahuas have a difference in personality. This is not true at all! Long haired chihuahuas generally have the same range of personality types as short haired chihuahuas.
Of course, every long haired chihuahua has its own personality. However, this is shaped by the individual dog's life experiences and genetics.
The personalities of the chihuahua's parents can play a role, and so can socialization as a puppy. It has nothing to do with the length of the dog's fur.
It is important to groom long haired chihuahuas on a regular basis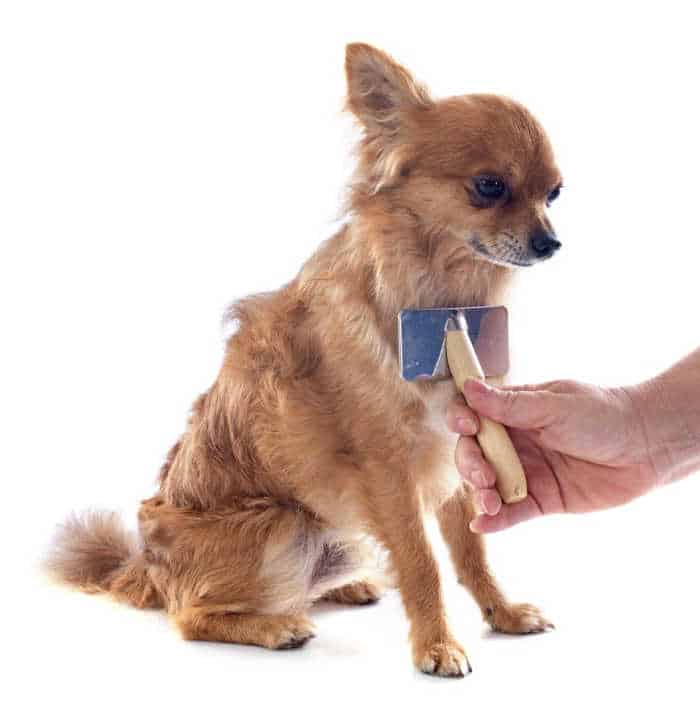 Brushing out their long coats removes dirt that builds up in their fur, and it prevents tangles and matting.
These are problems that the owners of short haired chihuahuas don't have to worry about so much, but long haired chihuahua owners must be conscious of them!
A lot of people forget about brushing the dog's tail. However, it is especially important to brush the tail because the long tendrils of tail hair can easily pick up dirt and dust particles.
The owners of a long haired chihuahua should inspect and brush their dog's tail a few times a week.
Your long hair chi may need to be bathed more often than a short hair chi. Being low to the ground, he may pick up mud or other debris. Or he may get poop or pee stuck in his hair. Ugh!
At the end of the day, long haired chihuahuas and short haired chihuahuas are two different versions of the same breed of dog. As such, they share many of the same characteristics.
Despite the similarities, long haired chihuahuas have their own set of interesting features and challenges that chihuahua owners and enthusiasts should be aware of.