This post contains affiliate links, and I will be compensated if you make a purchase after clicking on my links. As an Amazon Associate I earn from qualifying purchases. Learn More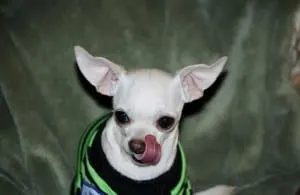 Hi my name is Minnie-Bee or Minnie for short. A little over six months ago I was on a cold concrete floor at the local shelter. I was frail and underweight (just 2lbs). It was depressing… It was then that I first saw a man peek through the window. I saw him whisper in a lady's ear, open the door, and point to me.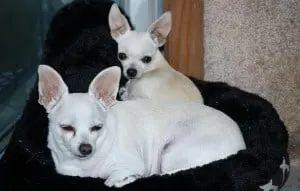 My eyes locked on the lady and we established and instant connection. I could not stay away from her. Joy filled me as I began to hope I found my forever home….. But fear began to fill me. The man was gone. Did he not like me? Soon my fears were washed away as he returned with a person who unlocked my kennel and allowed me to be held by the lady.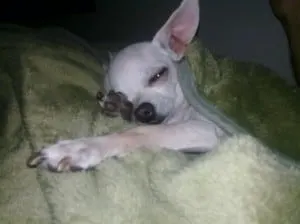 I saw the man signing paperwork and in blur I was being carried out with them.
Our next stop was PETCO for a leash, and then a BIG place called COSTCO.
You see they were not looking for a new dog and had only come in to visit and give some love to the dogs at the shelter on their way there. Later I would find out from the second they saw me, they decided there was no way I would ever spend another lonely night alone.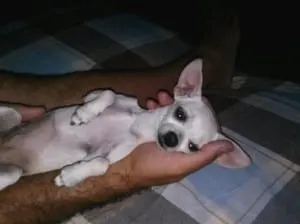 When we got to my new forever home, I discovered I had two new sisters and a brother……
.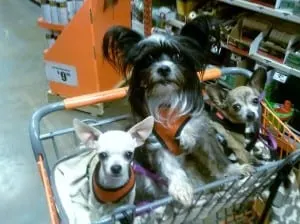 A little later I discovered I also has two Kitty sisters……… I knew I would never be alone again! I was so happy.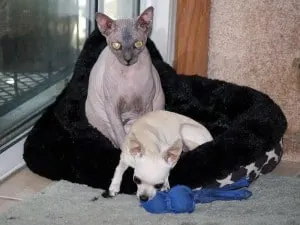 At first it was tough. I was a little frail and tired quickly. I had soooo many new playmates and a lot to learn. My sister Lilly helped show me the ropes and began to run around the yard with me to build my muscles with a game of chase. My brother Gizzy showed me where the Neighbor dogs live at the corner of our yard. We sometimes lose it and bark too loud, but Mommy and Daddy think my bark is cute.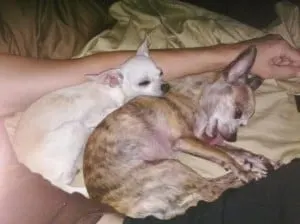 My sister Cutie told me about the treats and are they good!!!!! I quickly learned to "spin" to get them. Even my Kitty Sisters watch over and play with me. We go on trips with Daddy to Home Depot and Grandpaws. Wow life has changed.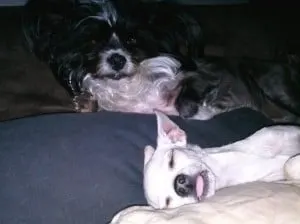 I am now full of muscles and have filled out to about four pounds. My Mommy has given me the nickname Little Miss Sassy because I like to talk and sass. My Mommy has even helped me create my own Facebook Page…(Minniesworld Handel)….. She thinks I am so cute and wanted to share me with the world, and who am I to disagree? I have made even more friends there……. I will never be alone again! Well my brother Gizzy and Sister Cutie have both made CHI OF THE HOUR and I would like to be CHI OF THE HOUR to make my Mommy proud! Poor Lilly will never get the chance though….. She is not a Chi, but a Beautiful black and white Papillion-mix with incredible ears (I nibble on them as we play sometimes….hehehehe). With all the playmates I have, I am dusted by the end of the day.
Well got to go, Lilly and I have to play with Abby (kitty sister). See ya on Facebook!
Minnie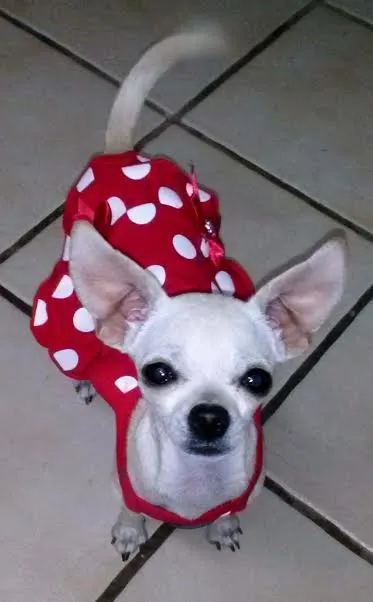 Rick Handel