This post contains affiliate links, and I will be compensated if you make a purchase after clicking on my links. As an Amazon Associate I earn from qualifying purchases. Learn More
Yes, you read the title right. This article offers some great suggestions on Christmas stocking stuffers for your dog. Amidst all the excitement and flurry of Christmas activity, don't forget your pups. They are family too!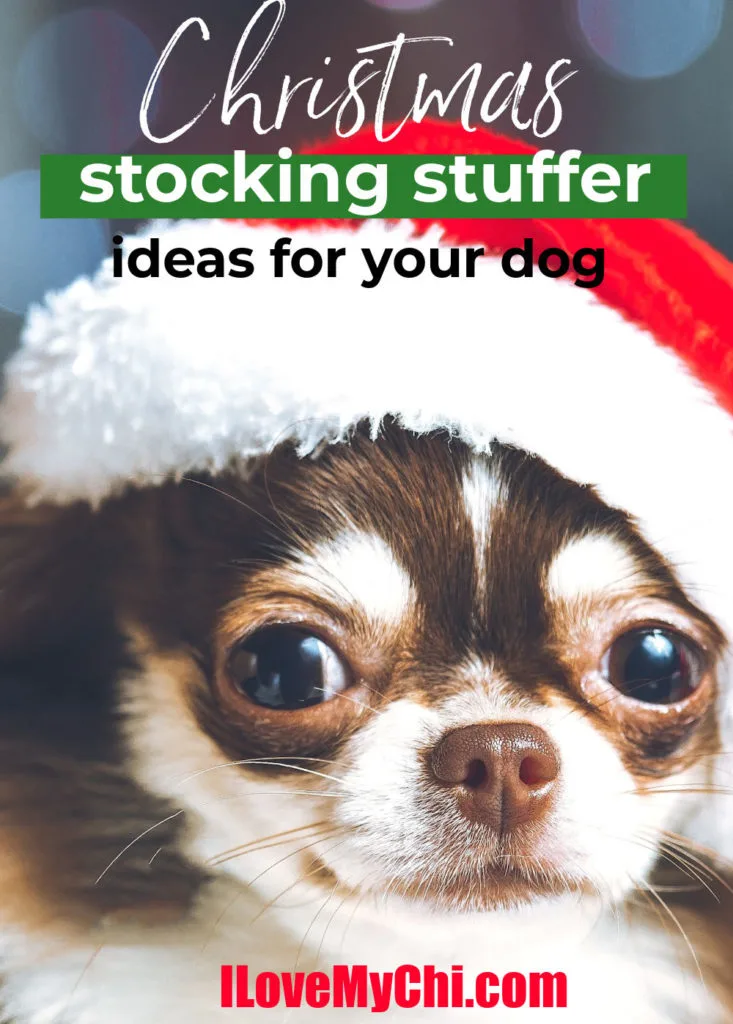 You may wonder what to get a dog for Christmas and why go with a Christmas stocking instead of a regular wrapped gift. Well a stocking has lots of little gifts for your dog instead of just one gift. And it's so much fun watching them root around in their stocking checking out their gifts.
A Christmas stocking filled with fun doggie things will ensure your dog doesn't get left out of the Christmas fun. Each year I fill my dogs' stockings with little things they will love so that my fur babies have a very Merry Christmas too!
Below is some of my dog stocking stuffer ideas. If you have some I haven't thought of, please leave a comment below and let me know what they are!
Dog Treats
Fill the Christmas stocking with an assortment of your dog's favorite dog treats. Given in moderation, dog treats can provide the necessary nutrients to round out their daily dietary requirements. If you are currently in the midst of training your dog, dog treats are a wonderful reward for positive behavior as well.
Speaking of training treats, these treats are great because they are tiny, are low in calories and dogs adore them. And of course, you don't only have to use them for training. Training treats are great for tiny dogs, and dogs who are overweight. You can still give your little chunk a treat now and then but not feel like you are making their weight problem worse.
There are other treats besides training treats though. I like to give my 4 dogs a dental chew treat after their breakfast. They love Ark Naturals and I have been using them for years. So far, their teeth are great and Lucas' teeth have actually improved since I got him. I owe a lot of it to these dental chews.
Now if you want to go all out and celebrate with some real treats, you can always get them some cookies for dogs. Both Amazon and Chewy have some yummy-looking cookie choices or you are sure to find some at your local big-box pet store.
We haven't tried these below but I think they are so cute (they come in blue too):
Dog Toothbrush And Toothpaste
Taking care of your dog's dental health is vital to their overall well-being. Ask your veterinarian what toothbrush and toothpaste he recommends and fill your dog's Christmas stocking with a combination toothbrush and toothpaste package. Your dog may not love getting his teeth brushed, but he will be rewarded with a longer and healthier life.
For small dogs, I like using a baby toothbrush. And I always get the toothpaste that has a meat taste to it so my dogs are better about letting me brush their teeth. For one of my dogs, I use a finger brush because he freaks out over the other kind. The finger brushes actually are easier to use in many cases.
Chew Toys
If you have a puppy or even an adult dog that likes to chew (all 4 of my dogs love chewing) then a chew toy or chewy will keep them busy and happy. My dogs' favorite thing to chew are bully sticks. Bully sticks aren't cheap but they are so much better for your dog than rawhide chews. These are the ones I get for my dogs.
My puppy Bear loves this chew toy:
And this toy is great for a teething puppy.
Last but not least are good old Kongs. You can get them for every size of dogs including small that are perfect for our chihuahuas.
New Dog Collar
Go a little fancy and get a special new dog collar for your furry friend. There are many colors and varieties to choose from when purchasing dog collars. Show off your dog's unique personality with a bold color or rhinestone encrusted dog collar and slip it in the Christmas stocking to be put on for family Christmas pictures.
I love these from Etsy:
New Dog Brush
All dogs need to be brushed regularly to keep their skin and coat in a healthy and attractive condition. Even short hair dogs will get benefits from regular brushing and you will enjoy the benefit of less shedding. I have also found that my dogs now love being brushed. It's a relaxing and bonding activity to do with them.
The more you brush your dog, the faster the brush will wear out. Are you just about ready to replace your dog's brush? Buy a new one and put it in your dog's Christmas stocking along with the other goodies.
Dog Tag
All dogs need a current dog tag with the dog's name and your contact information engraved on it. There are dog tag kiosks in many pet and retail department stores where in just a few minutes and for a few dollars, you can create a new dog tag for your precious pet.
Or you can get one online.
Bathing Wipes For Dogs
Dogs can get into mischief while outside and come back in with dirt, grass or other debris from the yard stuck to their fur. Dog Wipes are great for a quick clean up of your dog's fur and skin without the need to give a full bath. We like the Burt's Bees brand. These wipes are alcohol and paraben free. These wipes can also safely be warmed in the microwave for your dog's comfort. Slip a package in your dog's Christmas stocking and you will be fully prepared for quick cleanups after Winter walks in the messy weather.
Paw Balm
If you walk your dog on a regular basis, their paws can get chapped in the winter and burnt in the summer. Why not get a paw balm to soothe those sore paws. This nifty little organic paw balm comes in a trial size that easily slips into a stocking.
Dog Toys
No Christmas stocking is complete without a few dog toys! That is if your dog likes toys (3 of mine do, one doesn't).
These are the cutest little squeaky balls and my dogs do enjoy playing with them:
I also like these toys, Great size for chihuahuas and other small dogs:

Pre Filled Dog Stockings
If you are overwhelmed like so many of us during the holidays, maybe ordering a pre filled dog Christmas stocking would make life easier.
This cute little stocking below is made for small dogs (like chihuahuas!):
If you want to get a stocking for your dog that you can use every year, I've seen them a PetCo and PetSmart, and even at Five Below and Dollar Tree. You can also get some really awesome ones from Etsy. I really love this personalized stocking:
Treat your dog to a goodie filled Christmas stocking this year for their health, safety and enjoyment all year!
Do you have Christmas stockings for your dog? If so, what do you put in it?
Recommended Reading: