This post contains affiliate links, and I will be compensated if you make a purchase after clicking on my links. As an Amazon Associate I earn from qualifying purchases. Learn More
I have seriously been thinking about getting a dog stroller for Kilo lately and thought I'd share my research about them with you!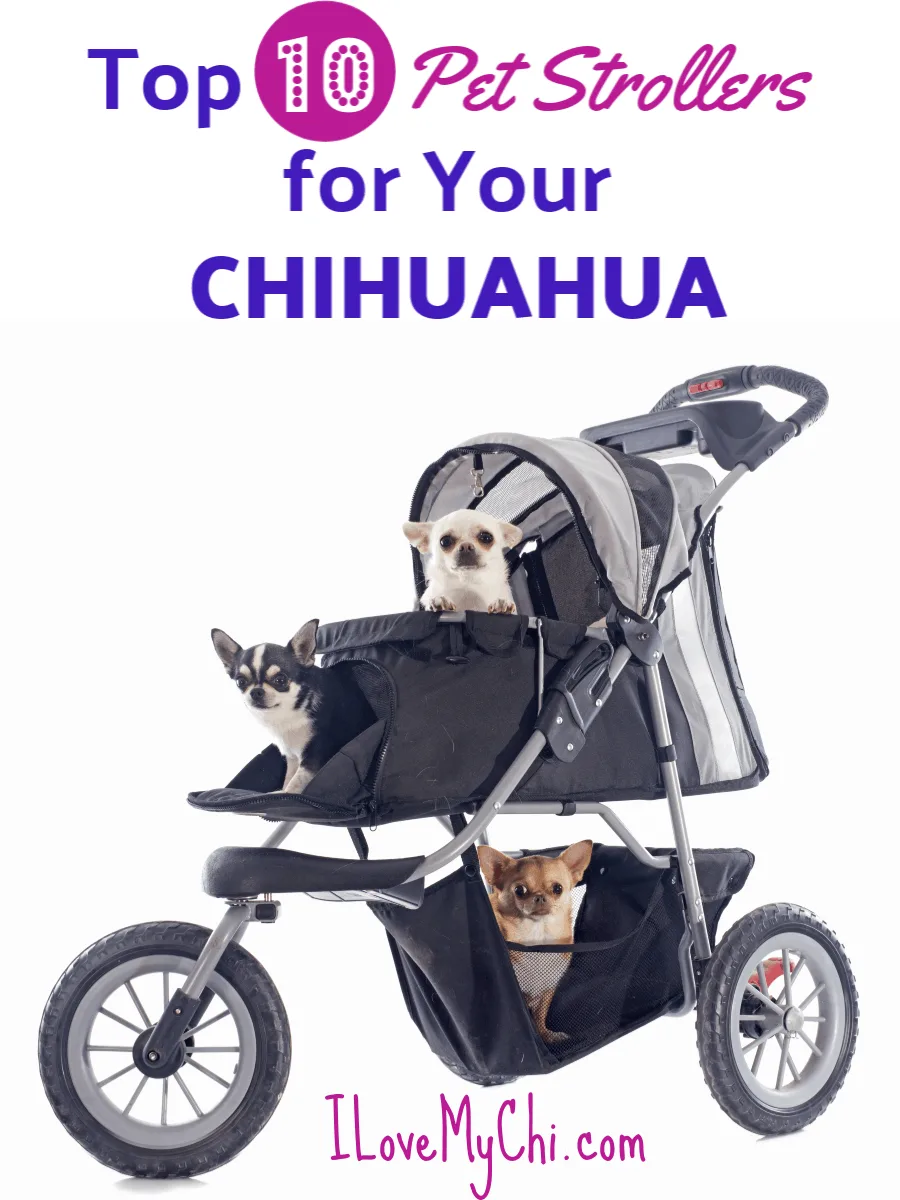 Pet strollers are not just for old or disabled dogs. They are also great for puppies, or for any small dog when you are on vacation and are doing a lot of walking.
Here are my top 10 picks for the best pet strollers available on Amazon:
---
There are a lot of things to like about this stroller:
It comes in lots of colors.
It's very affordable .
It's waterproof.
It's lightweight.
You can fit 3 chihuahuas in it comfortably.
You can switch which side your dogs can look out.
There is a cup holder.
The biggest drawback is there isn't any storage.
Check it out here: BestPet Pet Stroller 4 Wheels Posh Folding Waterproof Portable Travel Cat Dog Stroller with Cup Holder
---
Here's what I like about it:
The front wheels roll around with 360 degree maneuverability.
The stroller is small and narrow so will easily fit in small places.
It folds up easily so you can quickly get it in the car.
There is zippered storage.
Get it on Amazon here: Gen7 Regal Plus Pet Stroller for Dogs
---
This stroller has a lot going for it for the price. It's sturdy, folds easily, has front and rear entry, a storage basket and cup holders and a mesh window.
It comes in 5 colors.
This stroller only had positive reviews on Amazon.
Read about it here: Travel Folding Carrier
---
This stroller is reasonably priced and comes in 5 colors: rose, pink, lavender, black and the red you see here.
It has 2 cup holders, seat belts leash, 2 mesh windows and a large storage basket.
It's got great reviews. You can get it here: Paws & Pals City Walk N Stride 4 Wheeler Pet Stroller for Dogs and Cats
---
I saw one of these at a pet bloggers' conference and fell in love with it.
This comes in Navy blue, pink, pink with lacy trim, red and tan.
It detaches so it can also be used as a carrier. And it has a plush pillow cushion for exta comfort for you dog.
Check it out here: PetLuv Happy Pet Cat & Dog Crate & Carrier
---
This is an interesting stroller, specially if you do a lot of travelling with your pup. This is a 3 in one stroller so not only is it a stroller, it's also a carrier and a car seat too.
I like that there is mesh all the around so your dog can see at any angle. Purchasers said that the mesh is strong too.
I also like that there is storage below the stroller.
Pet Gear 3 in 1 Travel System
---
This stroller is light weight and compact. It folds easy and you don't have to put it together. It's similar in size to the little umbrella strollers for human babies. The only thing it doesn't have is any storage.
Find out more here: Pet Gear Travel Lite Plus Stroller
---
This comes in several colors and is a great buy for the money. It holds up to 35 pounds.
Here's what I like about it:
Good size storage basket.
2 cup holders.
Storage for small items (like keys) between the cup holders.
Lightweight.
Easy to maneuver with 360 degree front wheels.
No zip entry so you can get to your dog quickly.
Check it out here: HRKIM Pet Stroller
---
Great for jogging, this stroller boasts of a elevated paw rest and a panoramic view window, it's water resistant, has a large storage basket, no zip technology, a plush pad, air tides and is safe for up to 70 pounds of weight.
Read more about it here: Pet Gear NV Stroller
---
Last we have the Vivo.
It holds up to 30 pounds and has a lot going for it for an economical price.
Here's what I like about it:
It has a top zippered window so you can see your dog while walking them.
Double drink holder and tray between them for small storage.
Large storage basket.
Multiple ways to to open the compartment to get to your dog.
Folds up easily.
Canopy can be open or closed.
Get more info here: VIVO Four Wheel Pet Stroller
---
Well that's it for our favorite pet strollers. Do you have a favorite stroller? Or one you would not recommend? Let us know in the comments.
PIN FOR LATER: