This post contains affiliate links, and I will be compensated if you make a purchase after clicking on my links. As an Amazon Associate I earn from qualifying purchases. Learn More
When choosing a name for your Chihuahua, a tough name might be appropriate based upon a common character trait of the the breed being a dominant personality. Be sure to check out all our chihuahua names.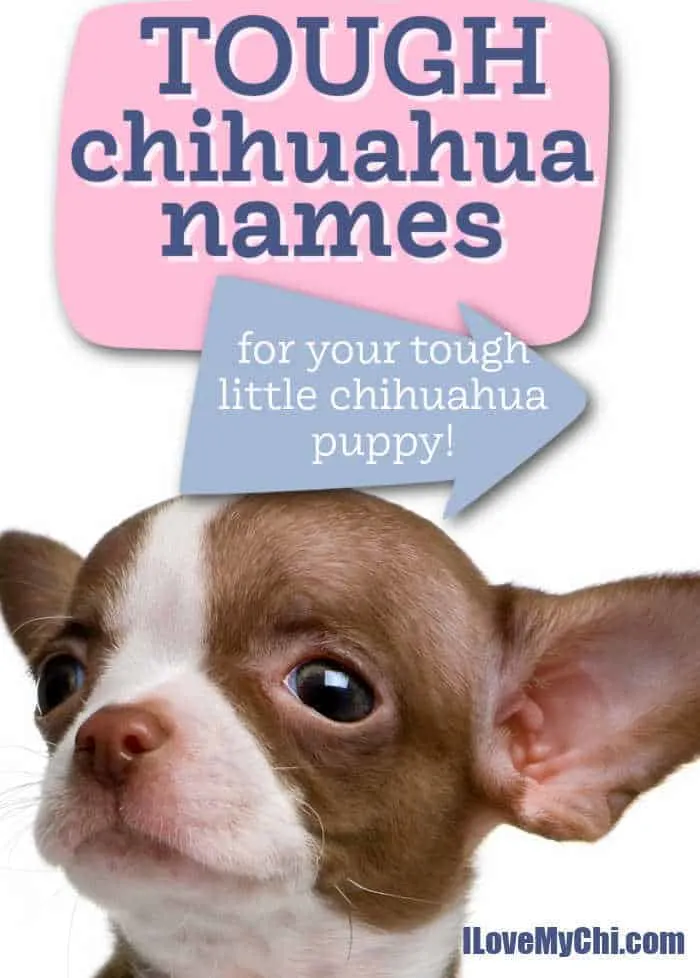 To help inspire you in your search to choose the right name for your furry friend, here is my carefully curated list of tough names for Chihuahuas:
Ace
My first thought with this name is Ace Ventura but then I also remember Ace being a popular name for guys in gangs in old 50's movies.
Admiral
A strong name for a strong little dog.
Axel
Cute and a little country, Axel is a strong name.
Banshee
If you have a loud little girl chi, this would be a good name. A Banshee is an Irish wailing spirit.
Barrett, Benelli, Berretta, Colt, Kimber, Remington (could be shortened to Remi or Remy), Ruger, Savage, or Sig
These are all brands of guns, perfect for Chihuahua owners who enjoy shooting.
Bear
Our little guys think they are as big and tough as bears don't they?
Beast
Perfect for a growly long haired little man with a female companion who could be named Beauty like the famous Disney fairytale. If you have never read the original Beauty and Beast story that inspired the Disney movie, consider making it your next read – you would be shocked at the differences in the stories and your Chihuahua would love to snuggle with you in a blanket while you read it.
Brick
Some Chihuahuas have a red tinged coat, or maybe you have a compact and portly pup. Either way, Brick sounds like a solid and strong little dog.
Bruiser
Inspired by Bruiser Woods from Legally Blonde, this name sounds appropriate for a rough and tumble pup!
Brutus
One of the most infamous of Julius Caesar's assassins, this name will make your Chihuahua sounds like he means business, even if he just means business about getting as many treats in his mouth as possible!
Captain, Major or Sergeant
A title achieved when one ranks to a position with some authority in the military, these names commands respect. If you are really honest, your Chihuahua probably runs the house, so one of these names could be quite appropriate!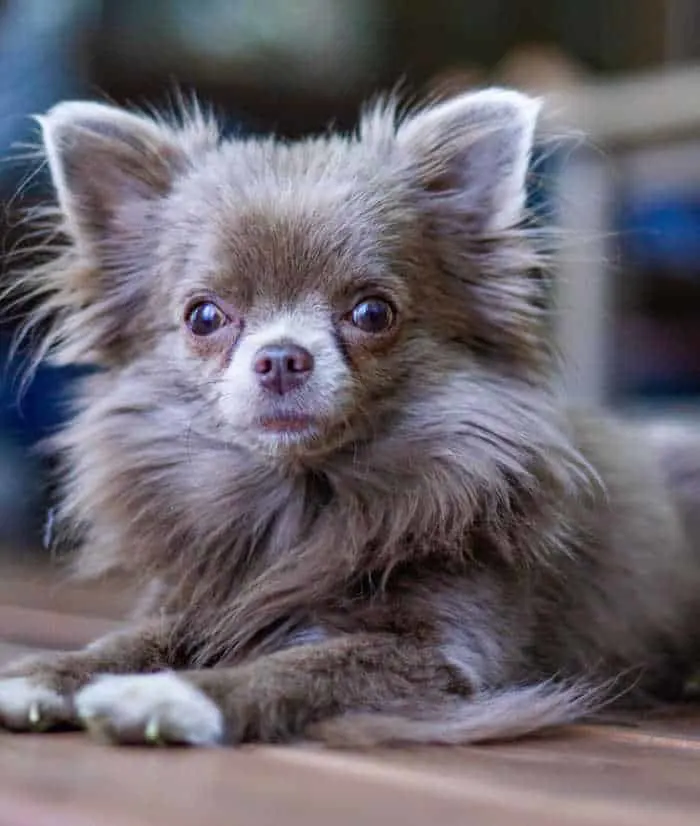 Chaos
Does your little pup cause chaos?
Conan
As in Conan the Barbarian.
Dagger
Tough like a weapon.
Darth
Like the scary Darth Vader.
Diablo
Diablo is Spanish for devil.
Dragon
Naming your Chihuahua after a fierce creature is a good option when searching for a tough name.
Fang
Inspired by the intimidating in appearance but lovable Neapolitan Mastiff owned by the Hogwarts ground keeper, Hagrid, in the Harry Potter movie series, this name sounds tough. Further, some Chihuahuas make a snarly face when they are mad, making the name Fang appropriate because they flash their fangs when they snarl.
Flame
Flame means "blazing fire".
General
Similar to Admiral, General is quite a strong tough name.
Gunner
Inspired by military men, the name Gunner not only sounds tough and capable, but it also can be cute and a bit country.
Hannibal
As in Hannibal Lector.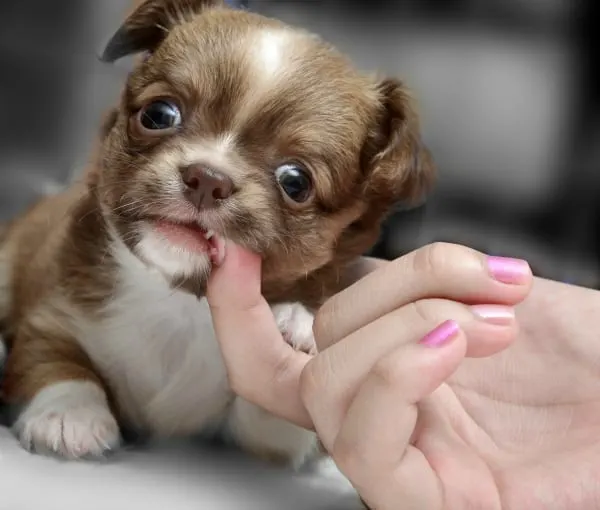 Jaws
As in the giant shark.
Joan of Bark
A play on Joan of Ark who was one tough woman. Of course this is a funny name too.
Killer
If your Chihuahua has taken out a few toys by ripping them to shreds or polished off treats with no mercy, this name might be the right one.
Magnum
Referring to the fire power of a particular firearm, the name Magnum is sometimes shortened to Maggie for female dogs.
Moke
Moke means "tough girl" in Hawaiian.
Moose
A moose is a large formidable animal.
Napoleon
Chihuahuas are often referred to a canine Napoleon. Tiny but think they are much bigger.
Outlaw
For the Chihuahua who does not listen and likes to do things his own way, the name Outlaw fits perfectly!
Predator
This is a scary name not only because a predator is scary and deadly but I'm thinking of the scary alien in the movie Predator.
Rocky
Inspired by the famous boxing character.
Rambo
Inspired by the movie franchise featuring Sylvester Stallone, who played a handsome veteran who waged a one-man war, the name Rambo is sure to give your Chihuahua a tough reputation.
Samson
Inspired by the Biblical Samson, he was a man that God gave supernatural strength. The Biblical Samson took out a lion with his bare hands! (Read Judges 14:5-6). This name is most especially appropriate for a long haired Chihuahua, because Samson was told not to cut his hair to maintain his strength. Samson also was a ladies man; Delilah was ultimately his undoing. If you have a long haired Chihuahua who loves the ladies, Samson might be the perfect name. If you also have a female Chihuahua, naming them Samson and Delilah would be appropriate.
Sniper
Perfect for the Chihuahua who moves faster than the speed of light to catch food dropped from the kitchen table!
Spitfire
This definitely describes many chihuahuas. they are little spitfires.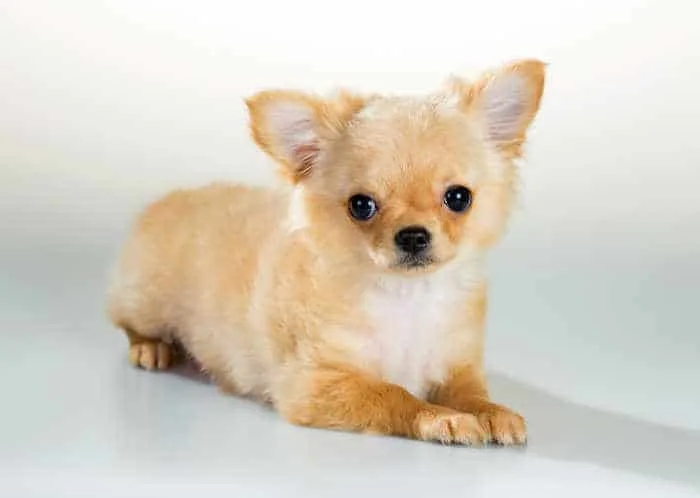 Tank
This name sounds strong and offers comedic relief; who could keep a straight face if you called "Come here, Tank!" and a two pound dog answered?
Thor
Inspired by the Germanic mythological god of war and fertility who was famous for his powerful hammer, he is said to have created thunder and lightning and rode in a chariot powered by goats according to the National Museum of Denmark. Since Chihuahuas have such dainty little paws, thinking of thunder as they run across the floor of your home is amusing. Your Chihuahua might also try to "drop the hammer" by telling you not to move when he is comfortably snuggled in your lap.
Tiger
Tiger is a great name for Chihuahuas; not only can it sound tough, it can also sound cute.
Titan
In Greek mythology, a titan is a giant, making this name ideal for owners who enjoy oxymorons because Chihuahuas are so small.
Vader
As in Darth Vader.
Viper
I a viper is a poisonous snake but I also think of motorcycle gangs.
Zena
Zena as in Zena the Warrior Princess.
Zeus
As in the god Zeus.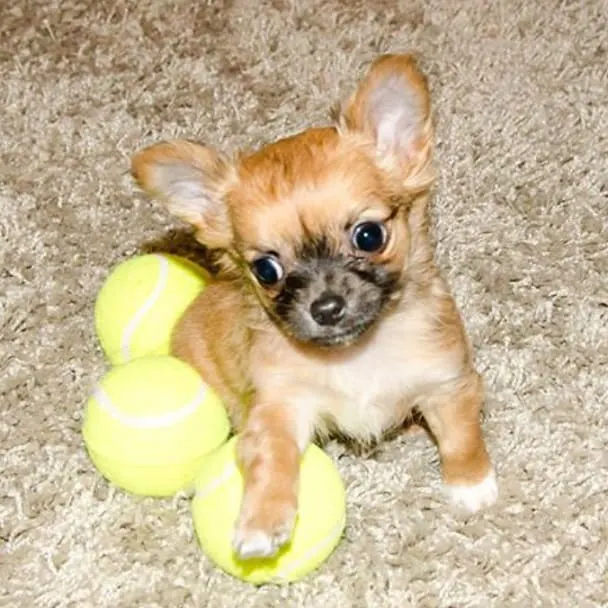 Tough Name Ideas from Readers
Here's some great suggestions from our readers:
Ajax
Frisco
Scrappy
We need more for this section so suggest your tough names in the comments below!
Conclusion
Choosing a name for a Chihuahua must be done thoughtfully because of their potential life span; you could be calling out this name for 20 years! Try writing down the name, calling it out around the house, and consulting with friends and family if you get stuck trying to select the right name.
What was your favorite name from this article? Do you know a Chihuahua with a tough name? Tell us in the comments below.