This post contains affiliate links, and I will be compensated if you make a purchase after clicking on my links. As an Amazon Associate I earn from qualifying purchases. Learn More
I have always loved subscription boxes. They are so much fun to open and it's nice to have something to look forward to each month. Lately though, I have been getting into dog subscription boxes so my fur kids have something fun to open every month too.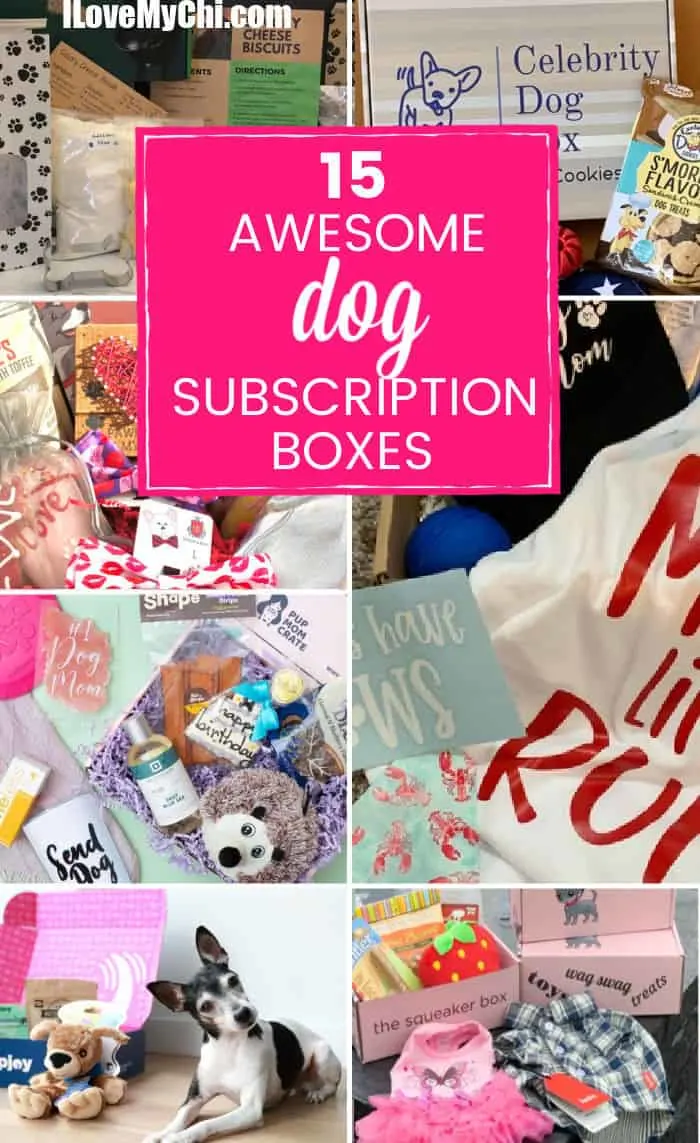 We currently get several dog subscription boxes and I have been looking into adding a few more. I like knowing that I can cancel a box if I need to or am not thrilled with what I got.
I decided to share with you my favorite 15 dog subscription boxes. All of these come from Crate Joy which has loads of subscription boxes in pretty much every niche you can think of. There's something for everyone.
Here are the Best Dog Subscription Boxes (in my opinion):
[ez-toc]
Tiny Tails Box
This is one of the boxes we get and I love it. You get a cute little outfit every month along with treats and toys. The treats are healthy. This box is geared for small dogs (like our chis) between 2-12 pounds so the clothes fit and the toys are small. You can check them out here.
And if you want to see what I got in my first 2 boxes, you can watch this video I made:
Pup Mom Crate
Pup Mom Crate is the other subscription box I get on a monthly basis. I love this box because not only do my dogs get some things, I do too!
You can read the whole review I did on this dog mom subscription box or just check out the video below to see what I got in my last 2 boxes. And if you want to order it yourself or get more info, click here.
Spence and Bruiser-Little Dog Couture Clothing and Accessories Box
This one looks a little pricey but I'd really love to try it. It's geared towards small dogs and comes with your choice of which style box you want and you get an adorable outfit for your dog along with an accessory and toys and treats. You can check it out here.
Dog Mom Box
Another one I want to try because let's face it; I want presents for me too! You get 5 to 8 products in each box for you and your pup. You can order according to your dog's size and your size and if you have 2 or 3 dogs, you can order a 2 dog box or a 3 dog box. Get the details here.
PETure Perfect
This is a great idea. You give them a photo of your dog and every month they send you a product with your dog's image on that product. After 3 months, you can change out the photo to a new one if you want. Get all the deets here.
Big Lu Dog Treats
If you want to give your dogs fresh, all natural, one ingredient treats, give this box a try. You can order according to your dog's size. Get it here.
Obsessed Dog Mom Box
Another one to try if you an obsessed dog mom like me. They give between 5-8 items in each box and they include stuff for your dog, and things for you like home decor items, clothes and accessories. They ask for your size and your dog's size and gender. Check it out here.
Dog Parties
This looks fun. Although I wonder if the toys would be too big for chihuahuas. With this box you get a couple of toys, organic treats and possibly an accessory like a collar charm or bandana. Check it out here.
Pooch Perks Premium Customized Dog Boxes
This box has 10 to 11 items including treats, chews, poop bags, treats and an accessory. You can order the box according to your dog's size. Looks like a good deal but you can also order a box with fewer items (5 to 6) for about 40% cheaper. Check it out here.
PupJoy
If you have a chewer, this is the box for you. You get toys and treats sure to please a dog that loves to chew. You order according to the dog's size and they even have a teacup dog size. Get the details here.
WagWell Box

This box includes bully sticks, toys, treats and a bandana. Another box where you can order according to the dog's size and the small box is for dogs between 1 and 20 pounds. Check it out here.
Celebrity Dog Box
I really like this box as it's made for dogs under 15 pounds. You can get the bandana box for $14 or the regular box that has dog treats, a costume, toy, treats and bandana. Get it here.
Dog-Mom-Lifestyles
There are lots of options with this box. You can get a monthly box with dog treats, dog toys, and various things for mom too. Or you can choose the quarterly option. You can also get either of these boxes for 2 dogs. And you can join the tee shirt club too. Find out more info here.
Monthly Dog Treats Baking Kit
If you'd like to try your hand at making organic dog treats, give this box a try. It's reasonably priced and has all the ingredients you need except for an egg and water. The treats are the same every month but you can choose between chicken and beef. Read about it here.
Bucket and Bones
Here's another treat baking kit but it has a different kind of treat to bake every month and it makes a few more batches. Check it out here.
Are any of these dog subscription boxes tempting? Which would you want to get next if you were me? Let us know in the comments. And also, if you decide to order one of them, let us know which one and how you liked it.