This post contains affiliate links, and I will be compensated if you make a purchase after clicking on my links. As an Amazon Associate I earn from qualifying purchases. Learn More
My husband passed on Jan. 29 2019.
He was 50. He had never owned a pet. Never been married, and never had kids.
We grew up next door to each other as kids. Grew up, moved on through our lives. After 32 years of no contact, I found him on Facebook. Drove 2 hours to see him and never left.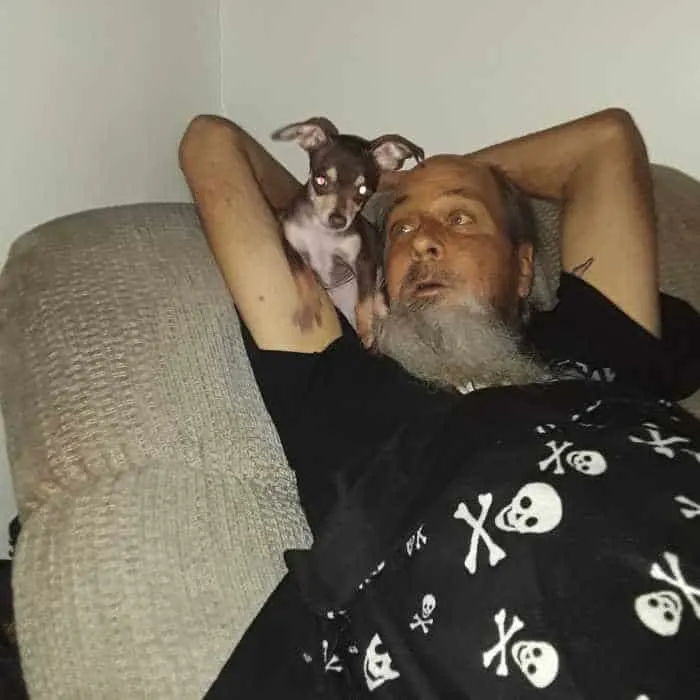 On Sept.29 2018 ,we married. His wedding present from me was a 1.1 pound chi baby.
Now mind you, Bobby was 6'4″ 225 lbs.
When we picked up Weetie Wee, I told him, he is your baby, you get him. He picked up this tiny little guy, and fell him love. Weetie Wee went every where with Bobby.
We found out the next day Bobby had reached the last stage of his disease. I worked and Weetie took care of Daddy.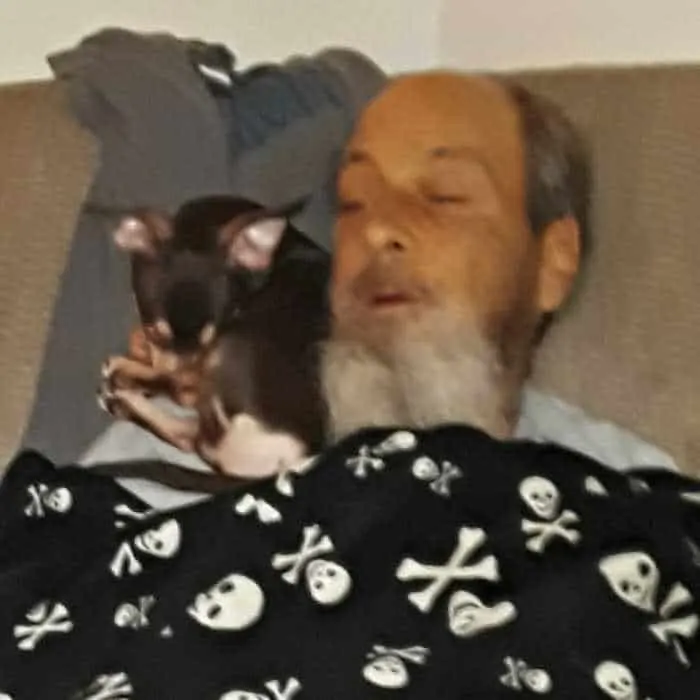 They were inseparable. On Sunday Bobby said he didn't feel good, so we went to the emergency room. Mother in law came to sit with Weetie. He never cried when we would leave him, he knew we would be back.
But on this Sunday morning he cried and whined, and bit my husbands pant leg. So Bobby sat down in the recliner once more. Weetie licked his face and eyes. And put his little head on my husbands chest . He had tears coming from his eyes. But then got down and went to his spot and just looked at Bobby. No more crying or whinning.
We left.
The Doctor admitted Bobby on that Sunday. Tuesday morning at 3:16 am God called Bobby home.
I had to come home alone. When I came home, Weetie ran to the door to greet me. But didn't understand where his Dad was.
He cried and looked everywhere. He was so sad. He would go out side and bark at the car. Calling for Bobby.
I went to the vet with him. Dr. Lisa said 'get that baby to the funeral home.' Let him lay with his dad. Let him smell him. He will understand that his Dad has passed. I did this. He smelled Bobby, he laid on his chest and again had tears coming from his eyes.
He stayed there for about 40 min. And he mourned, and he howled. But finally stood up. Came to me and I picked him up.
We came home and he started to eat. He wasn't himself but he was eating and drinking. He still looks for Bobby. But we are gonna be okay. We've got each other.
My point of this post is these 4 legged babies don't feel any less than we do. And they mourn as we do.
So allow them to say good bye, just as we do.
Isobella