This post contains affiliate links, and I will be compensated if you make a purchase after clicking on my links. As an Amazon Associate I earn from qualifying purchases. Learn More
There are almost 60,000 registered chihuahuas in Los Angeles alone, and in some small areas (zip codes 90220, 90221 and 9022 to be precise), the chi is the top breed in terms of numbers!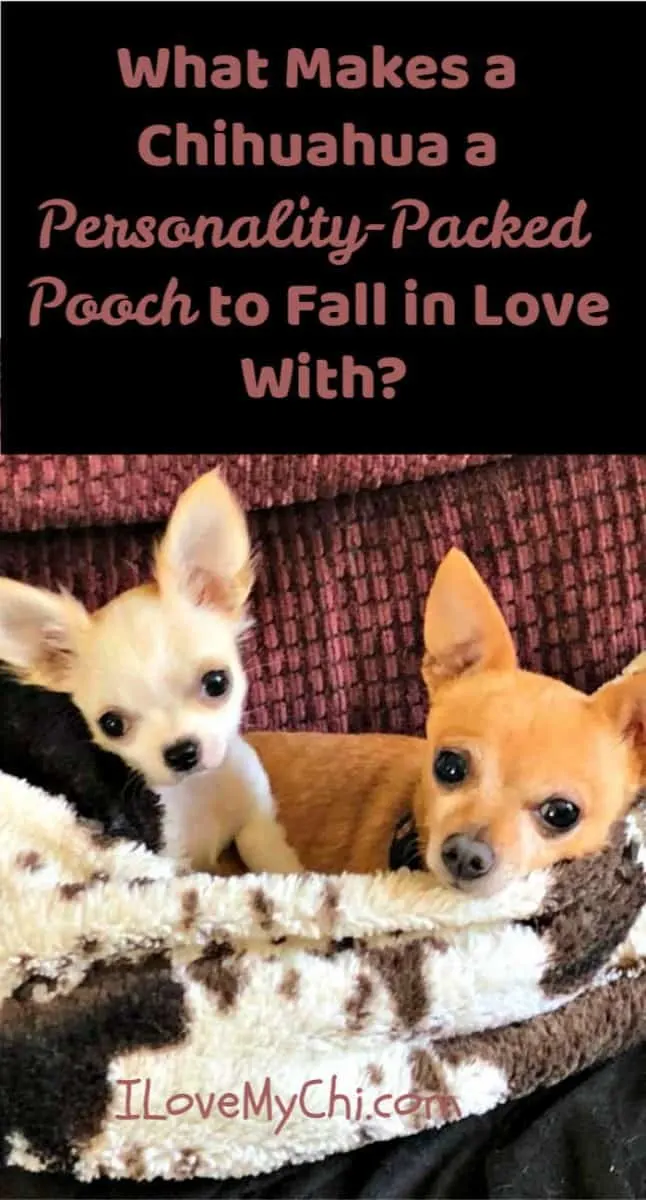 Of course, the chihuahua is also popular in the rest of the United States and the world over, with their pocket-size cuteness making them a very easy pet to keep close.
However, there are more reasons why the appeal of chihuahuas remains strong — one of which is their personality.
Chihuahuas may be tiny but they are the 'Rocky' of the dog world with all the spark, affection, and loyalty needed to be a beloved family pet.
Always by Your Side
People who own and love chihuahuas know that their chi usually likes to sit or cuddle close to its 'person' or persons, usually enjoying a little body contact if possible. Thus, if you work from home or spend plenty of time in the home, a chihuahua is the ideal companion that will literally be by your side throughout the day.
If you also like close proximity to your pets, then you will undoubtedly enjoy having your little one on your lap or seated next to you, happily snoozing until you are ready to take them for their first walk of the day.
Your Flexible Chihuahua
Their naturally confident yet affectionate way of being gels well with a variety of human personality types.
If you are playful and extroverted, your chi will love playing games like fetch, and rolling about on his back while you scratch his belly.
Chihuahuas are also highly intuitive, capturing their 'person's' mood well. If you are a shy and feeling-based type of person, then you will find welcome company in your chi, who will stick by your side when new people come to visit.
Chihuahuas take a little time to adapt to strangers, so they can be considered a wonderful combination of little introvert and playful extrovert.
Like people who blossom socially as they get to know others, chis will begin by sticking to you but will eventually approach new friends and places for a curious stiff and a little play.
A Dog with Character
Chihuahuas may be small in size, but they definitely have a big character.
They can quickly choose their favorite spot on the sofa, which is usually very close to you. Thus, if someone new aims to steal their spot, they may get a little annoyed – which is actually very similar to little human beings.
This can easily be corrected with training. By exposing your chihuahua to situations requiring adaptation (e.g. asking people to sit next to you so your furry BFF gets used to this possibility), you can achieve your aim slowly but steadily.
Filled with Energy
Chihuahuas have a lot of energy and really enjoy walks outside, so try to give your little one at least two good walks, aiming for at least 20 minutes (for each walk) beneath the welcoming sun (opt for the shade in the summer, of course) for a chi pup aged four to eight months.
Hopefully, you can take your little pocket rocket to a dog park or area where he can safely run off leash for a little while.
As your chihuahua enters into adulthood, your walks can be a bit longer, lasting around 30 minutes. Your chi will welcome any fun activities you can think of so depending on the season, you might try swimming (make sure to use a certified doggy flotation device), hide and seek, and mini frisbee throwing!
Chihuahuas are one of America's best-loved dog breeds, and it is easy to see why. Affectionate, loyal, and intuitive, they are the perfect unconditional friend. Y
our chi may be small but he stores a lot of energy inside that little body. Make sure he 'lets loose' with a couple of walks a day, adapted to his age and the time of year it is.