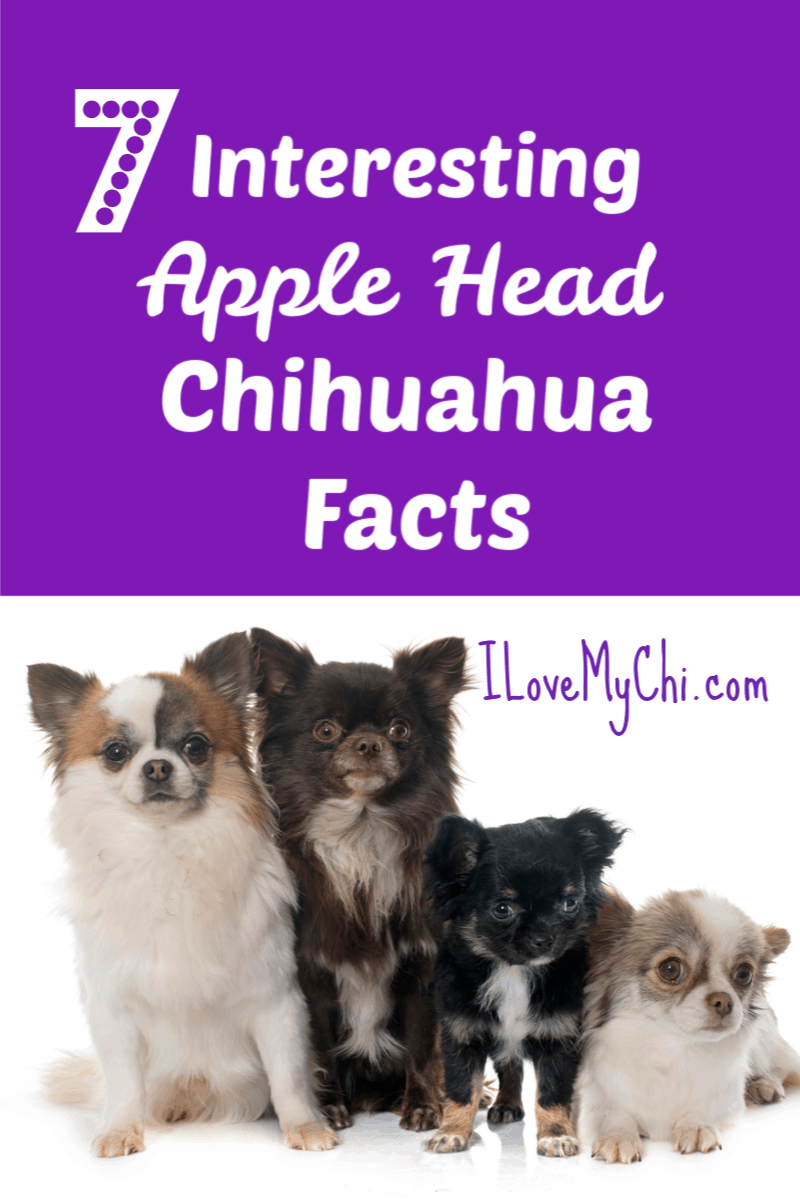 Chihuahuas are among the most popular small dog breeds, but did you know that there are different types of chihuahuas?
The type that immediately comes to mind for most is the apple head chihuahua, though many people do not know that they are called that.
The reason for the name apple head (sometimes spelled as only one word, applehead) is that these chihuahuas have a round head shape that resembles — you guessed it — an apple.
Check out our main post that showcases all our chihuahua fact articles!
Here are some fun facts about applehead chihuahuas:
1. An apple-shaped head is actually considered to be the breed standard for chihuahuas, according to the Chihuahua Club of America.
This means that other types of chihuahuas, such as deer head chihuahuas, might be considered by some people not to be genuine chihuahuas. They are, they just aren't the breed standard.
If having a pet that meets breed standards is important to you, getting an applehead is the way to go.
If you want an animal that can compete in dog shows, definitely get an apple-headed dog.
Deer head chihuahuas are not eligible to participate in competitions because they do not have the skull shape that kennel clubs look for.
However, all types of chihuahuas can make great companions. And all are cutie patooties!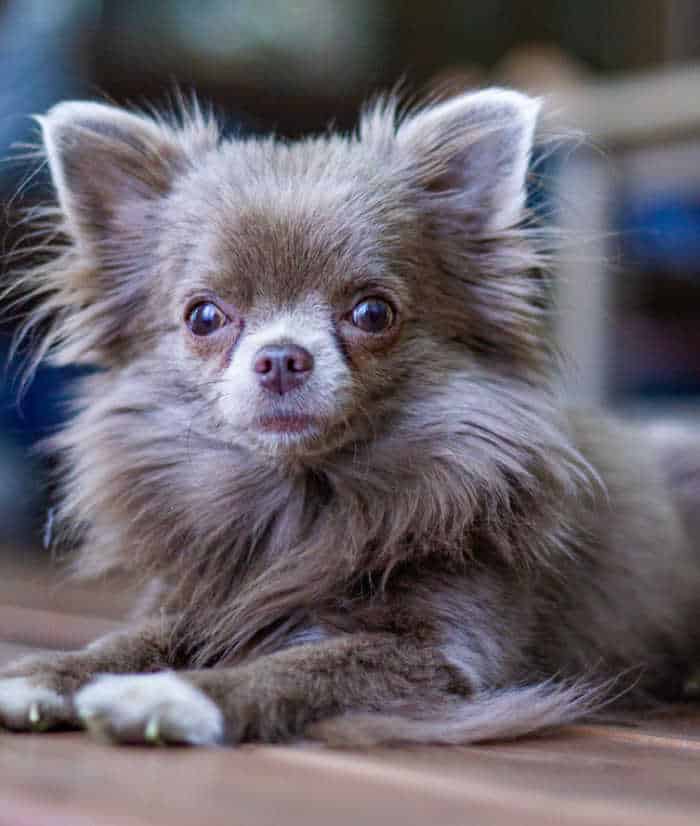 2. Because they are the breed standard, apple heads tend to be more expensive than deer head chihuahuas. They commonly cost as much as 800 dollars but can go even higher.
Chihuahuas with an impressive pedigree can sometimes cost more than that.
Many people do choose to spend that kind of money because they really like the aesthetic effect of the apple-shaped head.
Some people purchase the dogs mainly for competitions, so they will not even consider cutting costs to get a deer head chihuahua.
Other people, who have no interest in show dogs, are fine with deer head chihuahuas because these dogs are more budget-friendly and are still very cute.
Of course,, you will find both appleheads and deerheads in animal shelters and rescues and they all need loving homes!
3. Apple-headed dogs have existed since ancient times. Archaeologists have found drawings in Central America of chihuahua-like dogs with apple-shaped heads.
These pictures are hundreds of years old, dating from the time before Christopher Columbus came to the Americas.
Pictures of deerhead chihuahua-like dogs have also been found in the same archeological sites.
Though modern chihuahuas did not exist back then, the dogs that lived in ancient Central American societies were probably the ancestors of modern chihuahuas.
4. The shape of the applehead chihuahua's head causes its eyes to appear bigger and more noticeable. Chihuahuas' big, pertinent eyes are one of the breed's most recognizable features, and many people find the eyes endearing.
Appleheads' necks also tend to be shorter than the necks of deer head chihuahuas.
And their snouts are shorter too.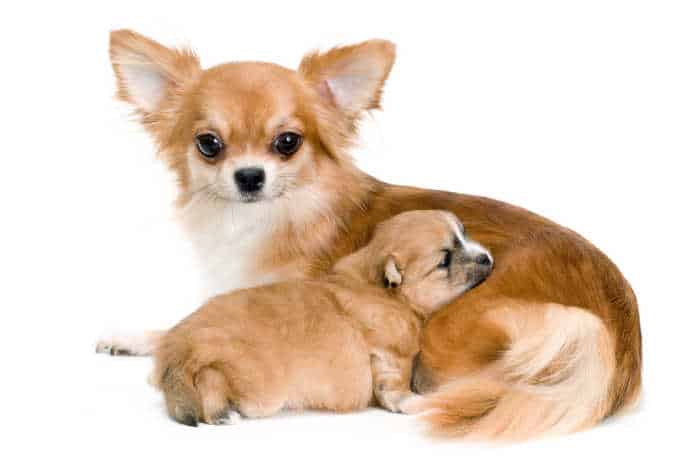 5. Two apple-headed parents will not necessarily produce apple-headed puppies. Appleheads can have recessive genes that result in deer head puppies being born in a litter, even if both the mother and the father have apple-shaped heads.
This can present a challenge for breeders if they are trying to produce the perfect show dogs.
6. When apple head chihuahuas are born, they can sometimes have an hole inside their heads. The hole is called a molera, and it appears when the skull has not fused all the way together.
Human babies have the same thing, but it is referred to as a fontanelle.
A molera is no cause for concern; it is usually not associated with health problems.
In fact, it is sometimes sought after, as some organizations consider it to be a breed standard.
7. They can be long-haired or short-haired. Chihuahuas come in both long-haired and short-haired varieties.
The length of a chihuahua's fur has no bearing on whether it has an apple-shaped head or a deer-shaped head.
Chihuahuas with apple-shaped heads also come in a number of different colors and coat patterns.
Be sure to check out this more in-depth article on appleheads and deerheads and how to tell what your chi is: Do You Have an Applehead or Deerhead Chihuahua?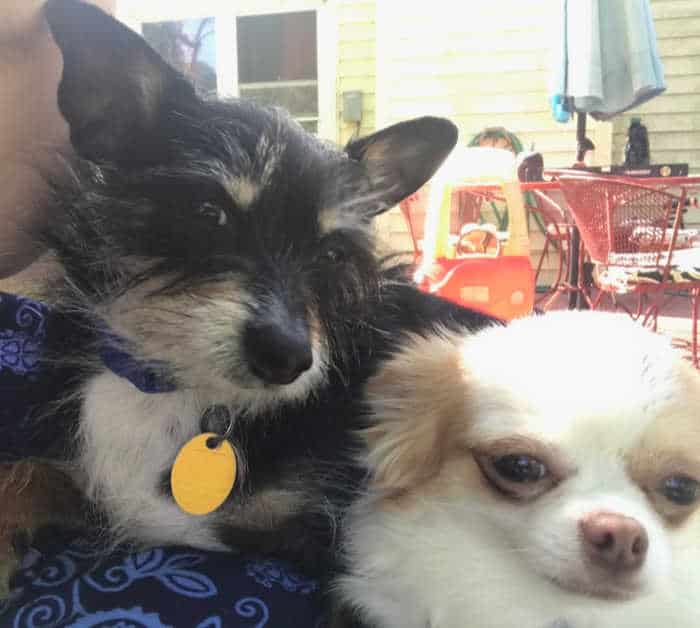 So what do you have? I have one of each. Lucy is an applehead and Lucas is a deerhead. They are both freaking adorable (if I say so myself, LOL) and sweet as can be.