This post contains affiliate links, and I will be compensated if you make a purchase after clicking on my links. As an Amazon Associate I earn from qualifying purchases. Learn More
Sweaters For Chihuahua Dogs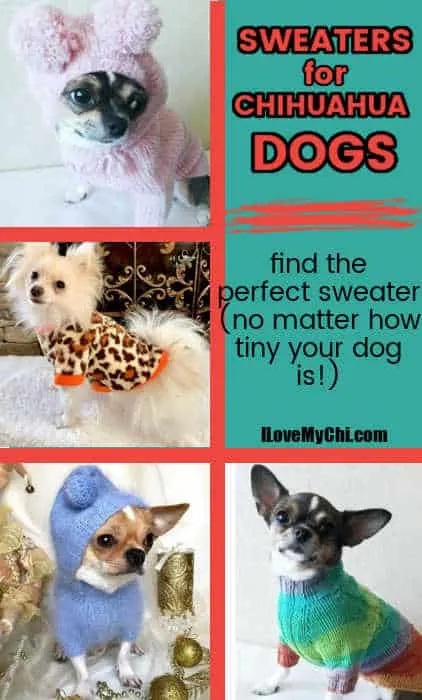 Dressing up dogs is always fun for the photo op alone, but some dogs actually benefit from wearing sweaters, such as Chihuahuas who as a breed, tend to be chilly often. These pups appreciate the extra warmth sweaters bring. So if you are tempted to dress up your Chihuahua, do not hesitate because he or she would probably appreciate it!
Also be sure to check out all our posts on chihuahua sweaters.
To help you find sweaters for your Chihuahua, I searched on Amazon and Chewy for adorable, high quality sweaters:
Chihuahua Sweaters on Etsy:
I love the chi sweaters on Etsy. You can often get custom sizes and the sweaters are usually handcrafted with designs you won't find elsewhere.
Here are some of my favorites:
Here's a warm cozy hand knitted sweater that comes in 3 colors:
If you'd like your fur baby to have a personalized sweater, here's a great choice. You have your choice of fonts and 3 sizes:
You can get this cute little knitted hooded sweater in extra small sizes:
How cute is this leopard print sweater! It's soft and warm and you can have it monogrammed with your choice of fonts for free. It comes in several sizes including an XXS size for tiny dogs:
You can get this adorable sweater in lots of colors and sizes including sizes for very tiny dogs:
This cute knitted sweater with hoodie comes in a lot of color combos and sizes including extra small sizes for very tiny dogs:
I adore this sweater with the pom-poms. It comes in 6 colors and lots of sizes including sizes for extra tiny dogs:

You can get this colorful sweater in different color combos and lots of sizes:
This is completely hand knitted and you can order in any color you want:
I don't think these are hand crafted but the patterns are colorful and the price is very reasoable:
Chihuahua Sweaters on Amazon
Take advantage of prime shipping to bulk up your pup's wardrobe with these Amazon sweaters:
Preppy and classic, this sweater dress will never go out of style: Bing Pets Dog Sweater Dress available in grey.
Is your furry friend sporty? Then this sweater is what he or she needs. It is perfect for a day at the park: Idepet Dog Sweater available in grey, pink, rose red, wine red, blue, dark blue, navy, green and purple. My dogs wear these all winter and love them. They are soft, comfy and are wear well.
You cannot go wrong with an assortment of classic cables. With the addition of buttons and plaid trim, this sweater is a very cute statement piece: Kyeese Cable Dog Sweater.
This sweet strawberry sweater is very cute and feminine: pink and white strawberry polka dot turtle neck sweater.
Your Chihuahua will thank you for these stylish knitted pajamas on very cold days: Fitwarm Knitted Turtle Neck Dog Sweater.
This classic snowflake fair isle sweater is perfect for Christmas: Blueberry Pet Christmas Hoodie Sweater.
While knit sweaters are adorable, cotton sweaters are most ideal for dogs to wear on walks because cotton holds up better to a harness rubbing on it than a knit sweater would. As such, a cotton hoodie sweater is a necessity in your dog's wardrobe: Lophipets Cotton Hoodie Sweatshirt available in Cambridge blue, yellow, navy and charcoal.
Fleece is a great choice to stay warm on outdoor adventures without bulky layers. This sweater also zips across the dog's back for easy on and off. Bonus, there are additional D-rings on the back for extra security on walks. Note it is recommended not to use these D-rings alone; it is best to use them as a back up to your Chihuahua's harness: Gooby Zip Up Fleece with D-rings.
Classic argyle is always a good choice: Happee Pet Clothes Diamond Dog Sweater available in navy, yellow or orange.
Chihuahua Sweaters on Chewy
Support a wonderful company who truly cares about pets while shopping for your Chihuahua by ordering from Chewy:
I love this orange sweater (it also comes in grey). You can get it in 3XS which should fit very tiny dogs: GF Alpine Dog Sweater.
This minimalist style sweater is very chic and stylish: FRISCO Marled Chevron Sweater with Bone Accent.
If your Chihuahua looks pretty in pink, this floral hoodie must be added to her wardrobe: FRISCO Pink Floral Hoodie.
Looking to win an ugly Christmas sweater contest? With any of these three sweaters, your Chihuahua is sure to steal first place: FRISCO Grandma's Patchwork Christmas Sweater, FRISCO Christmas Tree Sweater or FRISCO Christmas Lights Sweater.
This darling pink sweater dress is reminiscent of a ballerina: FRISCO Pink Cable Sweater Dress with Pink Tutu patterned with Gold Foil Hearts.
This black sweater show cases a bone and fair isle pattern boldly: WAGATUDE Black Bone Fair Isle Dog Sweater.
Classic color block is always stylish: FRISCO Color Block Turtle Neck Dog Sweater available in pink/teal or navy/orange.
This gradient diamond sweater is unique and stylish: FRISCO gradient diamond dog sweater.
Stripes and fisherman's cables are a stylish combination: WAGATUDE Cable Knit Striped Dog Sweater available in gray or white.
Bobble knitting is rarely seen on dog sweaters; stand out with this stylish sweater: WAGATUDE multi-colored bobble knit dog sweater.
Help your Chihuahua be brunch ready with this cranberry colored sweater dress featuring faux crystals and pearls: FRISCO Faux Crystal and Pearl Dog Sweater Dress.
Does my Chihuahua really need sweaters?
While sweaters for dogs are often seen as a non-necessity, chosen for the entertainment of humans, some dogs really do need sweaters. Your Chihuahua may need a sweater if:
If your Chihuahua has a short coat.
If your chi is a puppy or senior.
If your chihuahua is on the thin side.
If your Chihuahua has a health condition that makes him or her more susceptible to the cold.
You live in a cold climate (they are more suited to warmer climates).
If your Chihuahua exhibits signs of being cold often such as shivering, and these symptoms are alleviated when he or she wears a sweater.
How to choose the right size sweater for your Chihuahua
If you do not have a measuring tape handy at home, it is often easy to print a ruler off the internet, or you might consider purchasing a measuring tape. Many craft stores, dollar stores or grocery stores carry inexpensive measuring tapes for sewing projects. or you can get some cheap ones off of Amazon.
Some manufacturers will provide a size chart based upon a dog's weight. Never order a sweater based on your dog's weight alone, as this is an incredibly inaccurate way to select a size and will more than likely result in the wrong size sweater being ordered. No one likes dealing with returns; save yourself the headache by measuring your dog before ordering.
Why sweater size matters
A dog who is wearing an ill-fitting sweater will be uncomfortable, which may sound minor, but has the potential to impact him or her legitimately:
If a sweater is too tight, it can rub a dog's skin and coat, causing bald spots and irritated skin.
If a sweater is too loose, a dog will urinate on it and trip over it.
If a dog is uncomfortable in a sweater, it will impede their ability to go up and down stairs or jump on and off furniture. If a dog cannot move freely in their sweater, this can result in injury as they try to go about their day.
Conclusion
While dressing up your Chihuahua is fun, it is also sometimes necessary if you live in a chilly climate, if you have a short coated Chihuahua, a Chihuahua who gets cold easily, or a Chihuahua with a medical condition. As long as you order sweaters that fit your Chihuahua well, he or she is unlikely to complain.
Does your Chihuahua have a fashionable wardrobe?