This post contains affiliate links, and I will be compensated if you make a purchase after clicking on my links. As an Amazon Associate I earn from qualifying purchases. Learn More
Chihuahuas are one breed of dog that definitely need to wear warm clothes when the weather outside is frightful. Keep reading for some great Christmas chihuahua sweaters, for chihuahua dogs and people, along with shopping tips to help you find the perfect sweater.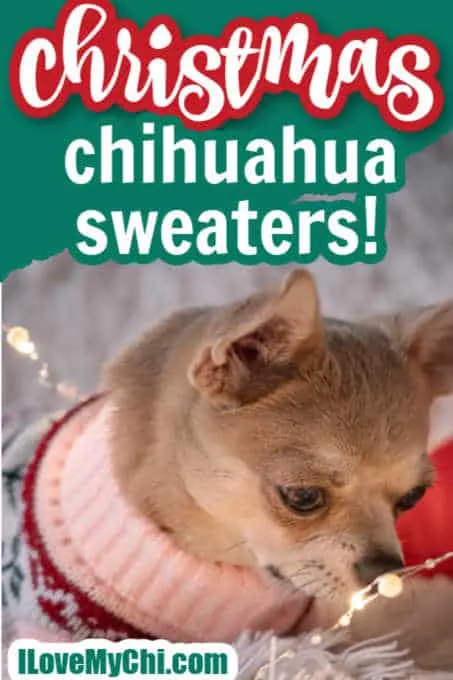 Also be sure to check out all our posts on chihuahua sweaters.
Chihuahua Sweater Shopping Tips
Keep the following tips in mind when shopping for your Chihuahua's Christmas Sweater:
Before you begin sweater shopping, be sure to measure your Chihuahua to ensure you purchase the right size sweater. If you do not know how to measure your Chihuahua for sweaters, watch this helpful video by Chewy.
The wrong size will be uncomfortable for your Chihuahua to wear, which might make it difficult for him or her to move freely. This is a safety hazard if your Chihuahua will be going up and down stairs or jumping up and down from furniture; she could fall and hurt herself if she cannot move freely.
If your Chihuahua does not want to wear the sweater, check the fit. It might be too tight or too loose; Chihuahuas like to be comfortable in their outfits just like we do. If one part of the sweater doesn't fit well but overall it fits well and is very cute, consider finding a seamstress who can adjust the sweater to better fit your furry friend.
Will your Chihuahua will need to wear a harness over or under the sweater? Be sure to have an easy to adjust harness to go over a sweater, or consider the extra space a harness under the sweater would need when choosing a size.
Christmas Sweaters for Chihuahuas
These tasteful sweaters may be worn the whole month of December and some will work for all of winter:
If you will be attending an ugly Christmas sweater party with your Chihuahua, you should consider these fun and unique sweaters for your canine companion:
Chihuahua Christmas Sweaters for humans
Celebrate Christmas and your love of Chihuahuas with these sweaters:
If you love watching Home Alone and you want a 2020 specific sweater, check out this one: Merry Christmas Ya Filthy Humans – with the 2020 touch of a mask for COVID!
If the simple joys of the season are your favorite, this sweater would appeal to you: Warm Snuggles and Chihuahua Cuddles
This sweater is perfect for a Chihuahua themed Christmas party or a Christmas themed Chihuahua adoption event: Merry "Chihuahuamas"
Looking to drop a hint of what you would like for Christmas? This sweater would be appropriate: All I want for Christmas is a Chihuahua
Be honest about how you really like to spend your time with this sweater: Drink Coffee, Take Naps, Pet Chihuahua Sweater
If you love Christmas trees, this sweater is perfect for you: Chihuahua & Co Christmas Tree Delivery
If you are proud to be the crazy Chihuahua lady, represent with this sweater: Merry Christmas from the Crazy Chihuahua Lady!
If your Chihuahua has been on the naughty list this year, be honest with this sweater: Feliz Naughty Dog
If you love singing Christmas music, this sweater is for you: Jingle Bells, Jingle Bells, Chihuahuas all the way!
If you want to win an ugly sweater contest, try this Chihuahua in a Wreath Ugly Christmas Sweater!
If having your Chihuahua be a part of your outfit sounds fun, check out this sweater made for Chihuahua snuggles: Pet Pouch Hoodie
Conclusion
Finding Christmas sweaters for your Chihuahua to wear is a fun way to celebrate the holidays and makes for some very memorable photographs. The best part is, your Chihuahua will be happy to participate because when it is cold outside they want to be bundled up!
Have you found a very special Christmas sweater you love to have your Chihuahua wear? Do you have a special Chihuahua Christmas sweater that you like to wear?