This post contains affiliate links, and I will be compensated if you make a purchase after clicking on my links. As an Amazon Associate I earn from qualifying purchases. Learn More
If you're planning to travel and have a furry friend, it's important to consider what to do with your dog when you're away. Fortunately, traveling with your dog can be relatively affordable and comfortable for your pet. Dogs that have undergone crate training at a young age will likely have no problem boarding a plane for a short flight.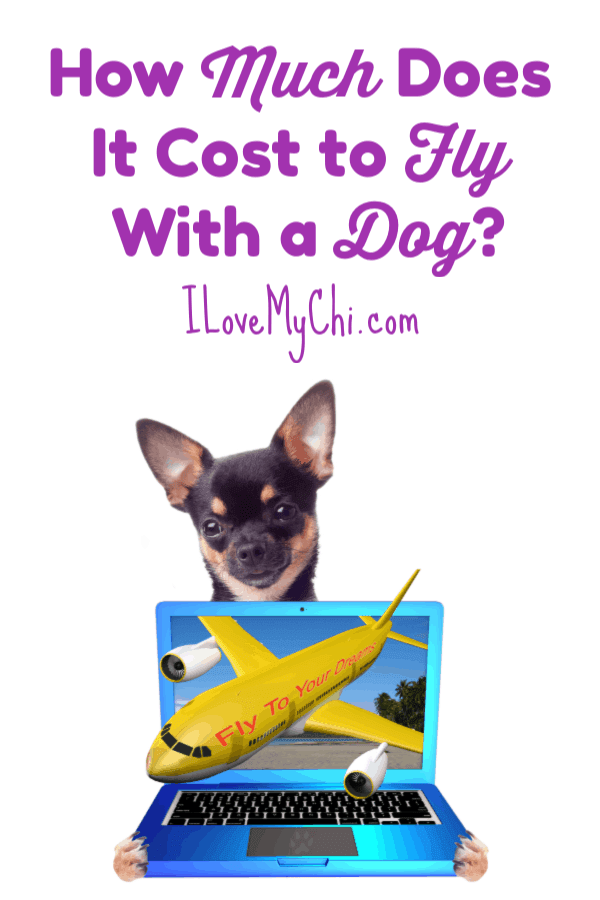 Most airlines only accept one pet per person on domestic flights but there are exceptions to this rule. The size of your dog determines the flight cost and all pet travel bookings need to be reserved in advance. This guide will take you through a look at everything that you need to know to fly with your pet.
Flight Fees for Dogs
You may want to check out this article: It has a list of the most pet friendly airlines.
The fee charged comes separate from your ticket. Prices for flying with a pet range between $100 and $200 each way. Almost all airlines allow you to bring your dog into the cabin with you in an airline approved soft pet carrier that has to meet certain size limitations. . The distance of the flight determines the cost of the trip.
Your dog will be kept under your seat or in front of you at your feet. Only small dogs under 20 pounds are transported in this manner due to size constraints.
Larger dogs will be kept in their crate and stored in the cargo hold. Not all airlines allow large dogs to be transported but most do.
The Humane Society actually recommends flying pets in cargo rather than the cabin for safety reasons.
Flight Limitations and Considerations
The number of pet carriers allowed in the cabin and cargo hold is limited for each flight. This is why early reservation of your seat and place for your dog is essential.
The longest flights that dogs are allowed on span 12 hours. This is a massive amount of time for a large dog to be left alone in storage.
Always consider your dog's training and temperament before taking them along on an extended flight.
International Travel
Many airlines don't' allow any dogs in the cabin during international flights. So be sure to do research before booking an international flight.
Service dogs are of course exempt. In this case, small dogs and other animals will have to travel in the cargo hold for the duration of the flight.
Service Dogs
Service dog owners need to carry a letter from a licensed mental health professional. Service dogs will be allowed to sit on the lap of their owners, or on the floor at their feet.
Obtaining a letter of recommendation for a service dog should not be a problem for most owners. The majority of service dogs are directly obtained at the recommendation of a health care professional which gives owners the certifications needed to obtain permits for traveling.
Dogs and Carry-on Luggage
Certain airlines allow small dogs which are capable of being carried in carry-on luggage on their flights with no additional surcharge.
A proper transport container is needed with the only exceptions being service dogs such as guide dogs and hearing dogs.
The Importance of Crate Training
Dogs which have undergone proper crate training should have no problem traveling. Free from separation anxiety and left in the sanctuary of their crate, this is a practice which all young dogs should adopt.
Long flights and untrained pets result in extreme anxiety, damaging the bond between owner and dog.
Even a short domestic flight can be distressing to a dog which is used to being at its owner's side and nowhere else. Dogs can even be crated side-by-side, easing the tension of travel even more, if both have had their crate training completed.
Small dogs which are not used to traveling in a confined space can become too difficult to take along as carry-on luggage unless they're used to the exercise.
Get a Check-Up at the Vet
Every country and every airline will have its own regulations governing the transport of animals. If you plan to travel with any pet, you had better take them for all inoculations, vaccinations, and any possible precautionary medication advised as a part of entering any particular country.
A dog leaving the environment that it was raised in, can experience problems acclimatizing, and fending off local viruses and bacteria.
A checkup in preparation for travel will award you with the documentation that you need to make your booking.
If you have a particularly anxious dog, consider asking your vet for a tranquilizer or sleeping medication so that they have a peaceful journey all the way.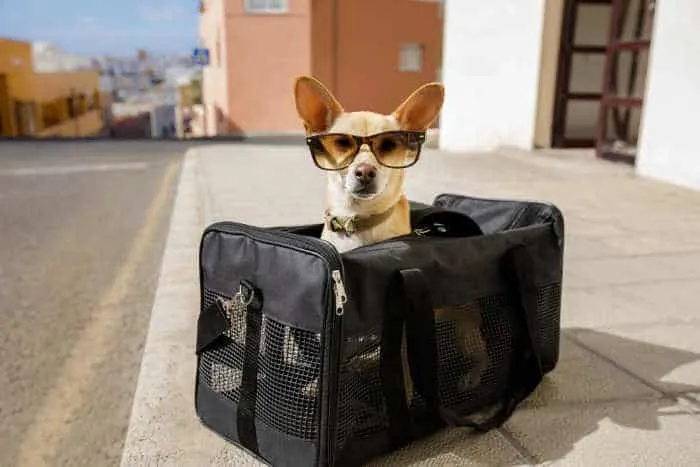 Travel Checklist
Here's a sample checklist which should make sure that your dog can fly with on your journey:
You have made certain that your pet and its carrier conform to entry and exit regulations for all countries concerned

Your pet has been for all necessary veterinary examinations and treatments (this includes services such as microchipping and vaccinations)

You have consulted your vet concerning any potential medications needing for traveling

You have your official veterinary documents on hand

You have confirmed that your pet is allowed on all airlines involved in your journey

You have booked and registered your pet for transport via the airline directly or your travel agency

You have obtained a transport container which meets the minimum requirements

Your transport container is lined with an absorbent material

Your pet is comfortable, eased with suitable toys, blankets or other transport items

You have a harness, lead or collar ready in your carry-on luggage for when you arrive
The Cost of Flying with a Dog
Most animals need to be checked in at least two hours before a flight.
As mentioned, the limit for most airlines is one dog per passenger, but some allow two if they are small enough. Always check with your airline and all connecting routes to see what rules and legislation govern the transport of pets.
Some owners take the extra time to plan their flights according to airports that provide a pet relief area. If you're worried about leaving your dog in a carrier for a long flight, keep this option in mind or they'll be locked up for the whole trip. The surcharge for your dog depends largely upon which country you're flying from.
You can, however, expect a general price range falling between $70 to $200. It'll rarely be less or more. Just remember, you need to factor in your vet's bill as well.