This post contains affiliate links, and I will be compensated if you make a purchase after clicking on my links. As an Amazon Associate I earn from qualifying purchases. Learn More
Tips For Traveling With Your Chihuahua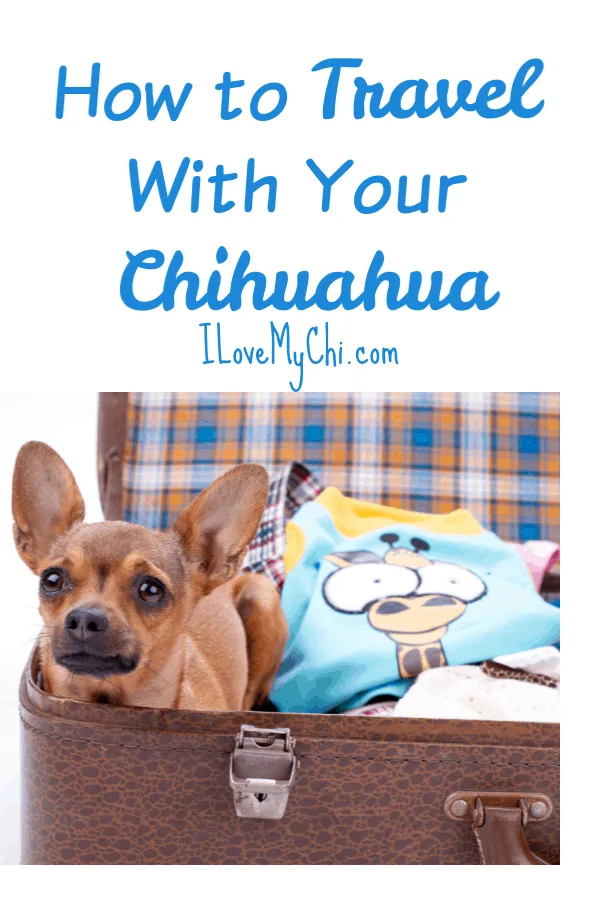 Traveling with a pet has become more acceptable these days.Many people choose to bring along their chihuahua as it provides them a sense of calm and ease along life's busy highways. Others prefer to bring them because they are one of the family and they cannot imagine leaving them behind.
Whatever your reason for traveling with your dog, you need to be prepared. Many establishments are not pet-friendly, and it takes a bit of research to ensure that you pave the way for smooth sailing with your furry friend.
Preparing for Your Journey
There are four ways to travel on vacation. You can drive, take a plane, hop a bus, or ride on a train. Each industry has its own set of guidelines.
Did you know that Greyhound does not allow pets? These restrictions limit your choices for traveling with a pet.
You should know that if your chihuahua is used as a therapy pet to help thwart your anxiety or depression, then you can avoid paying fees that comes with bringing your pup along.
There are no special requirements needed to have your dog registered as a therapy animal; all you need is a prescription from your doctor.
Keep in mind a therapy pet is not the same as a service animal. If your pup is just the family pet, then you will be subject to the fees charged by the airlines.
•Travelling with your dog by train
Amtrak does allow some pets. They need to be 20 pounds or less and the trip can't be more than 7 hours long. There are some other stipulations and you can find out more here.
•Travelling with your dog by plane
All airlines have stipulations on the size and breed of dogs they allow in the cabin.
Many animals, especially small chihuahuas, can be checked in as a carry-on.
If a dog is beyond a certain size, they must board as cargo. Animal carriers are necessary to keep them safe along the trip, and animals checked as cargo require them.
Also, all airlines require a complete range of vaccinations to board. If you are headed to a foreign country, you need to check the airline stipulations at your destination as Domestic flights have different rules.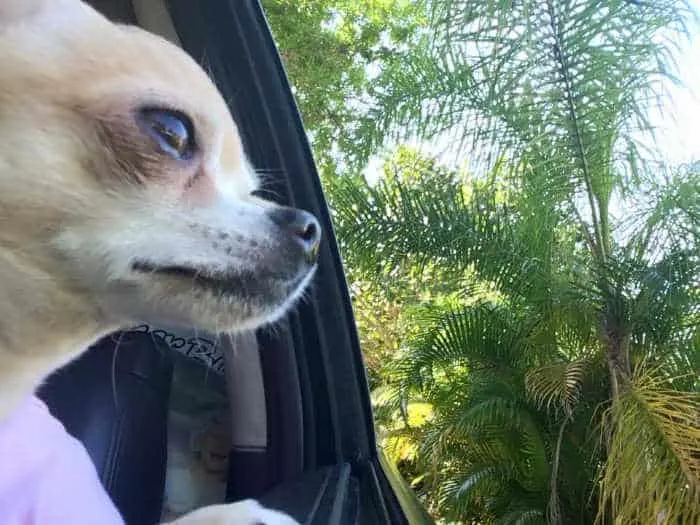 •Travelling with your dog by car
Though a road trip is by far the least restrictive way to travel with your pet, you must consider many things.
Many small dogs have died from being overheated in a car. If you stop to go to the restroom or to eat, then you must make accommodations for your pet.
While many places are conforming to having man's best friend along for the journey, most restaurants remain unchanged in regulations.
Due to the small size of the chihuahua, there is a danger that slamming on the brakes or being involved in an accident can injure them.
It's best to keep your fur baby in a carrier or a car seat. While it may seem silly, using such devices can save their life. Your pet may want to sit with you, but it's better to keep these small animals in their own car seat where there is more protection.
If your pup doesn't do well traveling in the car, you may want to ask your vet for a sedative. Some pets suffer from nausea from a moving vehicle while others find the constant movement overstimulating.
Sedatives usually mellow the pet out without making them feel drugged. They can rest, and their trip will be more enjoyable with the help of a prescription.
Never attempt to calm a pet with medicines meant for humans. While pets use some of the same drugs, the doses are drastically different.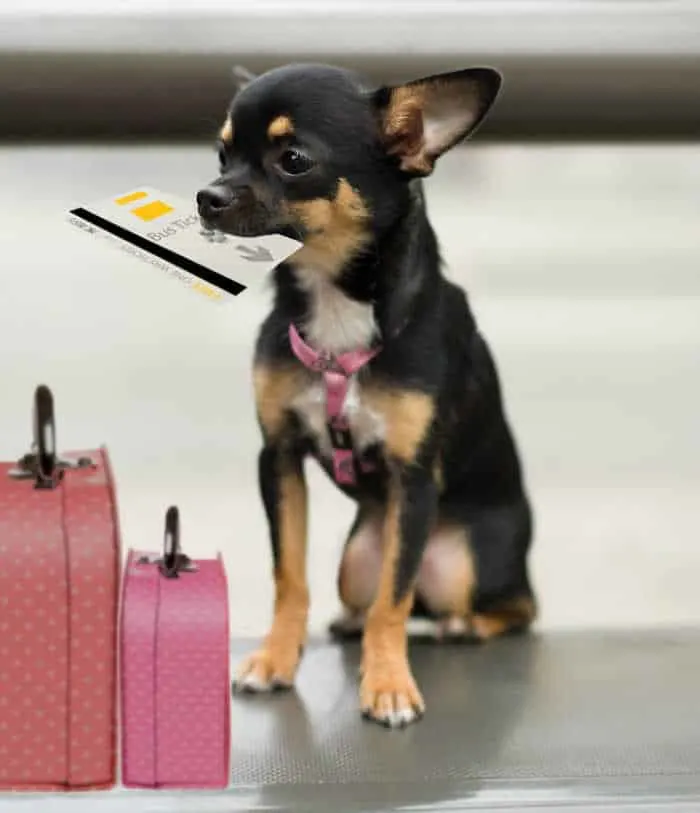 Tips on Traveling with Your Pup
Taking your pooch on vacation means you will need to make some arrangements before you leave. While ore establishments are open to people bringing along their furry friends, some are still stuck in a time warp. Here are some other things you must consider:
•Make Hotel Reservations Ahead of Time
If you are a fly by the seat of your pants kind of person, you will need to be a bit more organized when traveling with a pet. Many hotels are pet-friendly, but not all hotels allow dogs.
You can find a hotel that will accommodate your furry friend easily if you book ahead. Sites like petswelcome.com can help you find lodging that is pet-friendly and can accommodate all budgets.
Be prepared to pay extra for your pup to stay with you. Many hotel chains charge a per night fee for each pet, and most have a limit of up to two per room.
There are also restrictions on weight and breed. You can expect to pay anywhere from $20-$50 a night extra for bringing along your dog.
•Make A List of Emergency Vet Clinics
It's always good to gather some information about the vets near your destination. When it comes to pet clinics, you want to look at customer reviews and make sure they have great service and are priced fairly. If your pet has health conditions, then having information like this on hand is essential.
•Always Allow Extra Time
Whether you are traveling by plane or car doesn't matter, you must allow enough time to get settled with a pet.
The airlines have special requirements for checking in pups, so you need to allow about a half hour longer to ensure you have plenty of time.
When traveling by car, you will need to stop for potty breaks and to let them stretch their legs on occasion. So you should figure in additional breaks for your estimate trip time.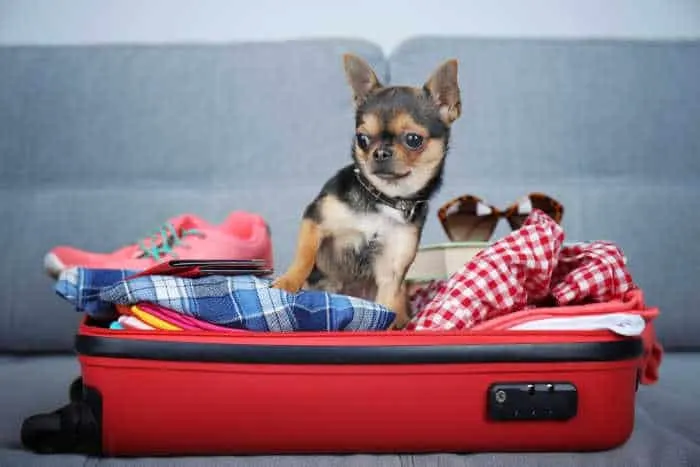 Things to Be Aware Of
•Your pup will need a collapsible water bowl and some food if the journey is longer than a couple of hours. Try not to overfeed them as it can enhance nausea and make them need to use the restroom more.
•When selecting a crate, you need to make sure your pet can turn around and rest comfortably. Since this breed is the smallest, a cat carrier can even work. However, make sure they can move about without issue.
A soft-sided carrier is an excellent choice too. If you forget a transporter, most airlines sell them at the front desk, though you will pay a premium for it.
•The airline has the right to refuse pets if there are too many on a flight. It's best to call them directly to make these flight arrangements rather than doing it online.
Also, this is another reason to board early to ensure that no "surprises" appear on your flight. Many people with therapy or service pups don't notify the airlines because they cannot refuse them, which makes it sad for the people going through the proper channels.
•Lastly, If you don't want to sedate your animal for travel, there are natural remedies that can calm them without giving them a "drugged" feeling. These herbal treats can help ensure that both you and your dog have a great trip.
Traveling with your pet is not always easy, (check out this post if you are wondering what your other options are) but it allows them to be close to you, saves on expensive boarding fees, and they make the best traveling companions.