This post contains affiliate links, and I will be compensated if you make a purchase after clicking on my links. As an Amazon Associate I earn from qualifying purchases. Learn More
Is your dog a heavy chewer? Read on to learn more about dog toy subscriptions for heavy chewers.
My dogs like to chew and my tiniest pup is considered a heavy chewer. I do know some of my readers deal with this issue too. And many love the convenience of having them delivered right to their door every month.
Also read: How to Find the Best Chew Toys for Small Dogs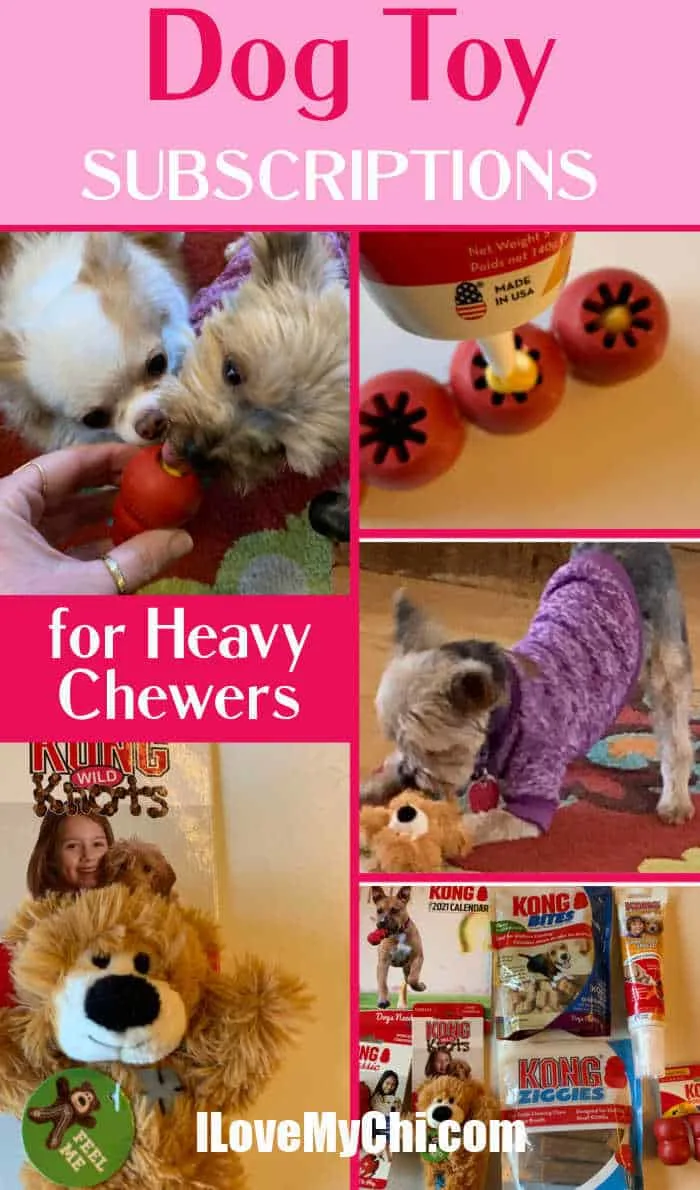 I decided to do some research for a subscription service that focused on heavy chewer dog toys. I found a few that look good but they didn't have toys for very small dogs like my little guys. The ones that I was impressed with for larger dogs are Fido's Friends Goody Box and Bullymake Box.
Heavy Chew Toy Subscription for Small Dogs
But what about for small breeds. Some of the chew toys I have seen are bigger than my dogs!
Well I came across a tried and true dog toy that most of us have bought for our dogs and now you can get as a subscription service. It's Kong! Their toys are great for heavy chewers.


I bought a subscription box for my babies to try it out. I'm paying on a month to month basis which makes it a little more expensive. But it's easier to cancel that way.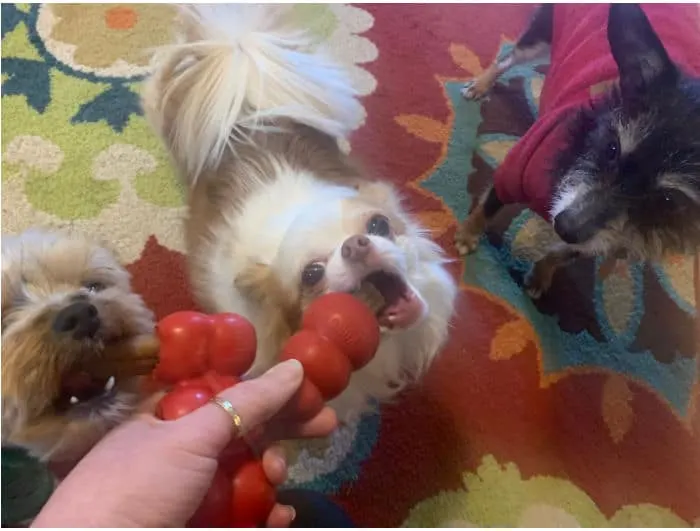 How Much the Kong Box Costs
Kong says their Kong boxes are worth $60. But that's not what you pay for it.
It's $39.95 for a month to month box and you can cancel anytime. You can also choose to have it delivered every other month (which is what I did).
Or you can buy a 6 month subscription for $34.95 per box.
You can also buy a 12 month subscription for $29.95 per box.
You can also cancel the 6 and 12 month subscriptions and get your money refunded for the months you didn't get the box but you will have to pay a cancellation fee.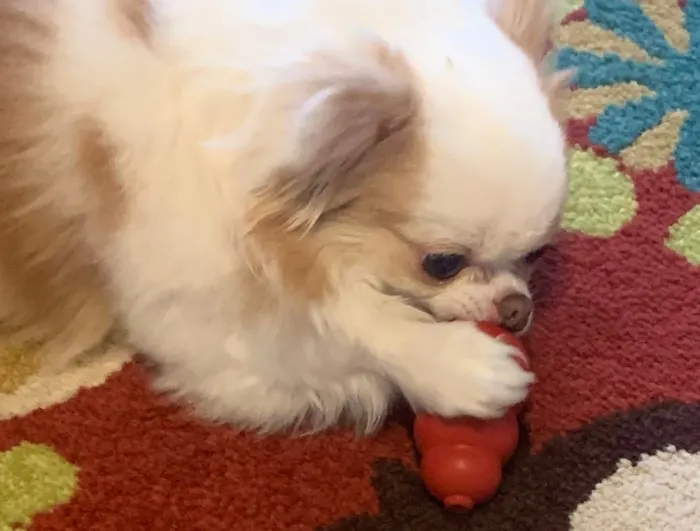 The Sign Up Process
You can sign up here. When you sign up, you will go through a quick and easy questionnaire where they ask your dog's name, birth month, age and size.
Size choices are:
Petite (less than 20 pounds)
Mid-Size (20 to 35 pounds)
Large (30-65 pounds)
Extra Large (over 60 pounds)
Next they will take you to a page where you pick the problem with your dog that you need the most help with.
Your choices are:
Chewing
Digging and Barking
Crate Training
Boredom
Teething
Separation Anxiety
Weight Management
No issues
Personalizing your Kong Box
You can't pick out the toys that you get but you can pick what size you want when you pick your dog's size in the sign up process. Kong says they want to surprise you with what you will get in each box.
One cool thing is if you find after you receive your first box, that you need even tougher toys than what you received, you can update your account to power chewer instead of average chewer to get stronger toys. There's no extra charge for the power chewer toys.
However the toys my dogs received were plenty strong enough for them and I doubt they will need anything stronger.
Here is What We Got in Our First Kong Box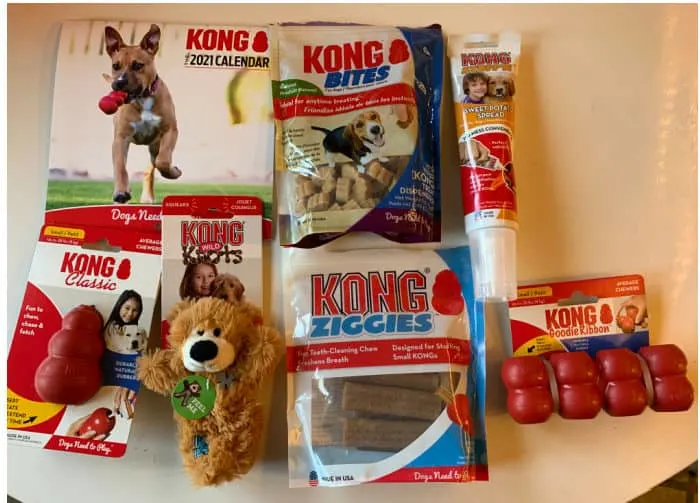 We got 3 toys, 3 treats and a calendar.
The details for each item:
Small Kong Classic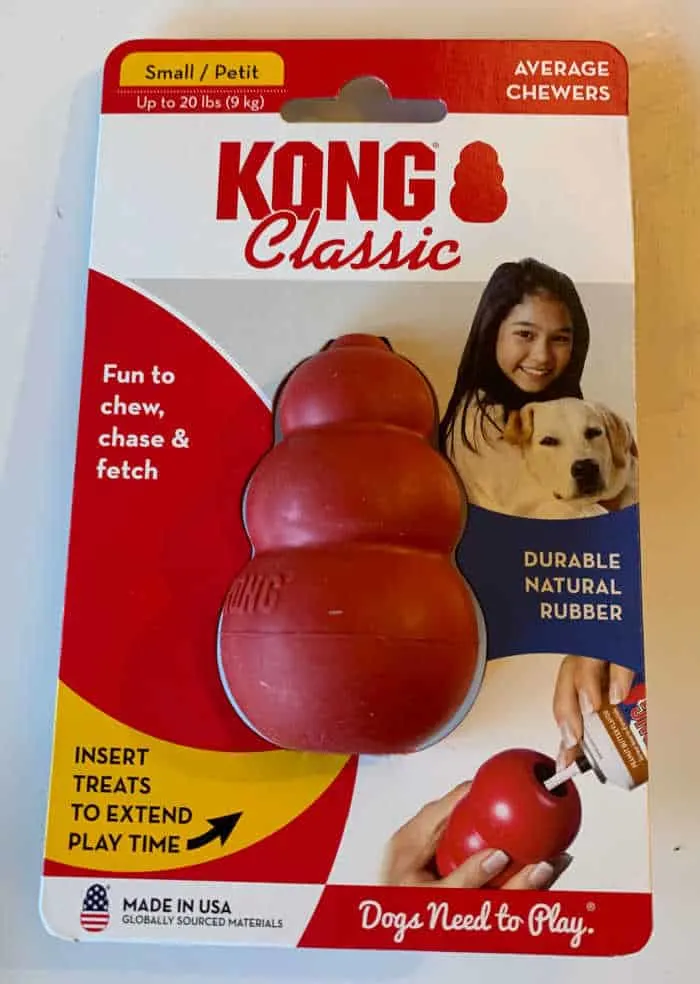 The typical toy you think of when you think of Kong. An oldie but a goodie.
Kong Goodie Ribbon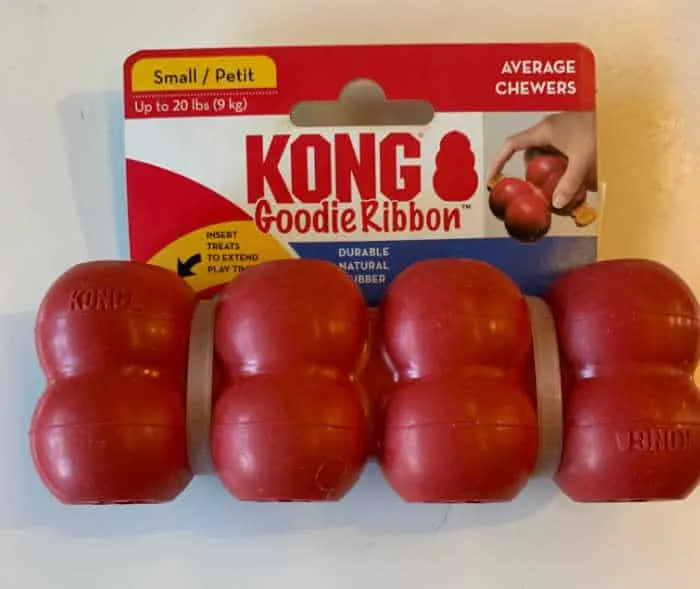 This is interesting as it is similar to a Kong Classic but it looks like 4 of them stuck together. There's space in each section to put in a treat. I wasn't sure about this toy but my dogs LOVE it. Even more than the classic Kong.
Kong Wild Teddy Bear Knot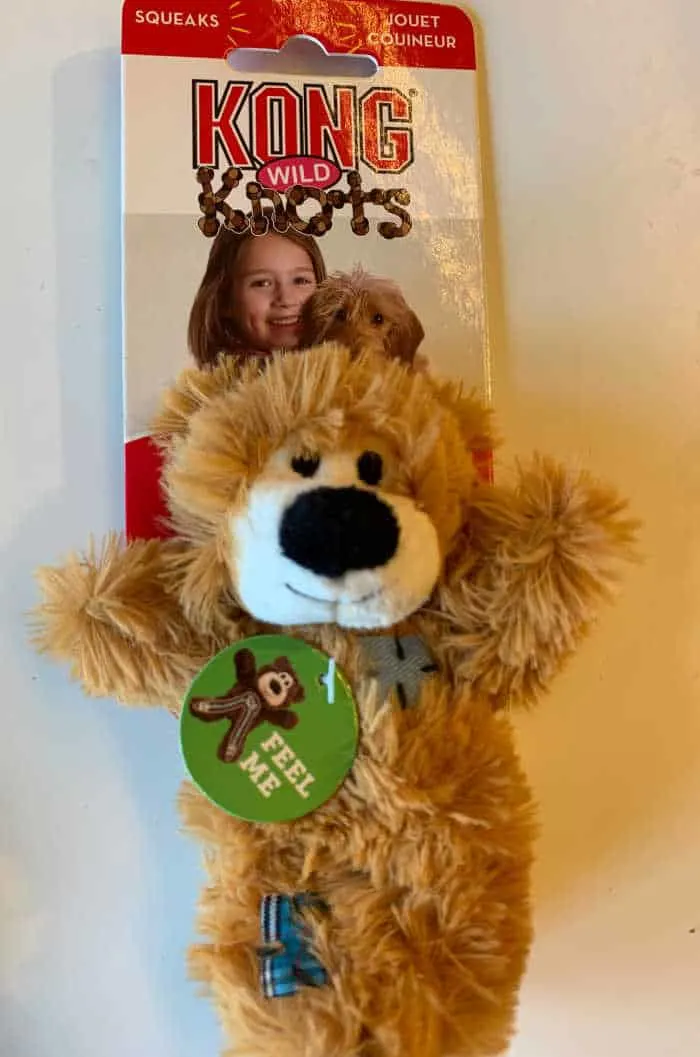 If you see my video, I thought you put the dog treat stuffin' inside this toy but you don't. This cute little teddy bear is a hard toy but has soft fur on the outside. Ziggy loves this toy so much and it's nice to know he won't destroy it like he does his other stuffies.
Kong Sweet Potato Stuff'n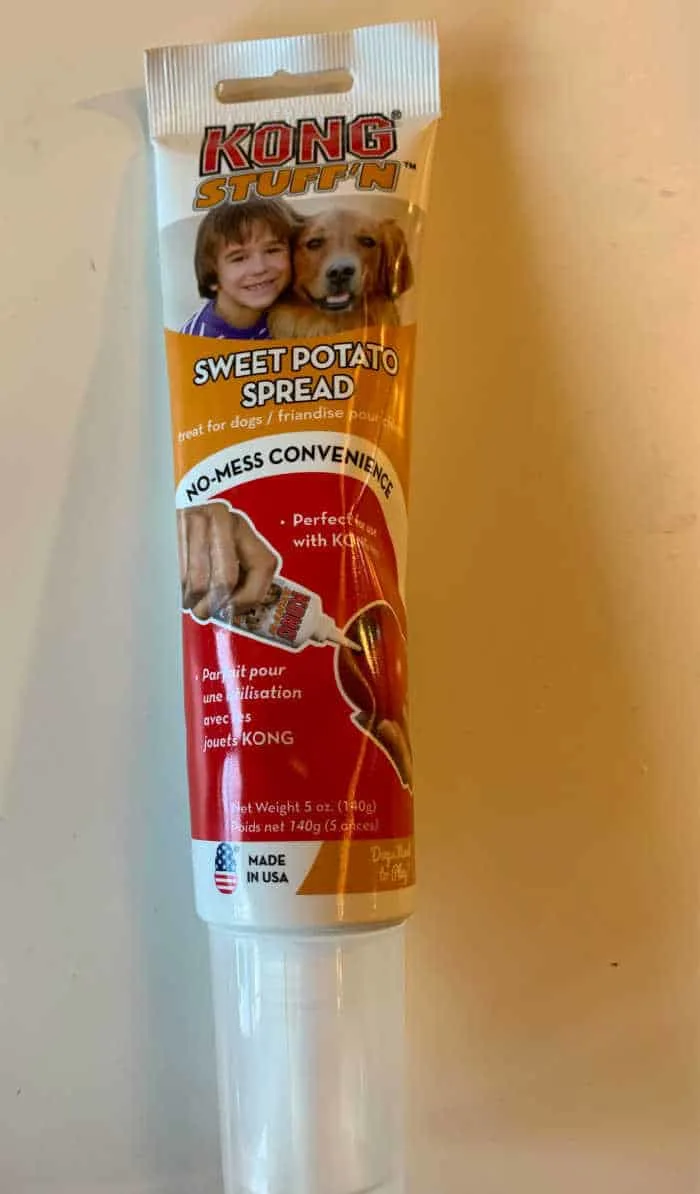 This stuff is perfect to fill Kong toys with. It has a long nozzle to make it easy to fill. The dogs love it.
Kong Ziggies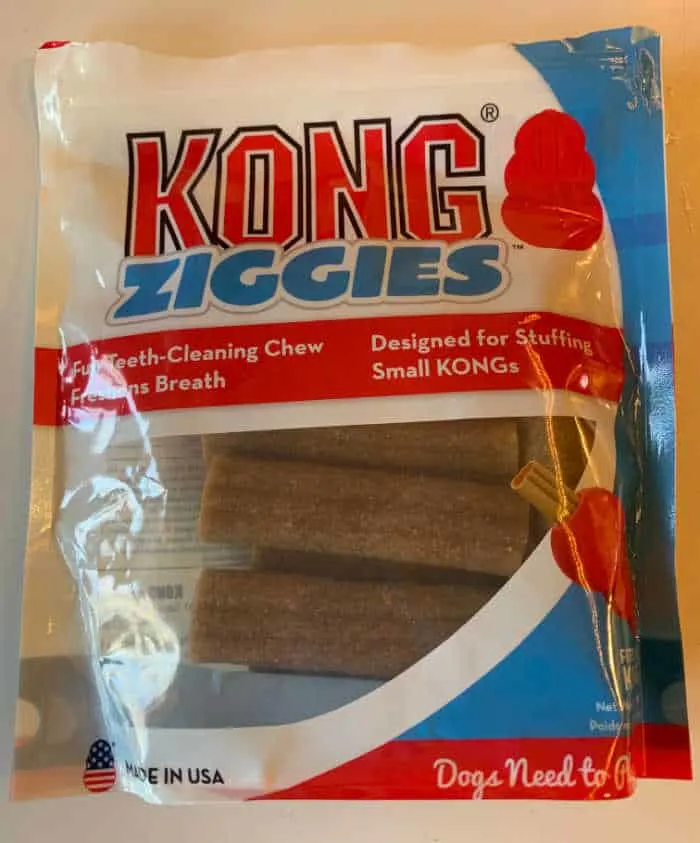 Another winner that my dogs love. These dental chews fit into the Kong Classic and the Kong ribbon. I like watching my dogs try to get to the chewie inside the Kong toy. It took them a lot longer than it did with the sweet potato Stuff'n.
Kong Bites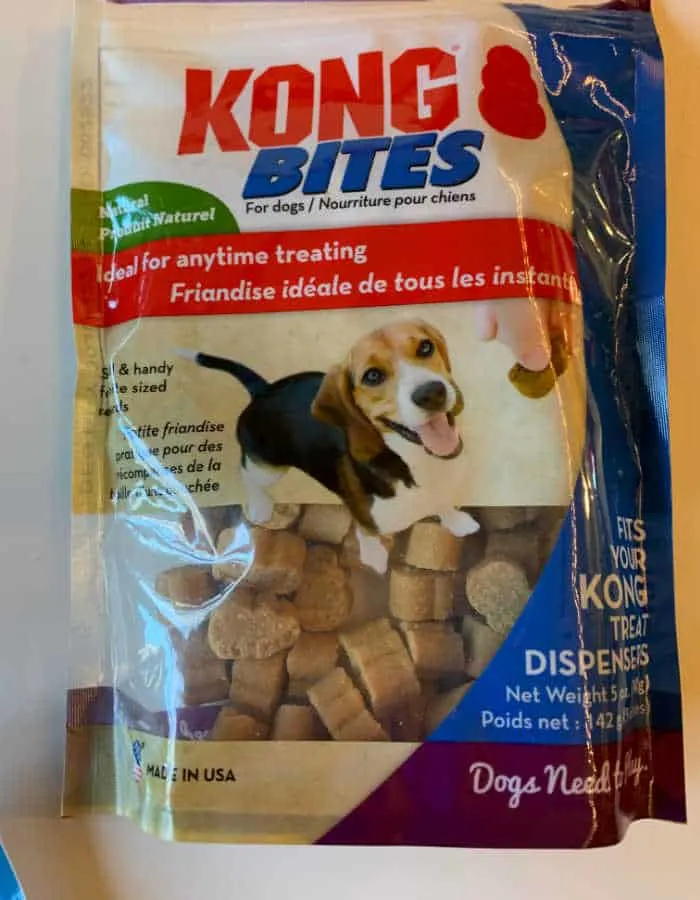 Small bite sized chicken treats that you can also put inside the Kong toys. I like that they are grain free, with no artificial colors or flavors. My fur babies approved.
Kong Calendar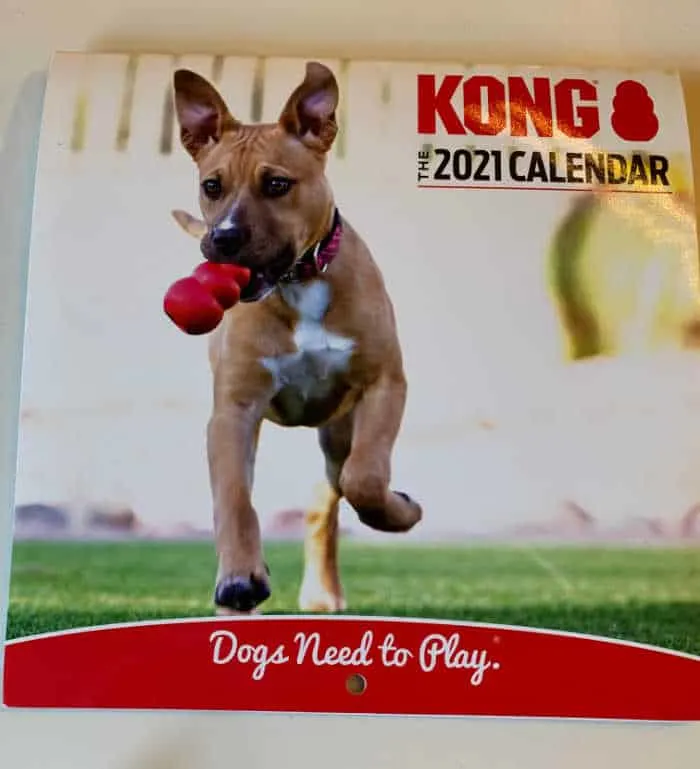 Since it was January when we received our box, they also included a calendar with cute photos of dogs playing with Kongs. We also got a recipe card for Birthday carrot cake.
Check out the video of the unboxing here:
We really liked this subscription box and I plan to continue getting it. It's a nice little treat for my dogs and they enjoyed it so much.
If you'd like to try the Kong subscription box, you can get it through my referral link here.
If you do decide to get the Kong subscription box or already get it, let me know what you think of it.