This post contains affiliate links, and I will be compensated if you make a purchase after clicking on my links. As an Amazon Associate I earn from qualifying purchases. Learn More
If you are seeking inspiration for your Chihuahua's name in the lime light, there is no shortage of famous Chihuahua names to choose from! After reading this, be sure to check out all our chihuahua names.
Here are some of the most popular Chihuahua names inspired by movie characters and celebrities: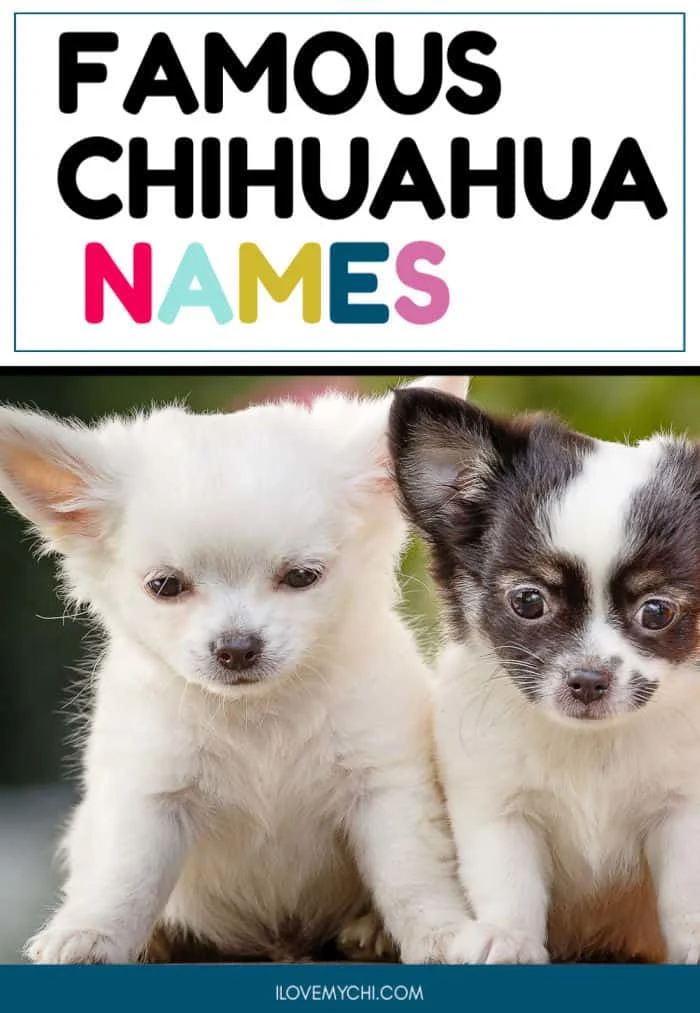 Chihuahua Names From Movies and Television
Here are the names of Chihuahuas who stole the spot light in movies:
Apollonia who was Prince's girlfriend in the movie Purple Rain.
Bella from Chihuahua: The Movie which premiered in 2015.
Bruiser Woods from Legally Blonde was played by a Chihuahua named Moonie.
Chewbacca or Chewy from Star Wars.
Dobby from Harry Potter.
Neelix from the TV series Star Trek Voyager.
Sophie from Chihuahua Too! which premiered in 2013. Sophie is a ghost dog who was an actress who played the part of Cleopawtra in a movie, creating another name suggestion.
Tecl'c from the TV series Stargate.
Tito from Disney's Oliver & Company movie which premiered in 1988.
Beverly Hills Chihuahua Names
The most popular Chihuahua movie is Beverly Hills Chihuahua. The first of the three Beverly Hills Chihuahua movies premiered in 2008. The movie features the story of Chloe, a pampered Chihuahua who is from Beverly Hills, who becomes separated from her owner while on a vacation in Mexico and must find her way home. She makes friends with a variety of different dogs, not just Chihuahuas, during her three movies.
Beverly Hills Chihuahua Names
The below is a list of the character's names from the first movie:
Chloe (voiced by Drew Barrymore, making another name suggestion Drew)
Delgado
Papi
Monte
Rafa
Chucho
Sergeant Thomas
Sebastian
Biminy
Delta
El Diablo
Manuel
Chico
Pedro
Beverly Hills Chihuahua 2 Names
While many of the same characters reappear, there are a few new faces in the second movie which premiered in 2011:
Papi Jr.
Rosa
Pep
Lala
Ali
Appoline
Alberto
Antonio
Beverly Hills Chihuahua 3 Names
In the final of the three movies which premiered in 2012, fans continue to follow Chloe and Papi and meet the following new characters:
Oscar
Charlotte
Diego
Humberto
Phil
Gunther
Get your Chihuahua cozy wrapped in a blanket like a burrito and snuggle up to watch the movies together. As you get to know the characters, consider which character's name best suits your Chihuahua.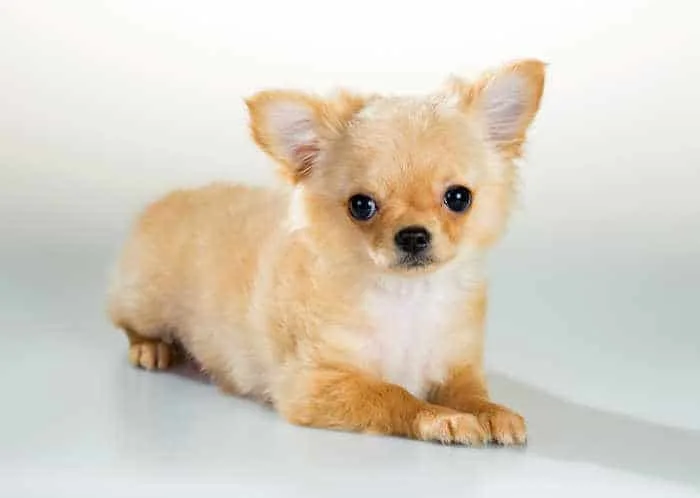 Celebrity Chihuahua Names
Here are the names of some of the most well known celebrity Chihuahuas:
Gigdet the Chihuahua was famous by her own making, not by being owned by a celebrity. She starred in the Taco Bell commercials that featured a Chihuahua that ran from 1997 to 2000. She also played Bruiser Woods' mother in Legally Blonde 2.
Tinkerbell the Chihuahua was made famous by being Paris Hilton's side kick. Sadly, Paris owning a Chihuahua made the breed a fad. Many Chihuahuas were obtained by people who were not ready for the commitment, resulting in shelters and rescues experiencing an influx of these little dogs due to this fad.
Bit Bit was the Chihuahua Brittany Spears owned.
Coco is a Chihuahua who was rehabilitated by famous dog trainer Cesar Milan when he was brought to him due to his aggressive behavior. He became a breed ambassador of the Chihuahua on Cesar's show.
Vida is a Chihuahua owned by Demi Moore.
Bama is a Chihuahua that was owned by Demi Moore and Ashton Kutcher during their marriage.
Chiquita, Rosita, and Evita were Chihuahuas owned by Madonna.
Carlos is a Chihuahua who was rescued by Matt Damon.
Eveie was a Chihuahua mix owned by Leann Rimes, who sadly passed away in 2019 after being attacked a by a coyote. All Chihuahua owners can learn from their family's experience; it is crucial that dogs this size not be outside unattended.
Gibson is a Chihuahua owned by Alyssa Milano.
Lola was a Chihuahua owned by Hilary Duff.
Josefa also known as Choo Choo was a Chihuahua owned by Marilyn Monroe.
Larry and Nena are Chihuahuas owned by Katharine McPhee.
Karen is a Chihuahua owned by Christina Ricci.
Loki is a Chihuahua owned by Mickey Rourke.
Nemo is a Chihuahua adopted by Paula Abdul.
Owen is a Chihuahua adopted by George Lopez.
Chihuahua Names Inspired by Celebrities
Ace for Ace Young.
Ali for Ali MacGraw.
Archie for the child of Prince Harry and Meghan Markle.
Balthazar for Balthazar Getty.
Ben for Ben Affleck.
Brie for Brie Bella.
Brody for Brody Jenner.
Bruno for Bruno Mars.
Clive for Clive Owen.
Colton for Colton Haynes.
Daisy for Daisy De La Hoya.
Dakota for Dakota Fanning.
Dax for Dax Shepard.
Demi for Demi Lovato.
Diddy for Diddy.
Eddie for Eddie Murphy.
Emma Heming.
Emile for Emile Hirsch.
Faith for Faith Hill.
Fergie for Fergie from Black Eyed Peas.
Frank Zappa (or Frankie or Zap) for the musician
Freddie for Freddie Prinze Jr.
Gigi for Gigi Hadid.
Goldie for Goldie Hawn.
Halle for Halle Berry.
Iggy for Iggy Azelea.
Jack for Jack Black.
Javier for Javier Bardem.
Joe for Joe Biden.
Kaia for Kaia Gerber.
Keanu for Keanu Reeves.
Kobe for Kobe Bryant.
LaLa for LaLa Vazquez.
Lenny for Lenny Kravitz.
Lucy for Lucy Liu.
Maggie for Maggie Gyllenhaal.
Mario for Mario Lopez.
Mia for Mia Farrow.
Milo for Milo Ventimiglia.
Minnie for Minnie Driver.
Nacho for Nacho Figueras.
Nelly for Nelly Furtado.
NeNe for NeNe Leakes.
Orlando for Orlando Bloom.
Pharrell for Pharrell Williams.
Pippa for Pippa Middleton.
Rumer for Rumer Willis.
Rupert for Rupert Grint.
Sammi for Sammi Giancola.
Selena for Selena Gomez.
Shia for Shia LaBeouf.
Snooki for reality TV star Snooki.
Snoop Dog for Snoop Dog.
Suri for Suri Cruise.
Swizz for Swizz Beatz.
Ty for Ty Burrell.
Usher for Usher.
Vinny for Vinny Guadagnino.
Whitney for Whitney Houston.
Zac for Zac Efron.
Other Celebrity Inspired Names
Mork and Mindy if you have a boy and girl dog, these are cute names inspired by the old TV show.
Conclusion
Naming your Chihuahua after a celebrity Chihuahua gives you an interesting story to tell people if they ask about your furry friend's name. While most people are familiar with Bruiser Woods from Legally Blonde and Gigdet from the Taco Bell commercials, there are many more celebrity Chihuahuas to consider as you choose a name for your Chihuahua.
Is your Chihuahua named after one of these famous Chihuahuas? Share in the comments below.