This post contains affiliate links, and I will be compensated if you make a purchase after clicking on my links. As an Amazon Associate I earn from qualifying purchases. Learn More
Homemade and Healthy Treats for Chihuahuas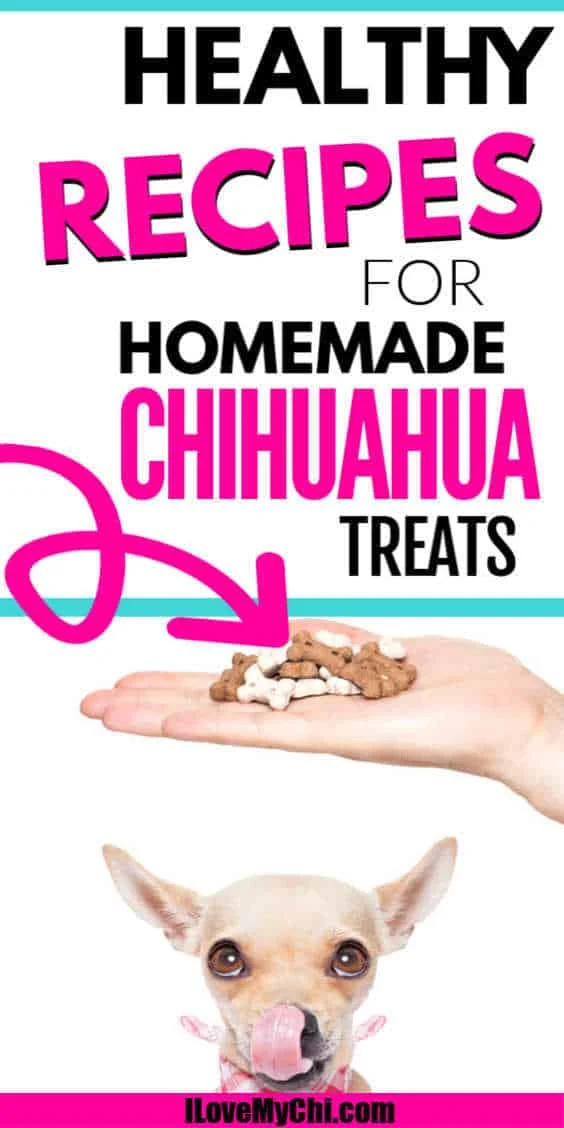 There is no shortage of commercial dog treats to purchase and recipes for homemade dog treats to make on the internet! However, Chihuahua parents should always exercise caution and discernment before serving a helping to their favorite canine companion.
Let's discuss what you need to know about treats for your Chihuahua, like what makes treats healthy, and some examples of healthy treats, to help you make the right choice for your Chihuahua:
Why Does It Matter If My Chihuahua's Treats Are Healthy?
Due to their small stature and long life spans, treats impact Chihuahuas in three ways significantly more than they do other breeds of dogs:
Weight
Chihuahuas are prone to obesity. While most Chihuahuas will vehemently argue that they do in fact need to eat all the treats they can fit in their little mouths, their owners must be cognizant of the serving sizes they enjoy and the caloric impact of the treats they eat.
Maintaining a healthy weight contributes to better overall health, better quality of life, and a longer life span.
Toxicity or Fatality
It does not take as much of a toxic ingredient to cause real harm or fatality to a Chihuahua based upon their weight.
Be sure to check any ingredients listed against the ASPCA's People Food to Avoid Feeding Your Pet article, and if necessary, do not hesitate to contact the ASPCA Poison Control Hotline.
If your Chihuahua has any special dietary needs, be sure to consult with your veterinarian before preparing home made treats or purchasing a non-prescription commercial dog treat.
Serving Sizes and Expirations
Homemade treats make customizing serving sizes easy. Even if the batch creates too many treats to be eaten in a reasonable amount of time before they spoil, you can always freeze left overs.
When shopping for store bought treats, especially soft treats and treats with no preservatives, you must consider if your Chihuahua will be able to eat the available servings before the treats go bad without consuming too many calories before making your purchase.
Also, be sure to store the treats appropriately to prevent mold from growing as quickly. Otherwise, you may end up having to dispose of half a bag of treats.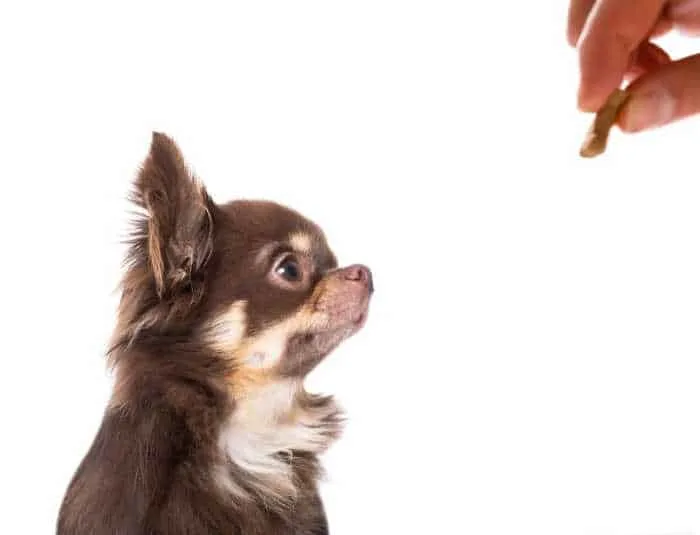 What Makes Treats Healthy?
Healthy dog treats have the following qualities:
They are made in America in small batches.
Real fruits, vegetables, and meats are used as ingredients.
They contain minimal or no preservatives.
If peanut butter is used it does not contain xylitol.
Healthy Homemade Treat Recipes
If you enjoy baking, here are some healthy treat recipes to make for your Chihuahua:
For Chihuahuas with a palate preferential to the sweeter things in life, these Strawberry Dog Treats are a go to. They contain a few simple ingredients: diced strawberries, banana, whole wheat flour, oatmeal and greek yogurt. The size of the treats may be customized to make Chihuahua size cookies.
This yummy recipe is a crowd pleaser. To make this Carrot Oat and Applesauce Dog Treat recipe you will need oats, all-purpose flour, unsweetened applesauce and one carrot. The size may be modified to be smaller for Chihuahuas.
If your Chihuahua loves pumpkin, check out this recipe for Cranberry Pumpkin Dog Treats. You will need whole wheat flour, rolled oats, fresh cranberries, unsweetened pumpkin puree (not canned pie filling), chicken stock, honey, baking powder, and cinnamon. Use a mini muffin pan to make this recipe in Chihuahua size servings.
To keep your Chihuahua cool on hot days, prepare these Frozen Berry and Yogurt treats for him to enjoy. You might even want to enjoy them with him! There are only three ingredients in this recipe: strawberries, blueberries, and plain yogurt.
If your Chihuahua does not always have fresh breath, try these Breath Freshener Treats. You will need plain yogurt, fresh mint leaves, and fresh parsley leaves.
For Chihuahuas with sensitive tummies or limited ingredient needs, these Hypoallergenic Chicken Dog Treats might be appropriate for them, pending your veterinarian's permission. You will need rice flour, chicken broth, salt and vegetable oil.
These Apple Cinnamon Dog Donuts would make a yummy treat year round, but especially in the fall. You will need whole wheat flour, oat flour, cinnamon, an apple, an egg, water, coconut oil, honey, and plain Greek yogurt. The serving may be adjusted to be Chihuahua sized.
These Apple Cheddar and Bacon Treats are sure to make your Chihuahua drool! You will need white flour, wheat flour, an egg, butter, olive oil, sharp cheddar or Parmesan, an apple, parsley, bacon bits, and milk.
For a special treat, make your Chihuahua these yummy Turkey and Sweet Potato Meatballs. Gather the following ingredients: ground turkey, egg, sweet potato, oats, cinnamon, honey, fresh parsley.

Healthy Commercial Treats
If baking is not your thing, here are some healthy commercial treats:
Summary
Although the variety of commercial treats and homemade treat recipes can be overwhelming, by being discerning of servings, ingredients, and sources, it is easy to find healthy and yummy treats for your Chihuahua.
Did your Chihuahua enjoy any of the treats in this article? Tell us about that in the comments below!
Also be sure to check out these related posts:
Healthy Homemade Treats for Older Dogs
Rawhide Alternatives for Small Dogs