This post contains affiliate links, and I will be compensated if you make a purchase after clicking on my links. As an Amazon Associate I earn from qualifying purchases. Learn More
Human grade dog food subscription services and homemade dog food subscription services are exploding in popularity. While dogs may not care what they are eating as long as it smells and tastes good, their humans certainly care what their precious pups are being fed.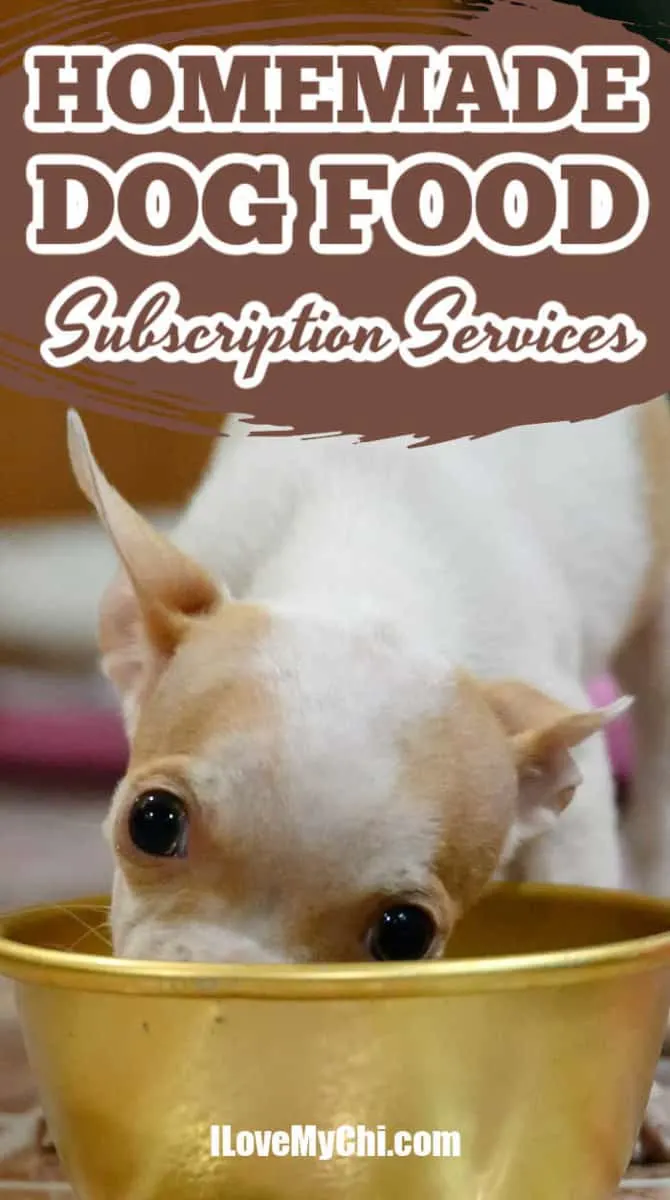 Rather than wonder what half of the ingredients are listed on a bag of dog food, dog owners who subscribe to a dog food subscription service such as the ones listed in this article know exactly what is on their fur baby's menu.
To help my readers find the right homemade dog food subscription service for their dogs, I have researched some of the most popular options:
Ollie
Ollie is a human grade dog food subscription service. Ollie's recipes are minimally processed and contain no artificial flavors or fillers.
What makes Ollie a great choice is they ask questions about your dog in an initial questionnaire to help you find the right subscription options based upon your dog's needs. This makes this service customizable, which is important, because one size does not fit every paw.
Ollie meals are delivered on your schedule so that your dog always has their meals when they need them. They are stored in the freezer, then thawed in the fridge, which helps prevent food waste.
Ollie also sends you a nice reusable container to store the food in while in the fridge.
My dogs are currently eating Ollie's and they love it.
To enroll your dog in a meal subscription plan with Ollie, click here.
You can read our full review of Ollie Dog Food.
The Farmer's Dog
The Farmer's Dog offers veterinarian developed recipes made with human grade food in USDA kitchens. This company's quality and safety standards are rarely seen in the dog food industry.
What makes The Farmer's Dog a great choice is that the owners invented the company as a result of their own dog's unique nutritional needs and the room for improvements they saw in the dog food industry. They are feeding their dogs the same foods that they sell.
Another appealing aspect of this company is that your dog's meals are shipped within days of them being prepared and they are never frozen. But you will need to freeze them once they get to you. I do like the shape of the bags that the food is stored in. It makes it easier to store in the freezer.
We have used The Farmer's Dog in the past and had a great experience with it. My dogs love it.
To enroll your dog in a meal subscription plan with The Farmer's Dog, click here.
Or you can read our full review of the Farmer Dog food.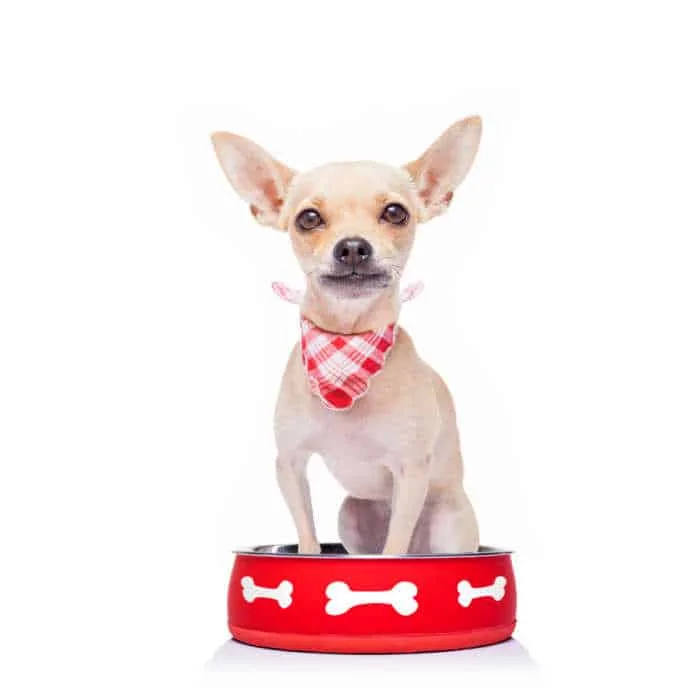 Pet Plate
The Pet Plate meal subscription company says that they do not make dog food, they make food for dogs so that they can live longer, healthier lives.
Pet Plate prepares pup's meals in USDA kitchens, just like how human foods are prepared, which is not yet common place in the dog food industry. Every Pet Plate meal is flash frozen to preserve freshness and hot filled to ensure safety.
This meal subscription service even gives customers a face to their recipes; Dr. Renee Streeter, a veterinary nutritionist, formulates recipes that are yummy and well balanced.
Based upon your pet's needs, perfectly portioned meals are shipped to your door to ensure that there will always be a feast ready for fido.
We have used Pet Plate in the past with good results.
To enroll your dog in a meal subscription plan with Pet Plate, click here.
Nom Nom Now
Nom Nom Now is a dog food subscription service made with fresh, restaurant quality ingredients.
Nom Nom Now meals are prepared in the USA in FDA kitchens. Their meals include real pieces of food that you can actually see, as opposed to the ground meat loaf style appearance that some competitors serve.
Dr. Justin Shmalberg, a veterinary nutritionist, is the Chief Nutritional Officer who over sees the formulation of all recipes. Nom Nom Now allows owners to cater their dog's meals to their exact needs to include age, weight, food sensitivities, and health goals.
I like that you can order a variety pack with all 4 recipes so you can determine which one is your dog's favorite.
To enroll your dog in a meal subscription plan with Nom Nom Now, click here.
Tailored
Tailored is focused on making good quality, customized dog food affordable for pet parents.
Tailored recognized how expensive commercial dog food became, and that the options on the market could be overwhelming to pet parents. A team of pet parents and experts was assembled to make the improvements they saw a need for in the dog food industry. Four experts, Dr. Emily Luisana, Dr. Katalin Grant, Rudy Leschke and Dr. Larry Hawley, work together to help make these custom and affordable meals a reality for customer's dogs.
Tailored has thoughtfully partnered with TerraCycle to offer pet parents the opportunity to recycle their dog's food packages. They also offer a handy dish washer safe food scoop made of bamboo that is biodegradable.
Tailored allows dogs to try their food without subscribing, which is of particular benefit to parents of picky pups. As of the publishing of this article, coupon code TRY20 allows new customers to save 20% on a one time order to ensure it pleases your picky pup's palate.
Tailored isn't fresh food but a kibble that is made according to your particular dog's needs.
To enroll your dog in a meal subscription plan with Tailored, click here.

A Pup Above
A Pup Above is a dog food subscription service that brings carefully sourced, high quality ingredient dog food to your door on your dog's schedule.
A Pup Above does not offer custom recipes, but they do offer something very unique in the pet food industry: the ability to clearly trace the source of your dog's food. Each bag of A Pup Above food is labeled with a lot number, which can be entered on their website to review a report which details where the ingredients in the food were sourced from and other details as available.
A Pup Above carefully crafts each recipe in their USDA inspected facility in Texas. They use a slow cooking method called sous-vide to lock in nutrients, vitamins and protein. Each batch is tested for pathogens to ensure safety.
This is the food my dogs are currently eating and the reason why is this is the only food my picky boy Ziggy actually loves. He will eat the others, but he actually gets excited for A Pup Above food. So that's good enough for me. You can read our full review of A PupAbove dog food.
A Pup Above currently offer four tasty recipes: Turkey Pawella Recipe, Chicka Pupatouille, Texas Beef Stew and Porky's Luau. Pet parents may purchase a sample pack to see which recipe their pup prefers.
To enroll your dog in a meal subscription plan with A Pup Above, click here.
Just Right Pet Food
For pet parents who prefer feeding traditional kibble but want to feed a custom blend, Just Right Pet Food is a good choice.
Just Right allows pet parents to make custom kibble for their dogs by completing a questionnaire about their pet. Your dog's custom kibble recipe is then reviewed by Sara, Just Right's nutritionist, and quality control specialists Derrick and Ishwani, who ensure the food is up to Just Right's standards.
Your pet's Just Right custom kibble is manufactured in company owned facilities with stringent quality control procedures in Clinton, Iowa.
Just Right then delivers your pet's custom kibble every twenty eight days to ensure that your dog's bowl is never empty.
To enroll your dog in a meal subscription plan with Just Right Pet Food, click here.
Conclusion
Customized and high-quality dog food is more attainable at affordable prices than ever before thanks to passionate pet parents who have created companies to improve the dog food industry. Thanks to subscription plans, you can ensure that your dog never runs out of their favorite foods while avoid waiting in line at a store, giving you more fun time with your dog.
If your pup subscribes to any of these meal subscription plans, or if you decide to purchase any of these meal subscription plans, please let me know what your dog thinks in the comments below.