This post contains affiliate links, and I will be compensated if you make a purchase after clicking on my links. As an Amazon Associate I earn from qualifying purchases. Learn More
I wanted to write this Ollie dog food review because I've been getting a few questions about it and as we have personal experience with it, I figured I could give an honest review of it. I'm always on the lookout for the best dog food for chihuahuas to help my readers and feed my fur babies the best food for them too.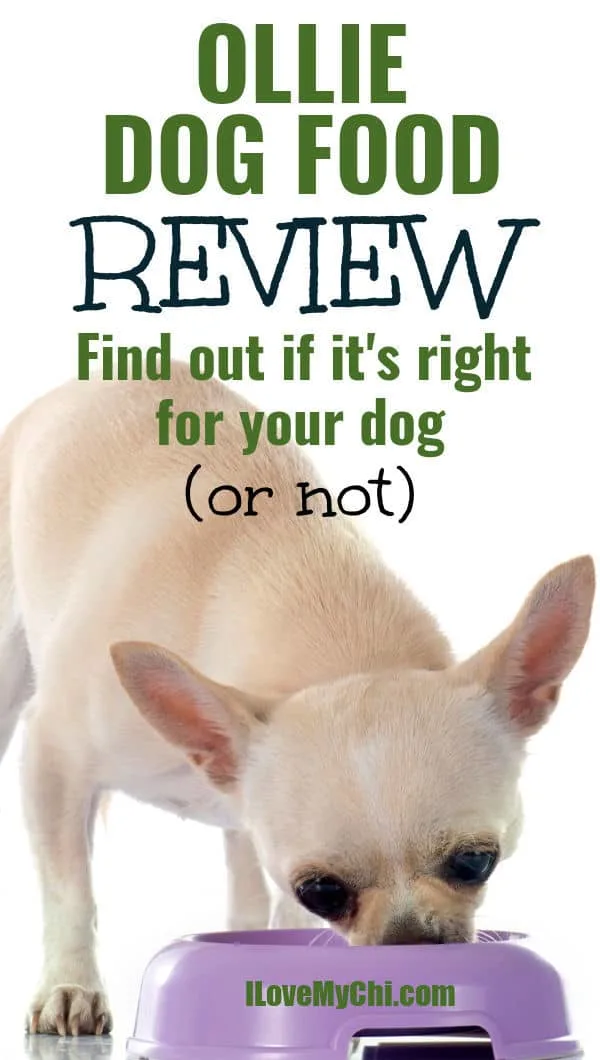 I'm all for subscription-based dog food if you can afford it. It does cost more than what you buy in the grocery store or at a pet store. The reason for that though is that it is made with human-grade food, which means you could eat it too if you wanted to do so.

The Ordering Process
Ordering is pretty simple. You answer some questions about your dog such as name, age, weight, whether they have been neutered or spayed, and any allergies and then Ollie comes up with a custom plan for your dog.
You have a choice of 4 recipes:
Beef, sweet potatoes and peas
Chicken, rice, carrots and peas
Lamb, kale, and butternut squash
Turkey, kale, carrots and blueberries
You can choose one of the recipes or all 4 if you want. We have done all 4 and my dogs like all of them.
The first time you order, they will offer you a two week trial to see if your dog likes it and they give it to you at half price. After that, if you don't cancel you will start to get your subscription dog food on whatever schedule you set.
One cool thing I noticed, if you are a first responder or a doctor or nurse, you get your first three boxes at 50% off. That's so cool!
You can check it out for yourself here.
Receiving the Order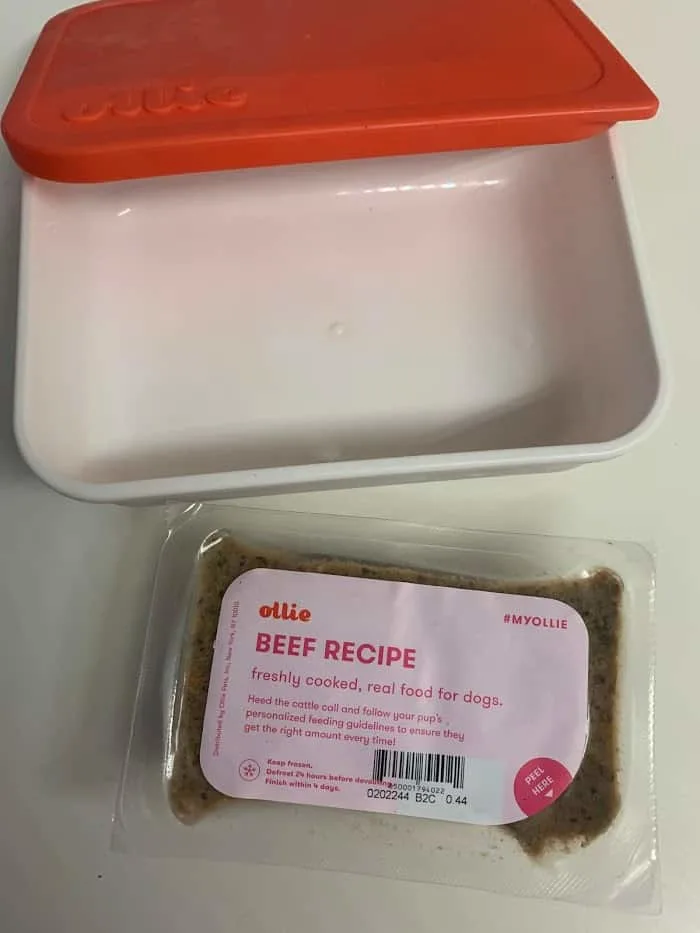 The box comes packed in dry ice and even in the summer, our boxes arrived with everything still cold. With your very first order, you get a nifty little washable high-quality storage box for the food and a scoop. Although I don't remember getting a scoop. Maybe that's something new they are doing now.
Storing Ollie Dog Food
When you get your box, put one package in your container and if your dog will finish the first package within a few days, keep a second package in the fridge. Store the rest of the packages in the freezer. When you are down to a serving left for the next day, then bring out another package from the freezer and put it in the fridge to thaw. It should be thawed out by the time you need it.
How to Prepare Ollie Dog Food
Ollie is super easy to prepare. Just open the package, portion out the amount you need into your dog's bowl and store the rest in the fridge. I cut it up a little with the edge of a spoon.
Do My Dogs Like Ollie Dog Food?
Yes, they do. I have to admit my picky Ziggy likes The Farmer's Dog better but he will eat it and if Ziggy will eat it, then it's good. Lucy and Lucas are not that picky though they have turned their noses up at some food and now that they get the good stuff, that's what they want now.
A dog that I was pet sitting had some of the cheap kibble and they didn't want anything to do with his food.
The Quality of Ollie Dog Food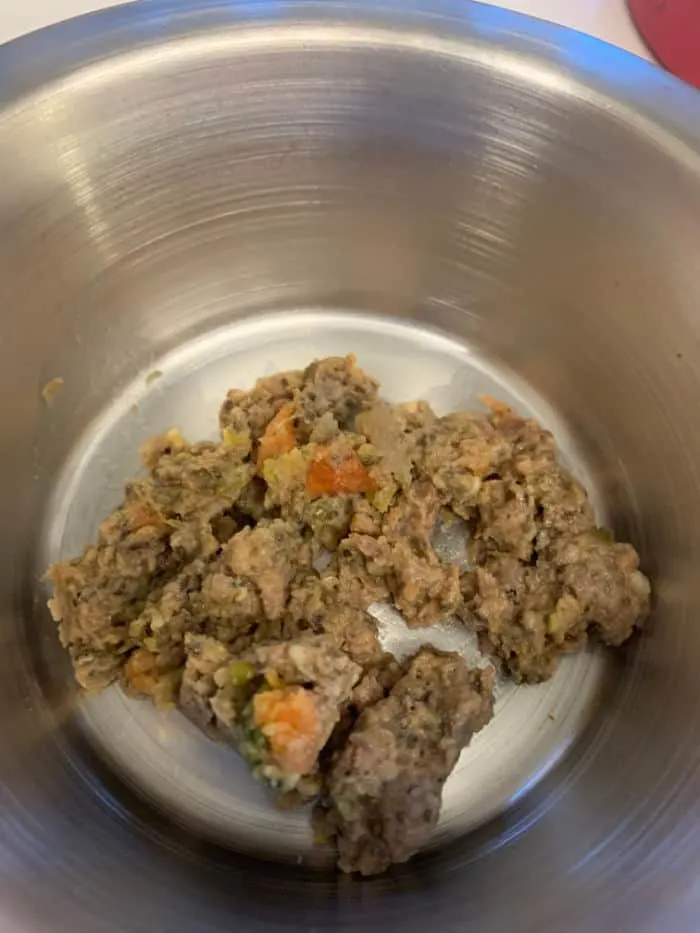 The quality is excellent. The food meets the AAFCO standards for all stages of life for dogs so this food is good for any age, breed or size. Every recipe was checked over by a veterinarian that specializes in nutrition. The food has no fillers or byproducts.
How Ollie Dog Food Affects My Dogs
It seems to be helping with Lucy's tear stains. I just noticed the other day that they had disappeared and starting back on the Ollie food is the only thing I have done differently with them lately. Other than that, my dogs are their usual healthy selves.
Cancelling Ollie's Subscription
Cancelling is fairly easy but they don't make it obvious on the website. You log into your account and then click on the edit button next to your dog's info (so for me, I would click the edit button where it says Lucy's Info.
Then go to the bottom of the page and click the cancel button. It will take you to a page where you need to click the button for the reason why you are cancelling. Be sure to do this step or the cancellation won't go into effect.
What I Don't Like About Ollie Dog Food
The only thing I'm not crazy about is finding room to store the food in the freezer. They take up a lot of room.
I also wish it was more affordable so all dogs could enjoy quality food. I'm feeding 3 small dogs, and it would be too expensive for me to buy it for all of them. The way I do it is I buy it for one dog and split it 3 ways. I supplement their meal with a wee bit of quality kibble (freeze-dried Rawwble from Bixbi) and sprinkle on a topper over it.
Conclusion
Would I recommend Ollie dog food for your dog? Yes, if you can afford it, definitely let your dog try it out. Next to making it yourself, I think fresh human-grade dog food like Ollie is an awesome choice to give your fur baby the best food available.

Click the button above to check out Ollie for yourself!