This post contains affiliate links, and I will be compensated if you make a purchase after clicking on my links. As an Amazon Associate I earn from qualifying purchases. Learn More
One of the biggest complaints I hear from Chihuahua pet parents is "Where can I find clothes for my 2-pound dog?" or some other variant of that.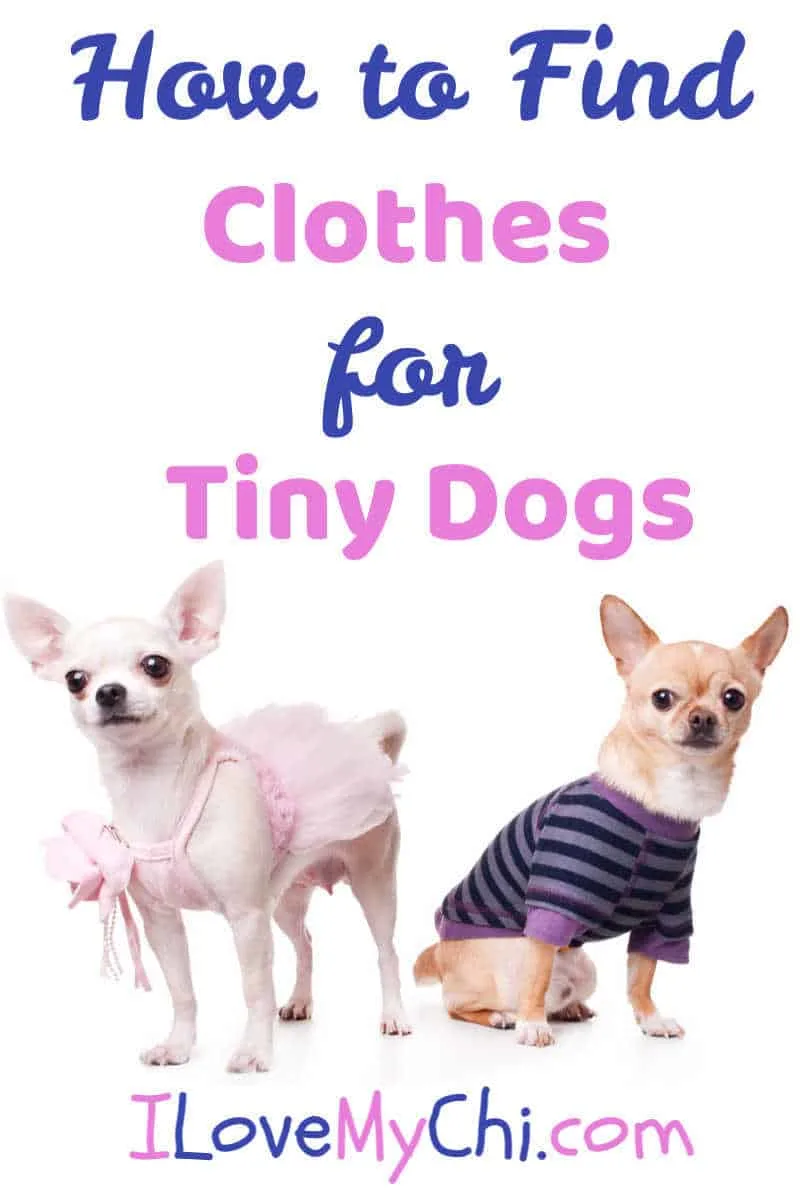 Chihuahuas are cute and tiny but part of the problem of being such small little dogs is finding clothes that fit them properly.
Some would wonder do chihuahuas even need to wear clothes. But chihuahuas being cold-natured, do need to wear them to keep warm; at least during the cold weather months.
I have found a few resources and have come across a few ideas over the years and will share them with you. But I also put out a call on our Facebook page and newsletter for ideas and got a plethora of places to go to get clothes for tiny dogs.
Make the Clothes Yourself
If you know how to sew, this would be a great option, but what about those of us who can't sew?
There are still some simple things you can do such as making a sweater out of a sock: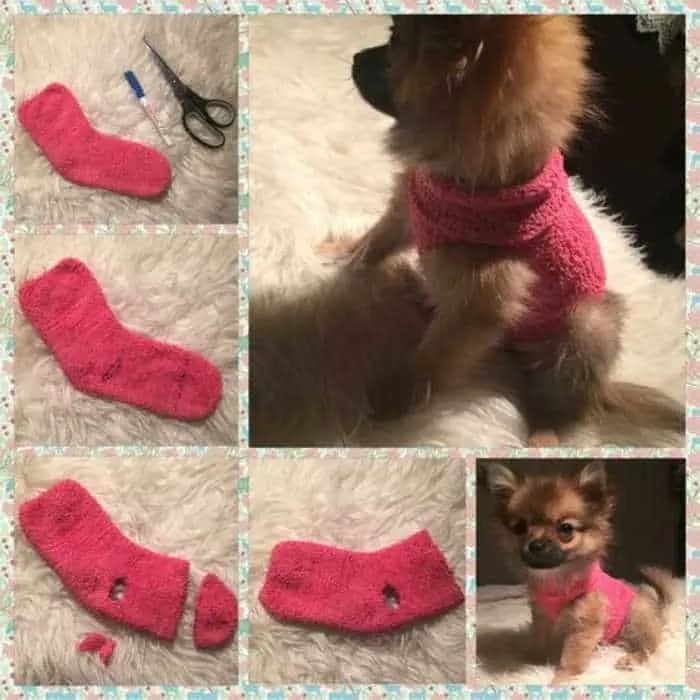 I got the above photo from Pinterest and it's been floating around for years so I don't know who originally came up with the idea.
Look how simple this is to do! And if you have a very tiny dog, just use a child's sock.
Now you know what to do with all those orphaned socks that you have laying around.
I heard that some people do the same thing with old sweatshirt and sweater sleeves too, as shown here: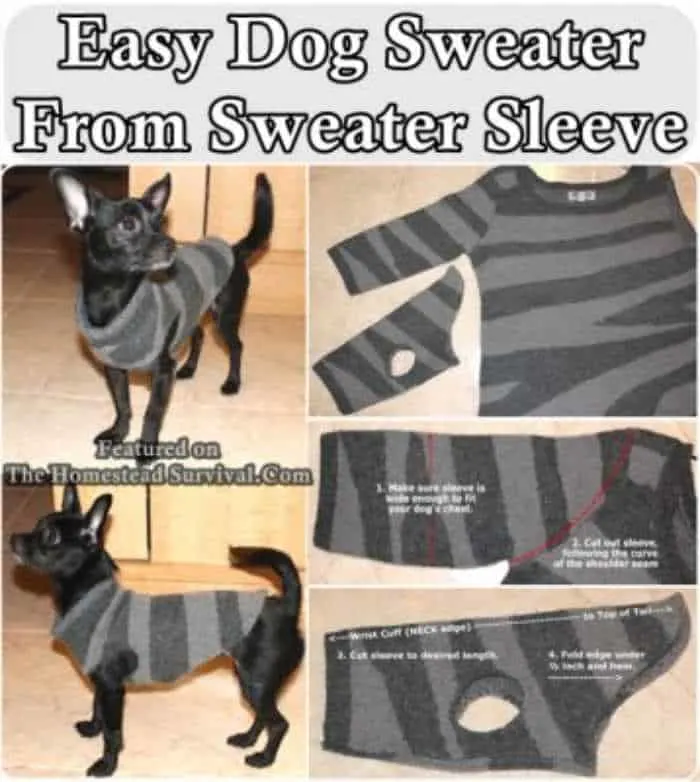 One reader told me they used kitten and guinea pig clothes. I didn't know they had clothes for kittens or guinea pigs. I found some guinea pig clothes and kitten clothes on Amazon that you can check out.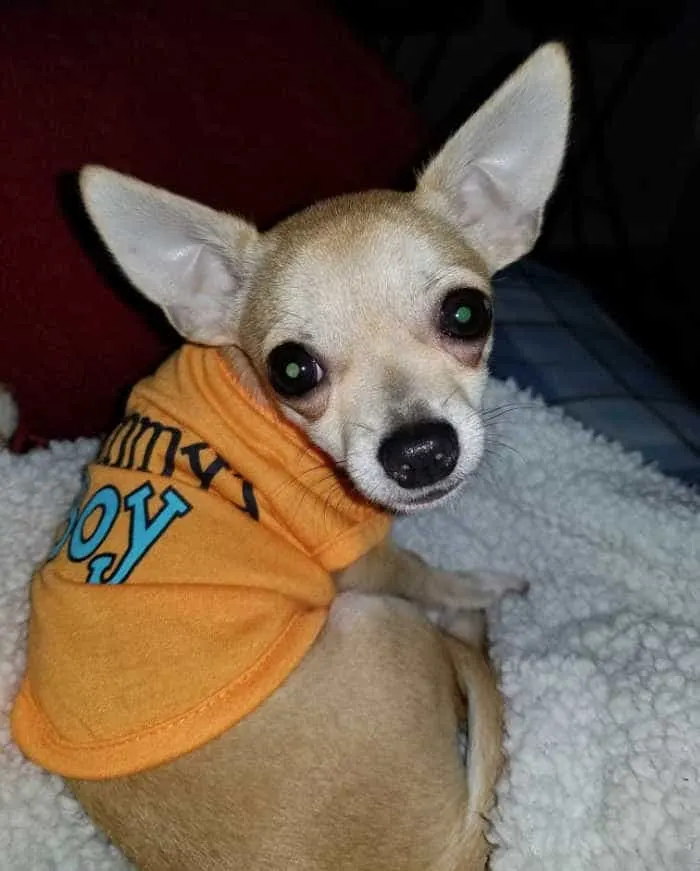 Chain Stores
Several people told me they bought doll and teddy bear clothes for their chi at places like:
Michael's
Hobby Lobby
Build a Bear
AC Moore
Some major chain stores people have found extra small dog clothes are:
TJ Maxx-Their stock changes often so keep checking.
Ross-Their stock changes often too.
5 Below-I never see them here although apparently other people have. They do have some great pet beds here though.
PetCo-The good thing about big box pet stores is that you can take your dog in with you and try on the out fit there
PetSmart
Pet Supermarket
Walmart-I haven't found dog clothes at my Walmart but others have.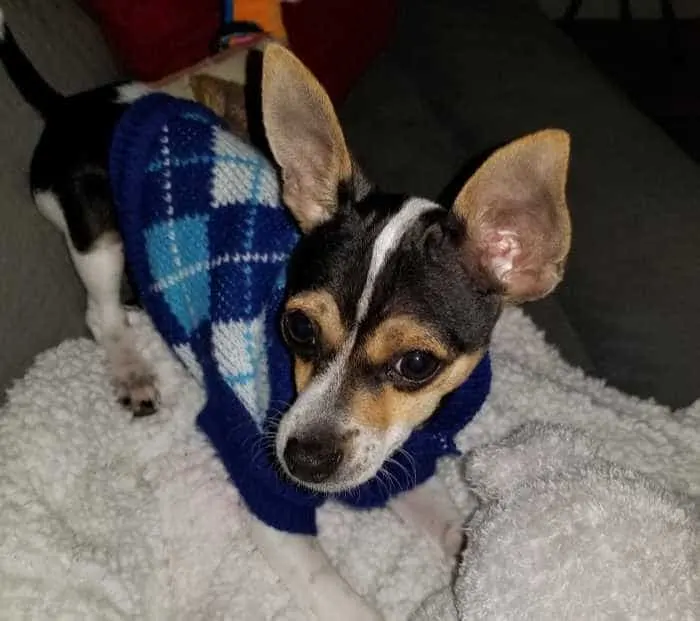 Small Online Businesses:
There are lots of little online boutiques that specialize in small dog clothes. Many of them have handcrafted clothing.
If you don't see the size your dog needs, reach out to the owners of these shops and ask if they have the size you need.
https://www.snootypoochboutique.com/
http://www.platinumpuppycouture.com/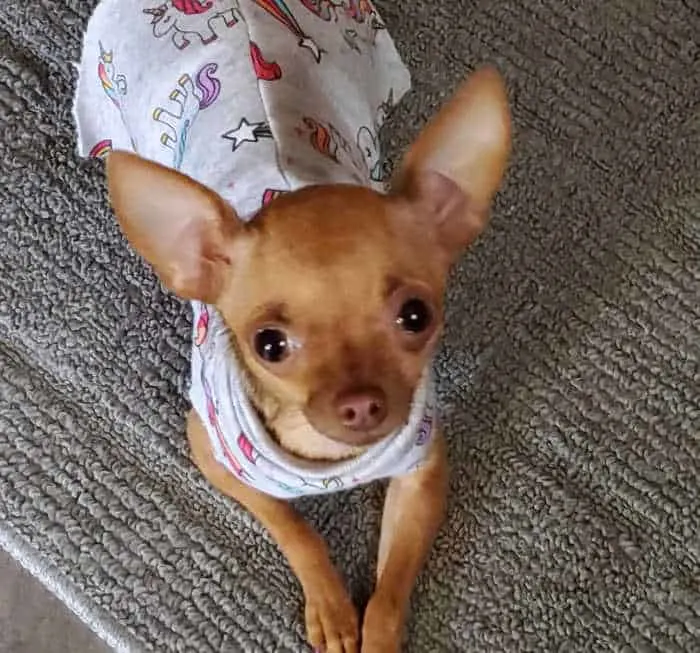 Etsy Sellers
Etsy has some wonderful handmade dog clothes. Just go to Etsy.com and do a search for small dog clothes.
Below are some Etsy sellers readers told me they buy from:
https://www.etsy.com/shop/PammiesJammies
https://www.etsy.com/shop/WilfredsWorld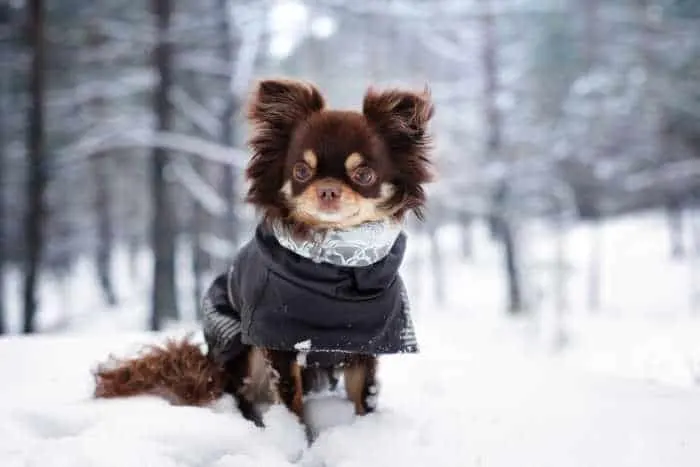 Online Stores
You can find very small dog clothes at some of the bigger online retailers too. Just do a search on them for small dog clothes.
wish.com A lot of people mentioned wish.com as being a great place to find very small dog clothing. The only issue is it takes a long time to get the items.
aliexpress.com The prices are really low here and the shipping is usually free. It can be a little confusing though and I know when I have ordered from them in the past, it took quite awhile to get to me.
Amazon.com has quite a few options too. Be sure to check the size charts on the clothing because it's different with different sellers.
Here are a few of my picks (just click on the image to be taken to the page to check it out or buy) :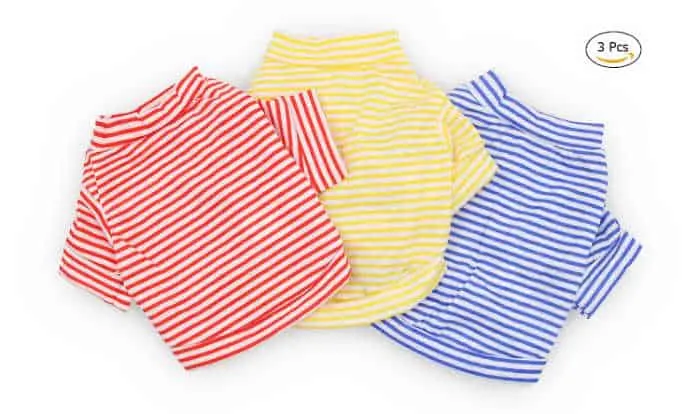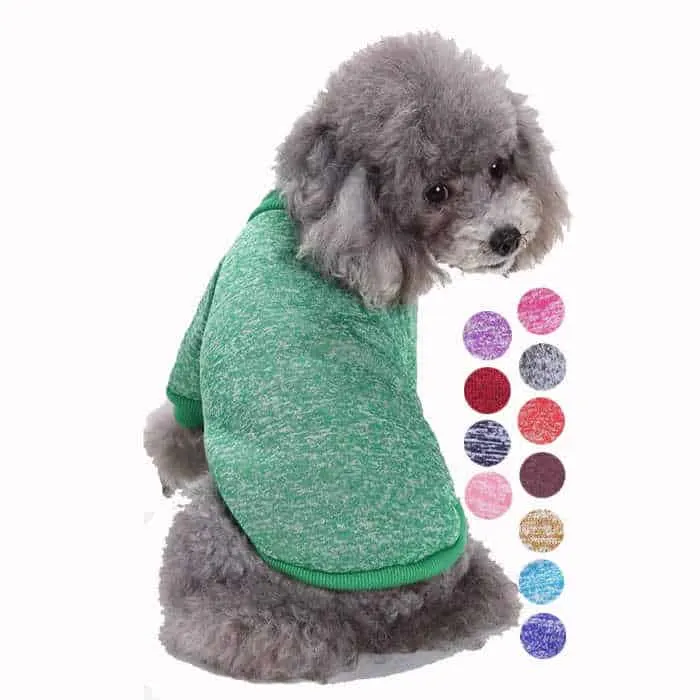 Designers on Facebook
Facebook has some groups and pages where pet clothing designers will sell to you and often make custom clothing too.
https://www.facebook.com/runwaypups I have used this business personally and highly recommend it. The prices are great for custom clothing and the clothes are very well made.
https://www.facebook.com/AmbiTurn/
https://www.facebook.com/groups/1178070862314058/
https://www.facebook.com/TheChocolateChihuahuaOrigional/
https://www.facebook.com/destinyspetdesigns/
https://www.facebook.com/nomorenekkiddogs/
https://www.facebook.com/sizrz2/
https://www.facebook.com/woofulawearofwhitby/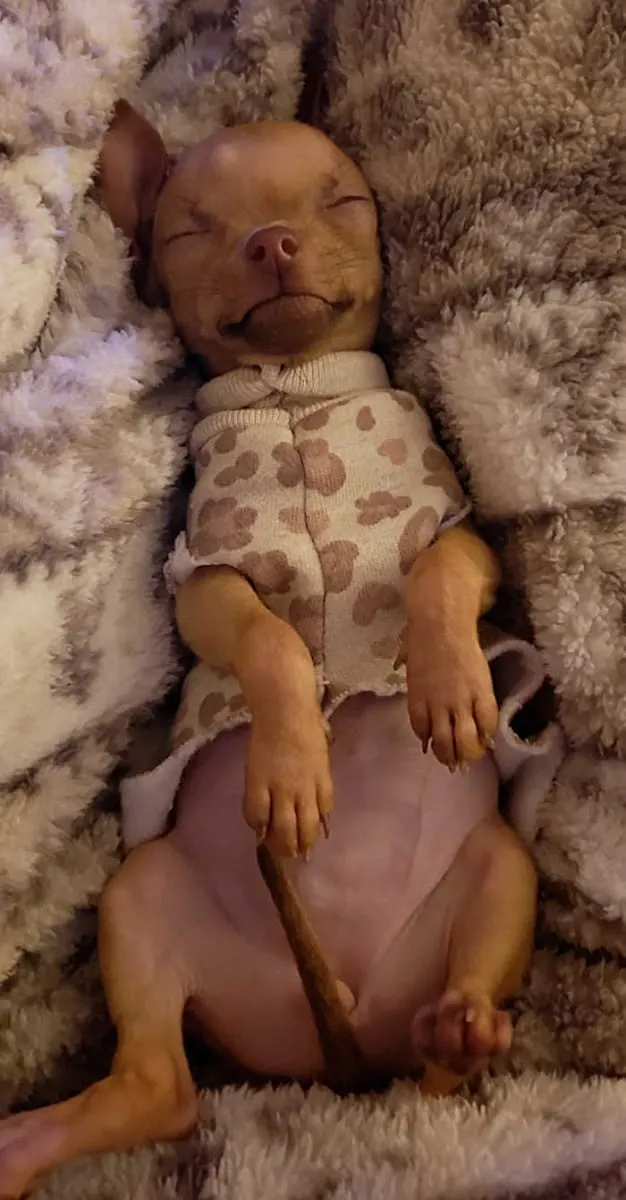 Stores in the UK
Here are 2 stores in the UK that were mentioned. I think they also have brick and mortar stores too, not just online.
I'm sure there are a lot more places out there. And probably more cool ideas too on how to make or find cute, functional clothes for your tiny chi.
Be sure to check out our post on where to find sweaters for teacup chihuahuas.
If you have any ideas or resources not listed here, please let us know in the comments!