This post contains affiliate links, and I will be compensated if you make a purchase after clicking on my links. As an Amazon Associate I earn from qualifying purchases. Learn More
Traveling with your dog can be a great way to bond with your furry friend and explore new places together. However, it's important to be prepared before hitting the road.
I recently came back from a week-long trip that took 14 hours to get there and I had 2 of my 4 dogs with me. So I thought this would be a good time to write this post.
In addition to the basics like food and water bowls, leashes, and toys, there are a few other items you'll need to pack to make sure your pooch has a comfortable and safe trip.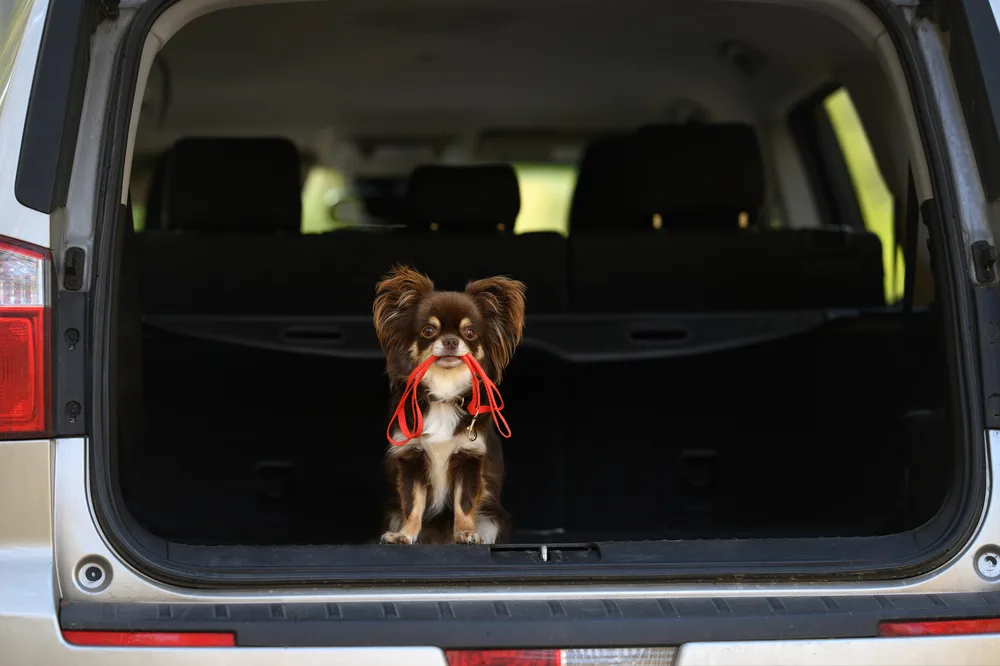 Dog Travel Packing List
Here's a dog travel packing list to help you get started. You can click on it to download this PDF and print it out.
And be sure to read further to get more info on what to pack.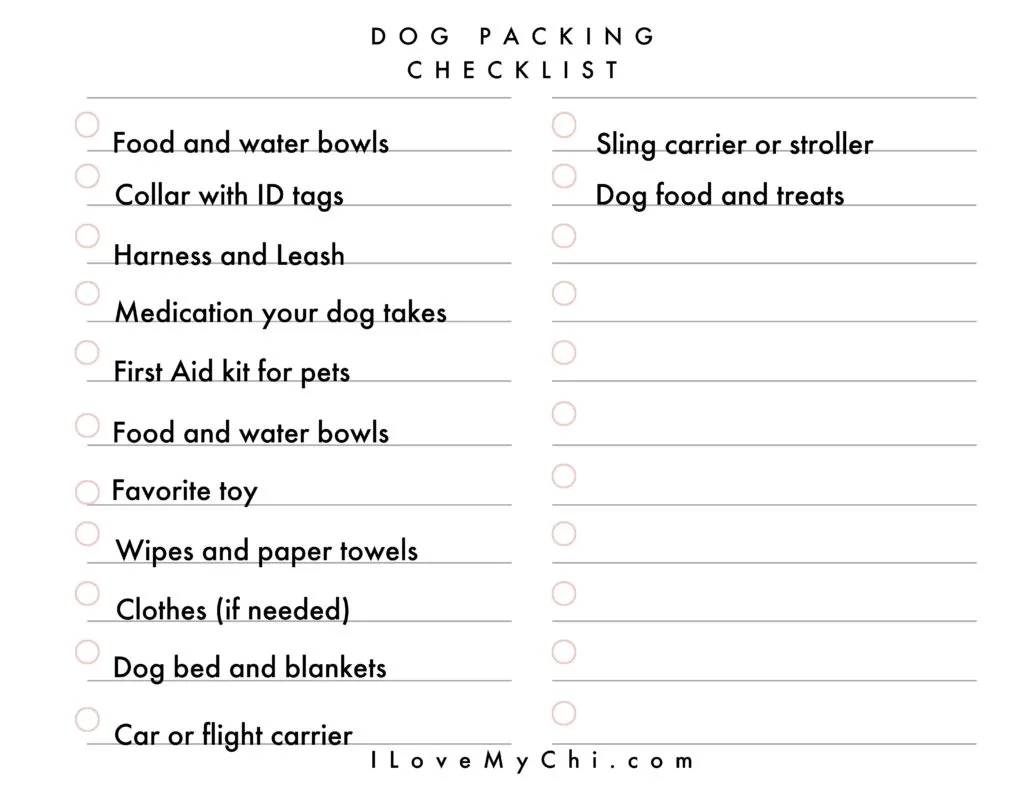 Dog Food and Water Bowls
Dog food and water bowls are a must when traveling with your furry friend. You'll want enough to last the whole trip, plus a little extra in case of emergencies.
Along with their dog food (pack enough for an extra day or two) it's also best to pack some dog treats. These can come in handy for training or rewarding good behavior on the road. I always pack the tiny training treats because they are a good size for travel and won't be too filling.
You'll also want to pack bowls—one for each meal, plus an extra for water. Make sure the bowls are easy to clean and packable.
Collapsible silicone bowls are ideal. I kept a silicone bowl clipped to my purse so I could easily grab it whenever we came to a rest stop to give the fur babies some water.
When I was at the pet jamboree, I saw a lady with this awesome thing that is perfect for traveling. It holds food, water, and poop bags and pulls out as a bowl for your dog to drink from. Total genius! I just ordered one for future trips with my dogs.
Something else you might want to bring is your own water from home or use bottled water. Some of the dogs at the pet jamboree we went to got sick with tummy issues and we think it may be that they were not used to the local water there. I used bottled water and my dogs were fine.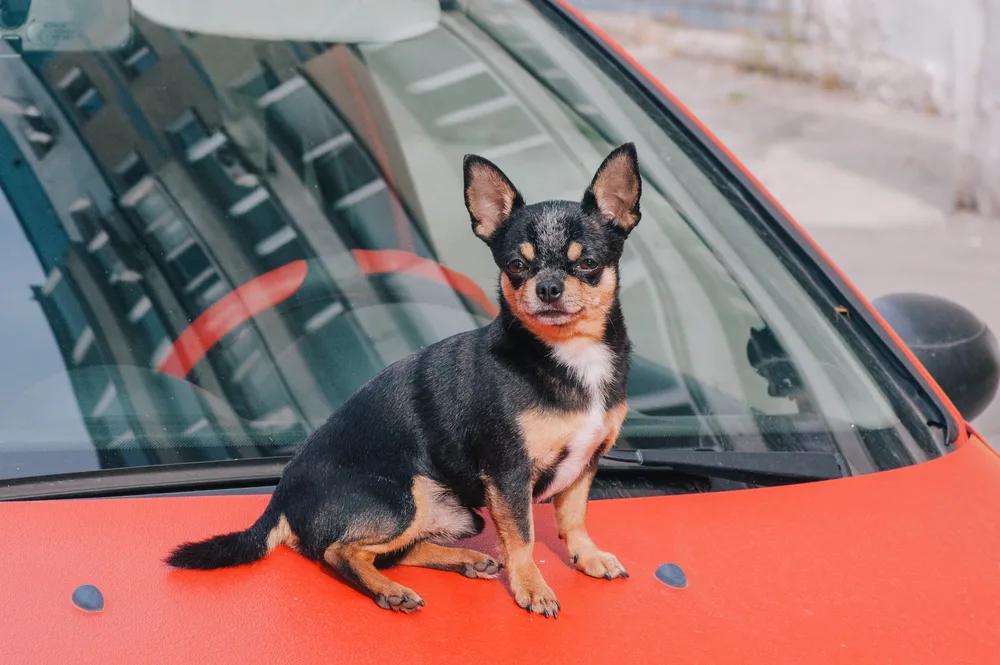 A Leash, Harness, and Collar
One of the most fundamental items on any dog travel packing list is a leash, harness, and collar. A leash helps keep your dog safe and under control when you're out and about, while a collar provides a convenient way to ID your dog if they wander off.
And of course, a harness is a safe way to keep your dog on the leash without hurting their neck.
In addition, many hotels and campgrounds require that dogs be kept on a leash at all times, so it's best to be prepared. So before you hit the road with your dog, make sure you have a good quality leash and collar.
When we were traveling, I kept the dogs' harnesses on them all throughout the day and took them off when we were in our room for the night. That way, I could easily slip on their leash at a moment's notice. I did however put a lightweight shirt on first and put the harness on over the shirt so that the harness wouldn't irritate their skin.
You can see what I mean in the photo below of Bear and Ziggy in their stroller: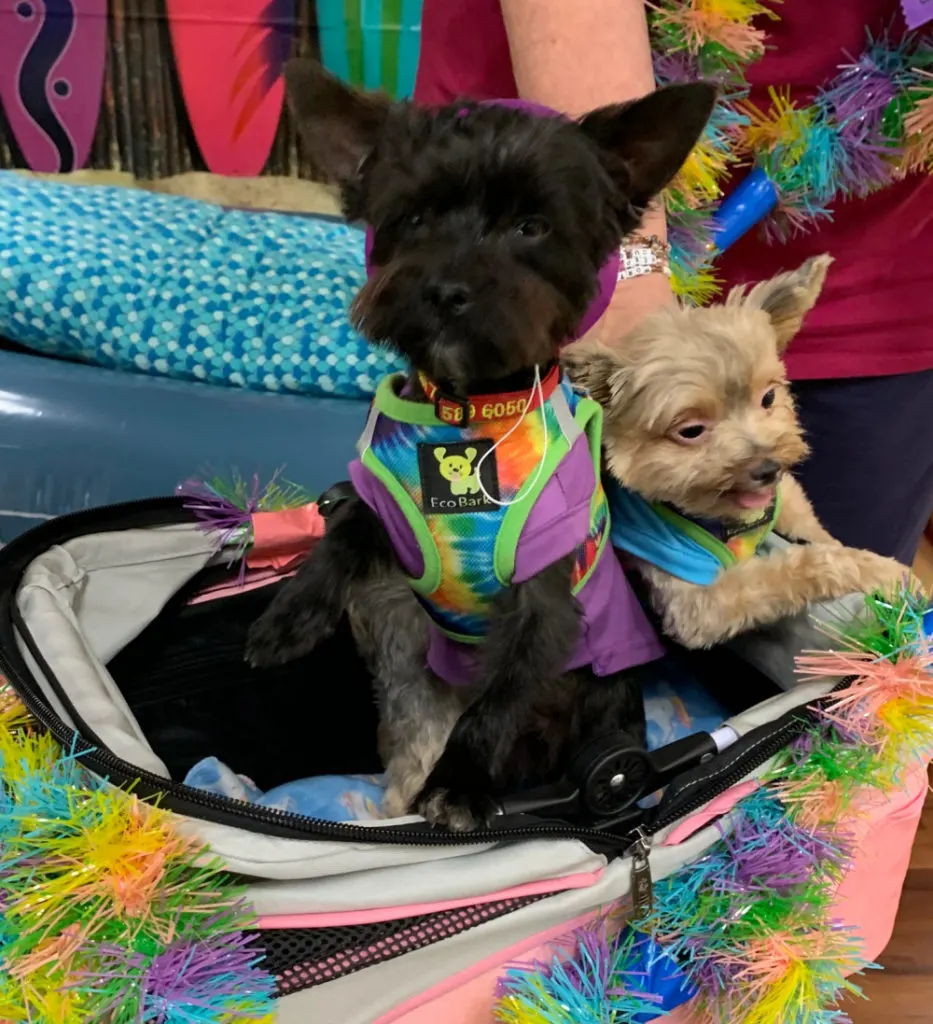 Identification Tags
Be sure to include your contact information on the tags. You may also consider getting a temporary tag with your contact information for the trip. You should also have a recent photo of your dog in case you need to create lost dog posters.
I use the personalized collars with my dogs' names and my phone number. My dogs are also micro-chipped.
Make sure your dog has a collar with up-to-date identification tags. If your dog gets lost while you're away, these tags will be the easiest way for someone to find and return them to you. Of course, identification tags are invaluable at all times, but it's crucial when traveling.
Any Medications Your Dog Takes
Anytime you travel with your dog, it's important to bring along any medications they take regularly. This includes prescribed medicines and anything for allergies, pain, anxiety, etc. Be sure to pack enough for the entire trip, plus a little extra in case of emergencies.
It's also a good idea to have copies of your dog's medical records in case you need to visit a vet.
I keep a folder for each of my dogs with all their medical records in it so it's easy just to slip the folders into my suitcase in case I need them.
A First-Aid Kit for Your Dog
When you're packing for a trip with your dog, it's a good idea to include a first-aid kit specifically for your fur baby. After all, you never know when an emergency might strike. Here are some items that should be included:
Bandages: For minor cuts and scrapes
Antiseptic wipes: To clean wounds
Antibiotic ointment: To help prevent infection
Sterile gauze pads: For absorbing blood or cleaning up fluids
Adhesive tape: For holding bandages in place
Non-latex gloves: To protect your hands when dealing with wounds
Cotton balls or swabs: For cleaning wounds or applying ointment
Tweezers: For removing splinters or ticks
Scissors: For cutting bandages or fur (in case of mats)
A pet first-aid book: For guidance on treating common injuries and illnesses
A Favorite Toy or Two
Some dogs do not care anything about toys but other dogs really love their toys. Not only is it something to play with on long boring car trips but something they love from home, like a favorite toy, can be comforting to them in strange places.
But when it comes to dog travel packing lists, toys are often overlooked. After all, there are only so many things you can fit into your suitcase.
So next time you're packing for a trip with your dog, be sure to include one or two of their favorite dog toys on the list. Your dog will thank you for it.
Poop Bags
No matter where you're going or how long you'll be gone, you'll need to have a way to clean up after your dog. Poop bags are lightweight and easy to pack, and they can make a big difference in keeping your trip clean and tidy.
Plus, many businesses and public areas require that dog owners clean up messes, so it's always good to be prepared. So, before you head out on your next dog-friendly adventure, be sure to pack some poop bags!
Wipes and Paper Towels
It's also a good idea to have a roll of paper towels in your dog's travel bag and/or some wipes too. You can use baby wipes but I used these wipes on this trip and really liked them.
Clothes
Depending on the time of year and your destination, you may want to bring some clothing for your dog. We went to Kentucky in the spring and the temperatures ranged from the low 40s to the mid-80s. So I brought a few shirts for the dogs (to wear underneath their harnesses) and a sweatshirt for each.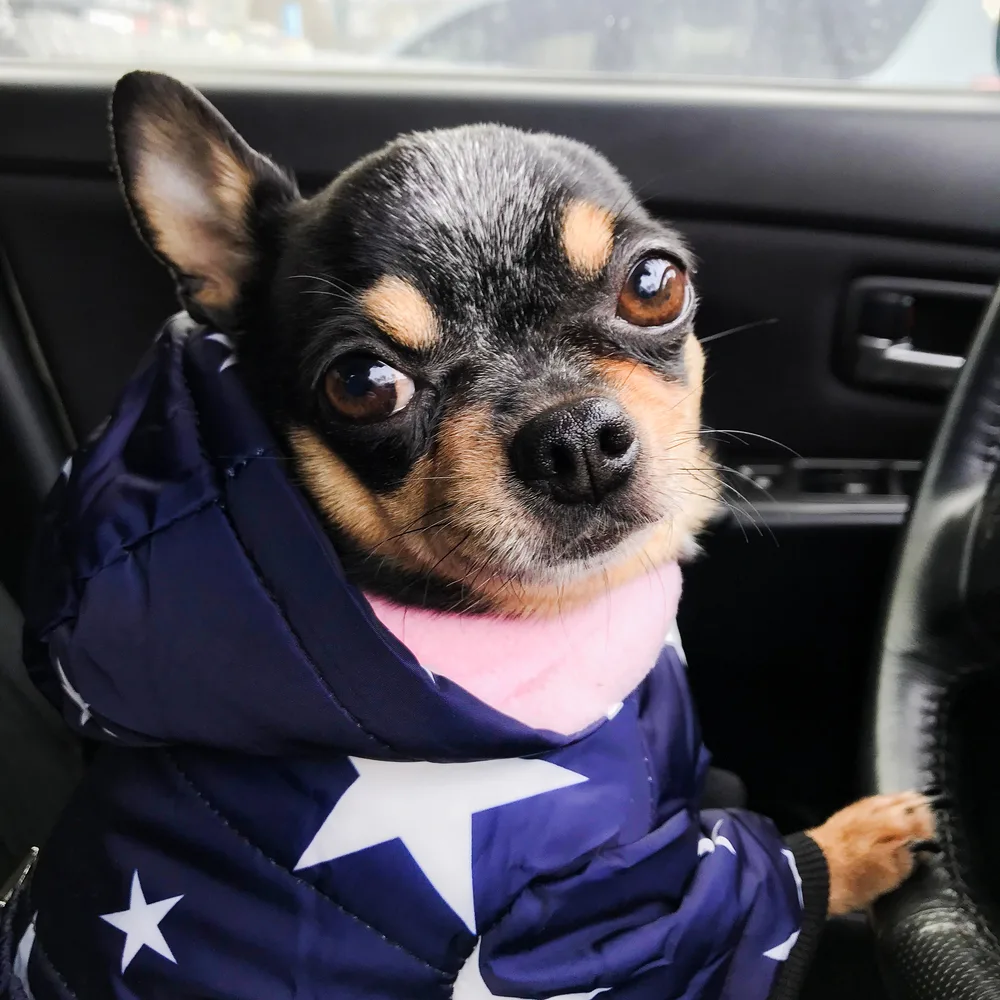 Dog Bed or Blankets
A comfy place to sleep is essential when traveling. If you are staying in hotels, bring along a dog bed or some blankets to use in their room.
If you're camping, a crate is an excellent option to keep your dog contained at night and give them their own space. Either way, make sure your dog has a comfortable place to rest their head at night.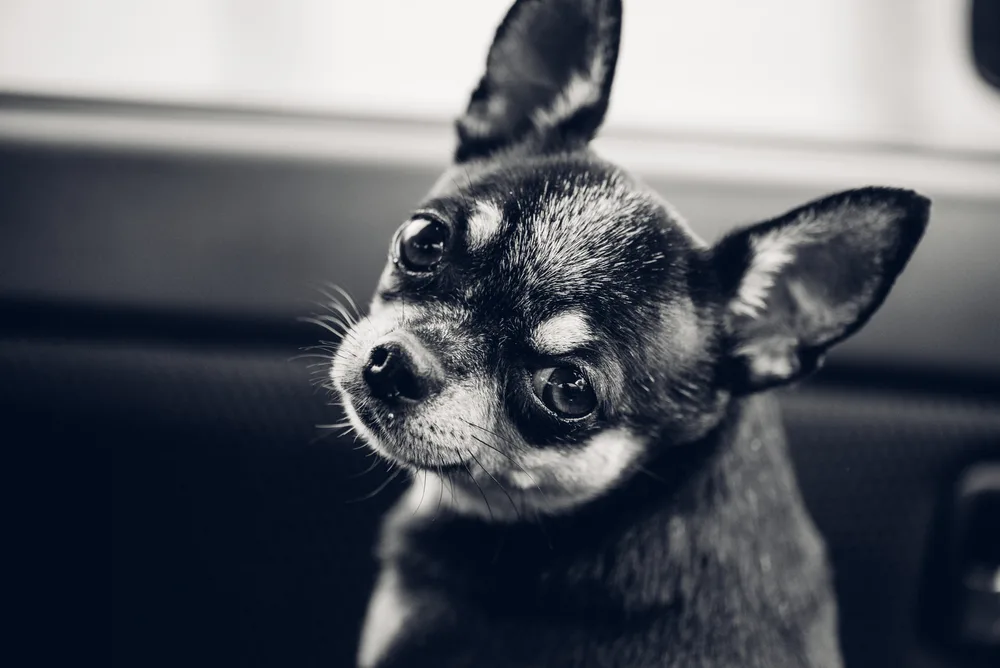 Carrier or Pet Seat Belt
It's essential to have a safe and secure way to transport your dog if you plan to travel by car with them. A pet carrier or seat belt is the best way to do this. A carrier will keep your dog contained and prevent them from roaming around the car, which can be dangerous.
We really are liking the Snoozer brand of car seats. Whatever car carrier you use, be sure it's installed correctly. You can look on YouTube to see if you have installed it the right way. And make sure your dog is tethered to it with their harness, not their collar.
You can check out our dog carrier post if you want more recommendations.
A seat belt will allow your dog to sit or lie down in the car's seat while securely fastened in. Whichever option you choose, make sure it's the right size for your dog and properly secured in the car.
Bag
I took a canvas bag where I kept all of the things my dogs needed together to stay organized. My friend used a back pack for her dogs' things.
Something to Carry Your Dog
If your dog is small (like chihuahuas), it's a good idea to have something to carry them in. Since my Ziggy wants to be carried a lot, I had a sling carrier with me and also brought the dogs' stroller. My friend brought a gorgeous bag to bring hers in.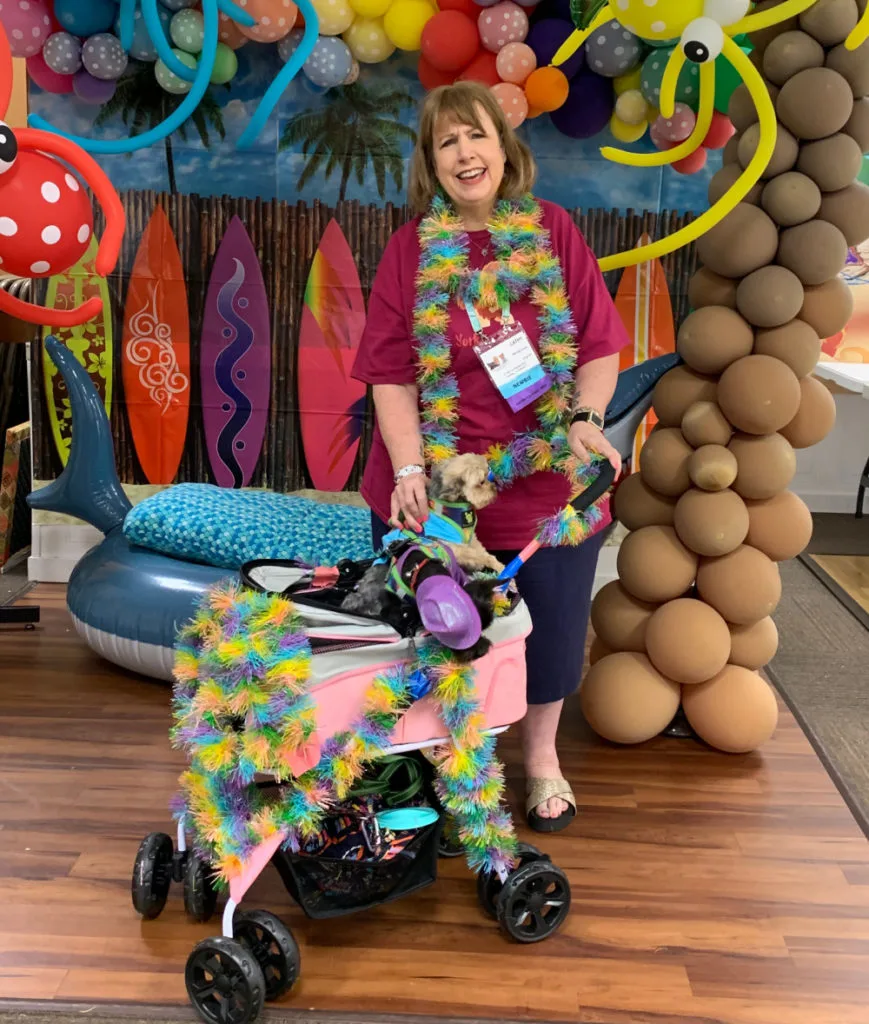 The Takeaway
It's important to be prepared, no matter where (or how) you travel with your dog. Be sure to pack a first-aid kit, favorite toys, poop bags, and a comfy place for them to sleep. If you are traveling by car, make sure to have a carrier or seat belt for them.
By following these simple tips, you can ensure that your trip is safe and enjoyable for both you and your furry friend.
Have any tips to add to the list? Let us know in the comments below!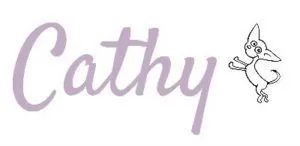 ALSO READ:
A Guide To Help Your Chihuahua Overcome Car Anxiety
Avoid These 6 Common Mistakes When Traveling With Your Dog
How Much Does It Cost to Fly With a Dog?
A Guide To A Happy Hotel Stay With Your Chihuahua